So, you may have noticed a lack of newsposts for the past month. That's because we've been busy. Very, very busy. As we'll demonstrate below.
ALLIED CLAYMORE DRONE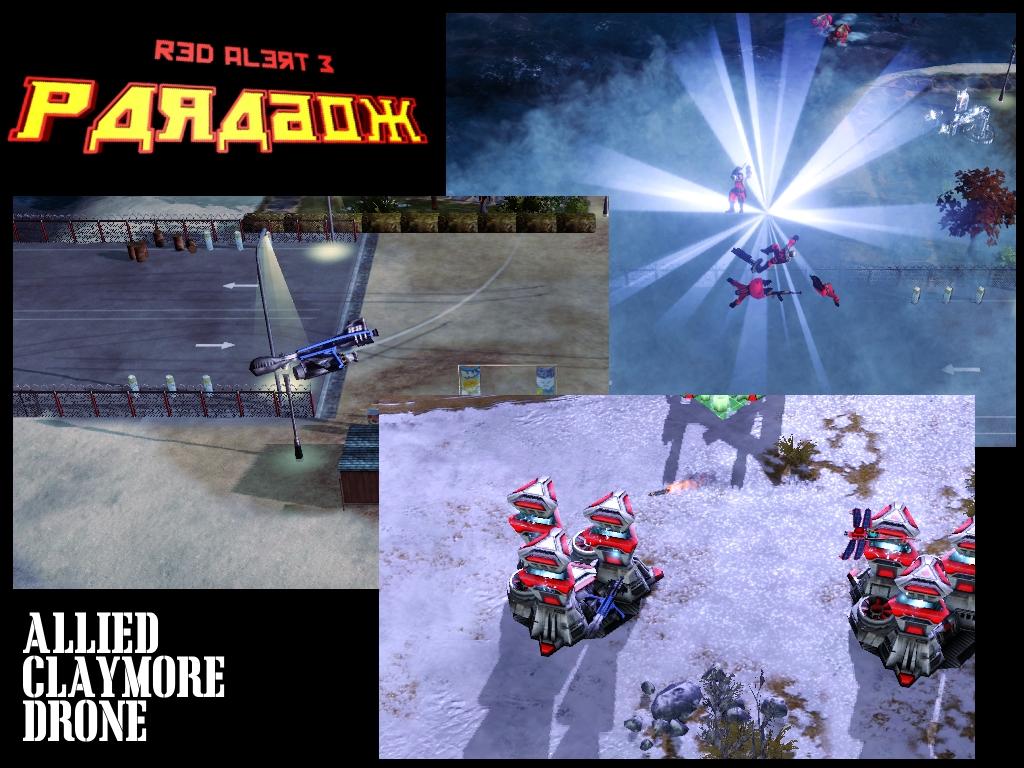 The Claymore is a tiny little drone that packs a ton of firepower. It wields a single missile that, once fired, cannot be replaced... but when you fire it, the effects are devastating. It creates a miniature black hole - an extension of the Allied Black Hole Armour technology - that implodes on impact, sucking units in and doing heavy damage to all in its (admittedly small) area of effect. It functions as the perfect one-off weapon, with a well-aimed hit capable of devastating armies or tearing holes in defenses. It's secondary ability drops a group of flares, which draw enemy fire away from the drone and units close to it for a short time. It is built from the Aeronautics Complex, but does not require a landing platform and thus does not have a build limit. It will cost a lot of money and take a long time to build, however, and its low armour and speed will mean that the weapon is risky to use.
ALLIED MESOFORTRESS BOMBER
(and Lamprey Parasite Fighters)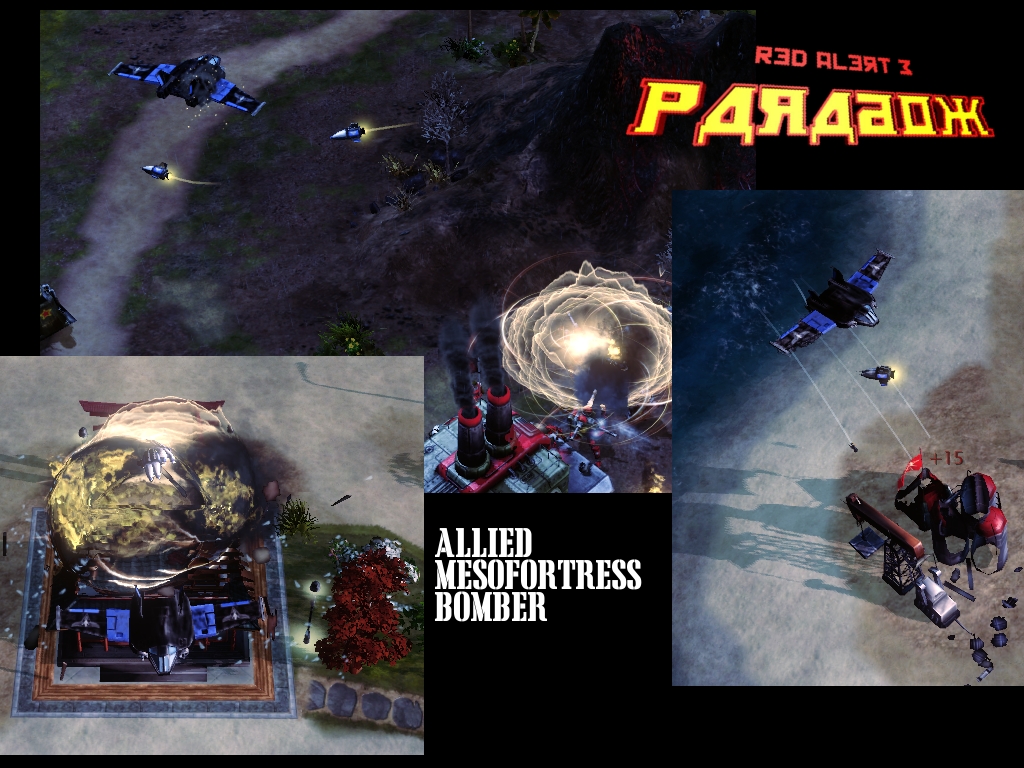 If the Achilles asserts the the Allied Airforce's ownership of the airspace, the Mesofortress does something similar to vehicles. With a larger weapon loadout than the Vindicator, the Mesofortress is capable of longer stints away from the base. In addition, each bomb it carries has a miniature Proton Collision warhead - it doesn't do as much damage as the Superweapon in question, nor does it add the cumulative Catalyst effect, but the Mesofortress can use this technology to cripple enemy tank divisions. It isn't accurate enough for use against infantry and it isn't powerful enough to significantly damage buildings, but if your Soviet opponent is trying to rip you a superfluous behind with their legendary Apocalypse tanks, there's no better choice than the Mesofortress. It is defended by 2 Lamprey drones that fire quick bursts of mini-missiles against aerial targets as a deterrent to fighters... or to just protect an area on all fronts. The fighters aren't effective enough to be used offensively but through harassment they can satisfactorally protect the mothership from harm. The Mesofortress and Lamprey combination requires a large monetary commitment and will take some time to construct. Each Mesofortress requires a dedicated Aeronautics Complex to refuel and rearm.
ALLIED SWAN SEAPLANE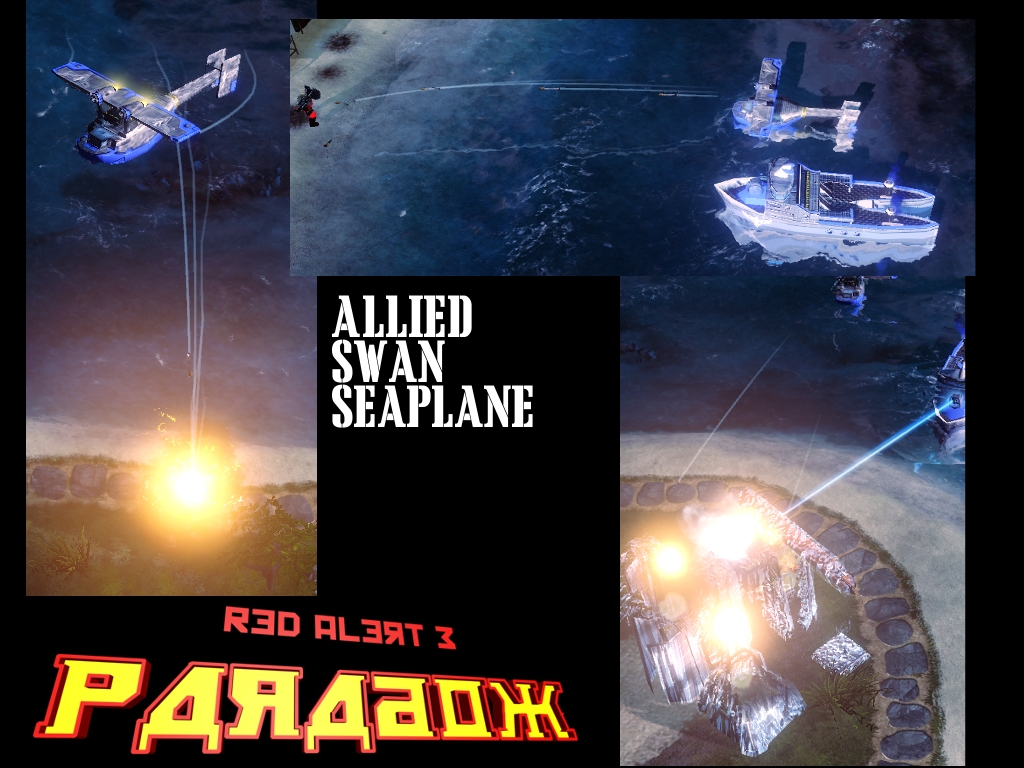 The Allies suffer from a slight disability when it comes to anti-infantry aircraft. Namely, their Vindicators don't have enough firepower, their Centuries are too indiscriminate (overkill is for the Soviets), and the Cryocopter isn't lethal enough. Enter the Swan Seaplane - an aircraft that fires bursts of rocket-propelled fragmentation charges to thin the enemy ranks. The Swan itself was not the original aim of the project; rather, the weapon was its most successful component. It was criticised for its accuracy, being nearly impossible to aim properly while in a moving aircraft. That was when the Seaplane chassis was designed. The Swan, as it was named, could land in the water to provide a far more stable firing platform, giving it unparalleled range (with the exception of the Aircraft Carrier) and allowing it to fire accurately enough to strike vulnerable points on an enemy structure. Thus, while a flying Swan can be used for mobile anti-infantry fire, a seaborne one can do this at greater range and also provide some limited artillery capability, though it will not be quite as mobile. Combined with the Alert Icebreaker, the Swan can help cripple enemy defensive capabilities; the Alert, with its hardened hull and cryobeam, will move in to freeze the target, and the Swan will shatter it from range. The Swan's awkward, jury-rigged chassis is not suited for rapid changes in altitude, and thus it is best to allow it to stay in the water for a short period of time before switching again. It can, of course, land at any time it wants to... but the engines require some time before they can generate enough thrust to be airborne again.
In other news, we would like to give a huge thanks to NixPN - he has graciously joined Team Paradox as a dedicated animator, and you can see an example of his work on the Videos page. This is (more or less) what it will look like when it gets ingame, too.
We would also like to announce that very soon, we will be releasing an Minimod including the Aeronautics Complex and the Achilles Fighter. A lot of you have been waiting patiently for the mod to be released, and while it would "spoil dinner" in a sense to just give you all we have, we think it's probably fine to just give you a snack for being awesome fans. Once we sort out the dialog and some animation issues, we'll upload the mod on our Moddb page and you guys can enjoy having super-unbalanced Allied Airforce for a little while until this stuff gets done for real.
Oh, and what news post would be complete without a request? We're looking for voice actors or actresses - we'll be putting up a real ad soon because we want a few specific roles. The voices will be for Allies and Confederates only at this point - the other factions will be handled when we get to them. We'd prefer if you have some sort of voice acting experience, but if you think you'd be an asset, feel free to apply!