Hello and welcome back to another update of Forgotten Hope. Today, after a very successful release, we are coming back strong with two very recognizable vehicles in their own right.
Before anything else, we would like to thank everyone for the huge success surrounding last week's release of 2.3. We have been very pleased with the feedback and the overall reception of the new update. We hope that you'll have many more enjoyable times while playing FH 2.3 until our next release!
Now, onto the actual update. Patch 2.3 was the final conclusion in the series of all-Normandy patches. While we certainly aren't done for good with the lush hedgerows of France, today we have two tanks that served both the American and the German armies in the snowy fields of Belgium. Up first we have the M4A3E2 (75)W and the M4A3E2 (76)W Sherman "Jumbo" tanks.
In June-July 1944, the US Army accepted a limited production run of a new variant of the M4A3 Sherman; The 75mm Sherman "Jumbo". Intended to be used to breakout from the Normandy beaches, the Jumbo had extra armor welded onto the front on sides to the point where it was thicker than that of the Tiger I. The M4A3 series of tanks was also the first to be equipped with the new horizontal volute spring suspension (HVSS) which helped with traction over soft ground like snow or mud. Despite its original intentions, the Jumbo variants of the M4A3 didn't enter combat until August 1944. However, being armed with a 75mm or a 76mm gun in the new T23-style turret, the Sherman Jumbos served with distinction through the Battle of the Bulge. Both the M4A3E2 (75)W and the M4A3E2 (76)W Jumbo Shermans were made by Pointblank86.
Next up we what could be regarded as one of the best tank destroyers of WWII due to the harmonization of the Panther chassis and the 8.8cm "88" KwK 43 gun; the German JagdPanther!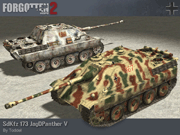 In late 1942, a heavy tank destroyer design was ordered, and after production had started in early 1944, the name JagdPanther was given to the tank, meaning "hunting panther" in German. Combining the sloped armor and chassis of the Panther tanks, along with the 88mm Tiger II main gun, and a single Mg34 machine-gun, the JagdPanther was very effective at knocking out a whole wide range of Allied tanks. Out of the 415 JagdPanthers produced, only 12 were deployed to Normandy, where the tank was first encountered. The majority saw action during the Battle of the Bulge or on the Eastern Front. The JagdPanther was made by Toddel.
That's all for this week, but be sure to come back next time for another update. Until then, feel free to visit our IRC channel and our public forums.