Unfortunately as is life, there are times where you just don't have time spare. I've been incredibly busy at work bombing up and down Sweden and Ginger Lord, who usually takes care of the news updates, started work at Crytek UK a month or two ago and has been incredibly busy doing "stuff he cant talk about". His employers at Crytek have unfortunately deemed HaJ as a 'conflict of interest' so for the foreseeable future his involvement with the mod will be limited, which is a real shame. He's looking at resolving this as soon as possible as we're so close to finishing it would be a tragedy to have to leave at this point. The rest of the core team have all been incredibly busy with a combination of final year University/College stuff and finding/moving jobs which has put a serious dent in our team work time.
Therefore this update isn't an all singing all dancing media blitz, but something we've been saving for a rainy day. Hopefully it will answer all you're questions about "What makes HaJ any different to DoD or any other WW2 game"
So sit down, grab a cup of tea and here we go….
---
This is the question that always crops up, "What makes you any different to DoD:S" usually followed by some smarmy comment of "lulz, looks like dods". This month we are doing a big comparison of the two games, using controlled environments, videos and comments from players of both games.
1) The Environment
Both games are set in WW2 naturally and at the end of the day there's only so different you can make houses look. Where HaJ differs is the scope of the environments, DoD trends towards post D-Day France whereas we have a multitude of environments in our levels. As you can see from our media releases we have levels set in environments most WW2 games do not tend to visit such as the early war Commando raids on Norway and the Mediterranean theatre of war.
Not only do the theatres vary but so do the sizes of the levels. Archery is perfect for smaller player counts but Gold can swallow entire teams. If you were to overlay dod_donner on haj_gold, you'd get three dod_donner's inside it. Combined with our advancing spawn systems you never feel like you are walking a huge distance however.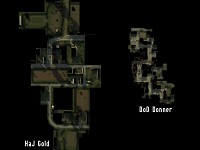 2) The Weapons
Again like in DoDS theres only so much variety with weapons you can do before you get into the realms of fantasy (jones). Currently each side has a choice of 3 classes, Rifleman, Assault and Support. For the Germans they have the ubiquitous K98k, MP40 and MG34. We chose the MG34 over the MG42 as it's easier to balance and was around for the entire war rather than just 1942 onwards, so we'd have had to make it anyway!
The Commonwealth sides have as standard the Lee Enfield No4, Sten's Mk2 and 5, Thompson and Bren's Mk1 and Mk2. They don't have them all at the same time and depending on the year you are assigned the specific weapon for example:
Pre 1942 – Thompson/Bren Mk1
Post 1942 – Sten Mk2, Bren Mk2
Post 1944 & Airborne forces – Sten Mk5
Each version is slightly different in the way it works as well as being visually different.
The guns aren't clones of each other either like DoDS which also brings about tactical thinking. The MP40 shoots at a slower rate than the Sten's but the slower rate means you can control the recoil better. Our recoil system is similar to DoD's for reference. The Sten Mk2 has slightly more recoil than the Mk5 due to the lack of the Mk5's grips and lower weight. The Thompson has the second highest firing rate in the game and packs a punch but its movement penalty is also one of the highest.
The Enfield obviously has 5 more rounds than the K98 and the bolt can be worked faster on the Enfield, to counter the damage drops off later on the K98. Unlike many games our bullets lose damage over distance, a half way house between hitscan and fully simulated bullets. A bullet will do x damage for y units, after that the damage drops down as distance grows. No more MP40 headshots at 2km like other games! This gives each class a defined area of play, the Riflemen tackle long range engagements and relies on the Assault class for help in tighter areas. The Support class provide a good middle ground and both sides Support classes have pro's and con's. The MG34 is the king of static defence and suffers greatly on the move, the Bren provides heavy mobile punch but the slow rate of fire and small magazine provide limited static defence.
3) The Gameplay
Gameplay in HaJ is much slower than DoD. Not only do players move slower but objectives take much longer to capture. In DoD most objectives can be controlled by one player running through a flag doing an "insta cap". HaJ quite often uses multiple person capture areas (some quite large requiring players to control an entire building for example) and these take a significant amount of time to capture, some up to 30 seconds. If you all bundle on the objective then you will almost certainly all get taken out by a well placed grenade. In HaJ teamwork is essential and rewarded, leave some people to capture the objective and push out to defend the perimeter.
Teamwork is rewarded via out Combat Effectiveness (CE) system and teamwork bonuses. For example if you are near some teammates and you kill an enemy, you get an extra CE point for every nearby teammate to reflect you keeping them safe. With friendly players nearby your reload speed gets quicker and you can also sprint for longer. We also plan to reward players that defend the perimeter of objectives as well as those directly responsible for the capture.
In summary the slower pace of player movement, the larger maps and the level of teamwork required set us apart from DoD.
I can tell you all this and you can choose whether to believe it or not, after all I am slightly biased having been involved in the development from the start. I pitched a few of your questions to the beta testing team and these are their answers.
---

What makes HaJ different from DoD:S?
"Hughy" - I would summarise by saying that whilst both games have similarities, and they may appear similar in the flesh they are also a world apart. Where DoDS' gameplay is linear, limited and more often than not stagnant, HaJ succeeds in creating varied and exciting gameplay over a large number of different scenarios. I often get the feeling that HaJ is in the direction of what I would have liked and hoped DoDS to be, far closer in gameplay to the old DoD 3.1 beta that captured my imagination all those years ago.
"Cpt. Ukulele" – In short, to me, HaJ's pace is a bit more deliberate, you get a bit more time to think about what you're doing and where you're going. It's more important to take advantage of the environment for cover. The main thing though is the emphasis on team play; in HaJ there's no one-man army. A great shot can't destroy a team or win a map single-handedly. A lone wolf only interested in padding his K-D ratio will sit near the bottom of the scoreboard with his shooting pyrotechnics unacknowledged.

How will you encourage teamwork?
"Hughy" – HaJ's combat effectiveness system encourages players to work more closely together as a team, rewarding players for their teamwork whilst DoDS offers little to no incentive to players to stick together. The level of teamwork required in HaJ is well balanced, not being at a point where players need absolute communication at all times, but rather making it the logical option via a combination of the game's mechanics, map layout, class abilities and the CE system.
"Porc-Epic" – Teamwork is actually needed and rewarded, some objectives are are very hard to capture if you don't work as a team, everyone standing on a cap wont work (enemy can easily wipe out half the team with a grenade if that happens) there needs to be people in front of the cap to stop the enemy reinforcements from getting anywhere near to the objectives (captures take a lot longer and so this is important). Maps are also larger so it is harder to go rambo successfully, sticking together will keep you alive for longer, you are also rewarded for sticking together as a team by getting rewards such as extra points and are able to sprint for longer and are able to reload quicker.
My biggest problem with DOD was campers. My biggest problem with DOD:S is campers & people using the Thompson/mp40. Is H&J going to be similar to DOD in the sense of weapon power?
"Porc-Epic" – There will always be campers in every game but there are a few things in HaJ which should lower the amount of campers. You get points (and other rewards) for staying in groups so people should have less reason to camp on their own (obviously people will still camp on objectives as they have to be defended). Once one objective is captured the spawns move up and the fighting moves to a different section of the map, this should as well stop people from camping as they will have to move up with the rest of the team.
SMGs have a similar amount of damage to dods at close range although the different smgs do different amounts of damage (and have different rates of fire, recoil etc so they don't handle like each other or like the dods smgs), at different ranges weapons do different amounts of damage so rifles at long range have an advantage over the smgs; if you get hit by an smg at long range it will do much less damage than a rifle, which means that smgs are only really useful at close range.