Beta 9.9
The latest build of A World of Ice and Fire is currently ready for public consumption.

---
This build we have mainly concentrated on bug fixes and polish. We have also added a tonne of new items and armours which most of you should have seen me posting the last few days. I would say this is the most stable release to date and I hope you all agree the mod feels much more finished and polished now.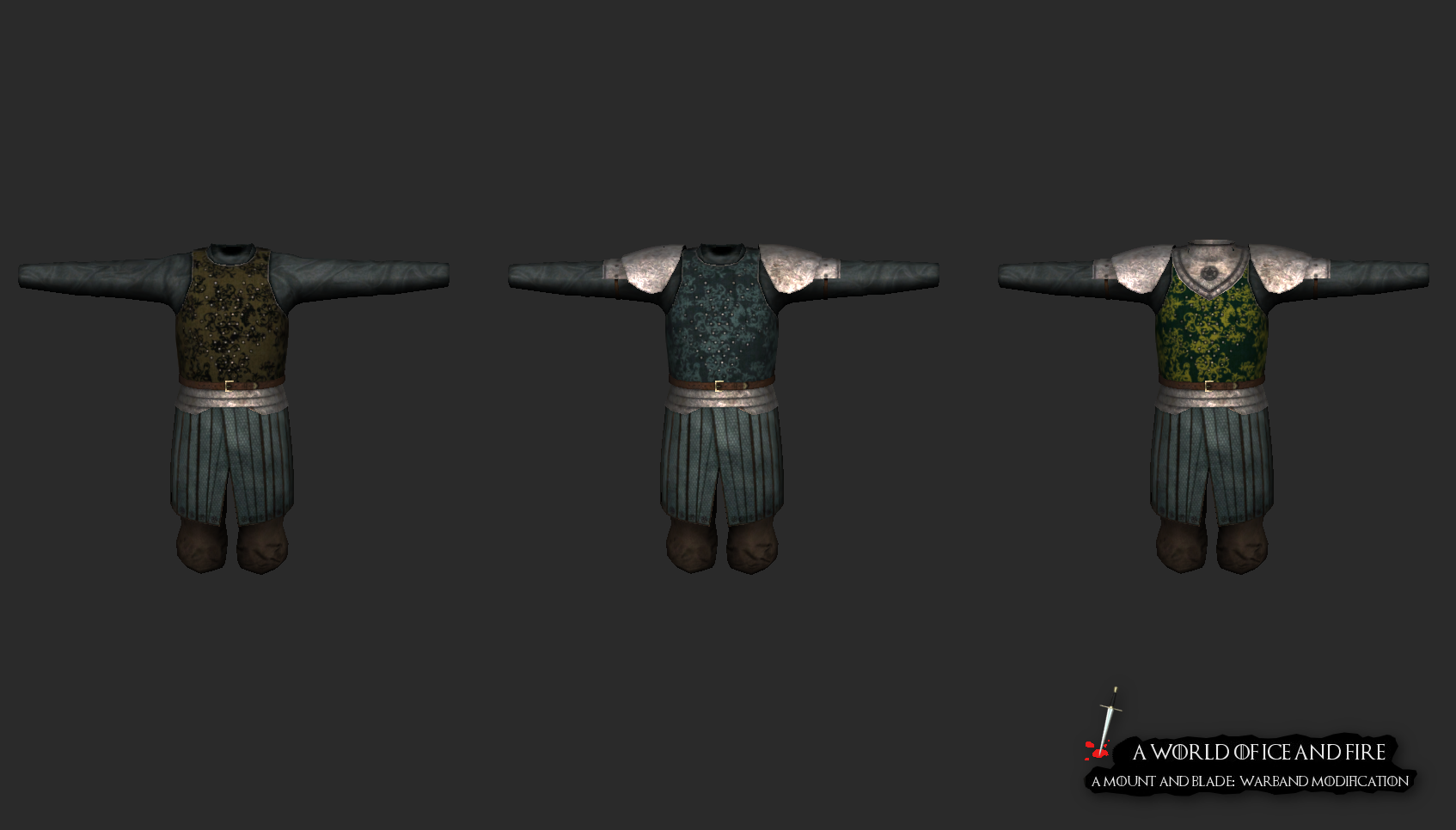 Below you can find the changelog for the current build. I am now going to try and concentrate on building scenes, we have quite a few to complete and I think it makes a big difference enabling the players to be able to conquer iconic scenes from the books and the show. If anyone would like to lend a hand creating these then please do PM me.
---
Beta 9.9 Changelog
Changes
Removed some un-needed items and textures, updated others.
'Unify' UI textures and backgrounds.
Added higher quality Westerland banner textures.
Added new scene props including commissioned Weirwood trees.
Adjusted Veteran Unsullied armour so they don't fall into the heavy armour category.
Buffed all upper tier soldiers. This fixes problems with some soldiers having less skills than lower ranked soldiers due to armour penalties.
Created faction specific trumpeters and distributed them into lords armies.
Removed religious troops from lords armies.
Made some more optimisations to meshes and shaders. Also added more LOD's etc.
Spellchecked more files.
Added 5 new trainers to certain locations to recruit faction specific troops.
Added a new companion - Dialogue created by Kokalo.
Added 14x new helmets, 3x armours and 1x sword made by Kraggrim - donated by robertidaniel.
Adjusted length of Longclaw.
Adjusted length of Ice.
Valyrian swords now do bonus to shields.
Added some new companions for some lords.
Adjusted some character creation stats.
Adjusted the amount of Wildfire you can purchase.
Buffed Wildfire slightly.
Adjusted the after battle options to be dependant upon the players current religion.
Re-written the after battle options if fighting in a lords army.
Buffed the wildling tower shield very slightly and made it much larger.
Thenns now have their own army composition and troop tree.
Added some extra music.
Replaced interior and prison scene for Antlers.
Added VC code for Hornmen so they actually do something now - animation still needed.
Added new logo created by Kokalo.
Added 6 more castles.
Added 6 more villages.
Adjusted the cost of troop upgrades. lower level cavalry may be slightly higher to upgrade but all higher levels are now much much cheaper to upgrade.
Adjusted the angle of every map icon.
Balanced all headwear.
Thenn peasants are recruitable via certain villages.
Changed the way party size works - properties owned by the player now increase max party size.
Added new scene for Iron Mine.
Added new scene for Gold Mine.
Added Shaunremo's skybox mod.
Added weather script to the rest of the mission templates. Weather will be applied to every scene now.
Improved fps in Kings Landing.
Re-wrote harbour code and added scenes to each.
Added 99 new custom battle scenes. No more mountains on flat terrain.
Changed the way bribing the village elder works. This cannot be done if you have low honour. It will also not revert you to the 'supplies' menu.
Removed the quest Old Valyria until it can be bug fixed.
Gave all major cities extra garrisoned troops. This will give the player a better challenge when trying to take key locations.
Removed some of the kingsguard feature until I have the time to fully integrate and fix it.
Added new Stormlands armour
Made changes/fixes to Oldtown
Made changes/fixes to Winterfell
Changed Freefolk banner.
Changed Nights Watch village names.
You should no longer loose relations with the Nights Watch if you take another factions lord prisoner.
Made some small changes to some scenes.
Made some small changes to the map.
Made some balance changes to all missile type weapons.
Made some small balance changes to Westerland/Lannister missile troops.
Fixes
Fixed Flint's Finger scene.
Fixes to Ten Towers scene.
Gave House Targaryen the correct banner.
Fixed an issue with the quest 'Bastards and Broken Things' giving negative honour and relations with neutral faction.
Fixed Dragonstone issue with the Prison and moved passages for the Arena.
Fixed exploit in Winterfell Arena.
Fixed issues with relations between the North and Iron Islands.
Fixed some units missing gloves - all top tiered units are now guaranteed to wear gloves.
Fixed more issues found with some meshes.
Fixed issue with some parties travelling on the ocean not using a ship.
Fixed various options not working.
Fixed beards clipping through some armours/helmets.
Fixed Crakehall scene - entering prison.
Fixed issues with agents wearing incorrect clothes at weddings.
Fixed instances of transgender dressing.
Fixed incorrect multiplayer quick battle troops.
Fixed incorrect shaders for some materials in the Red Keep.
Fixed some entry points in Thenn scene.
Gave Celina Belmore the correct father.
Correctly gave Barrowton to Lady Barbrey Dustin.
Fixed red text in prelude.
Fixed Bastards and Broken Things quest text.
Fixed We take what is ours quest text.
Fixed Darry Great Hall.
Fixed flag for Mary Mertyns
Fixed flag for Manfred Dondarrion
Fixed flag for Harwood Fells
Fixed flag for Richard Horpe
Fixed flag for Arwyn Oakheart
Fixed flag for Alysanne Bulwer
Fixed some instances where Targaryen was spelt incorrectly.
Fixed clone kingsguard in kings landing.
Fixed issue with resting at Braavos.
Fixed a very rare instance where you could CTD in battles.
Fixed Pentos and Lys siege scenes.
Fixed/changed various other scenes.
Various other small fixes and tweaks not listed.
---