We finished functionality tests in June/July this year.
The results and fixes are build in so far. Actually it is time to work on
the "beauty pass" of Chapter 1. More modeling and texturing work comes up.
That's why you get some brand new screenshots of this mod now after a longer
waiting time.
One part of the concept of this mod is the historical background – which is the reason
the world you will enter is a devastated environment.
It is based on the hypothetical assumption, that the cuba crisis went wrong and
a nuclear war destroyed most parts of the civilized world. In fact the cuba-crisis didn't
end up in a nuclear war in 1962. You will see and hear a lot about it in the media this month –
the crisis happened exactly 50 years ago.
About 500 years later in 2525 the buildings still will be there.
So the environment of the mod there will have some buildings in Berlin, already
build before 1962, but as ruins: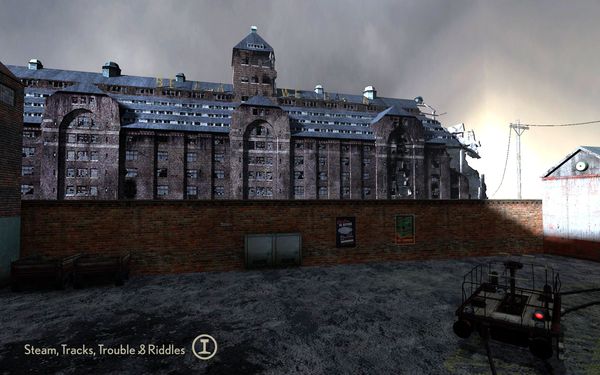 Behala warehouse in the north-western part of the harbour (Westhafen)
A smaller warehouse close to the Behala building
The old Radio-Tower (right top corner as silhuette in the background) in the western fair ground.
(The more famous TV-Tower with the sphere on top was build in 1969, hence
it can't appear in this mod).
More buldings will follow in the next chapters.
Additionally some vintage posters of the 60ties are placed at the walls
to support the contemporary look.
The historical archive of the Federal Republic of Germany
(Bundesarchiv) kindly allowed me to implement them.
Thank you for any feedback and for your patience!
peegee1