Hi
After 20 days, Beastmancer has been greenlit. Let me share some details and conclussions I reached during those days: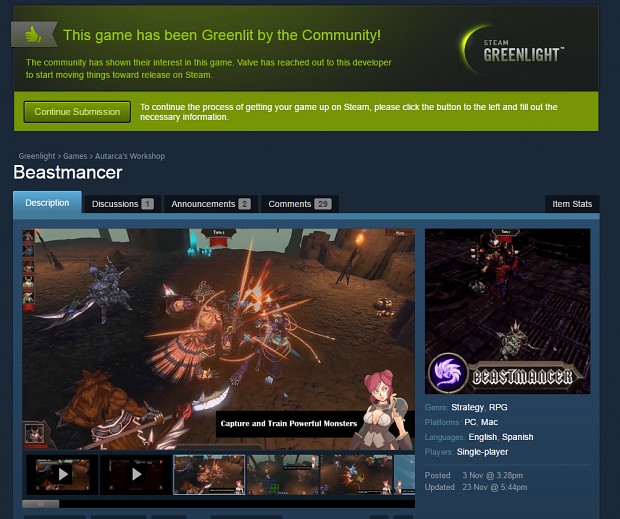 This is my second game in Steam so I was better prepared this time, my visual material was better and the idea of the game was better explained, I also had more positive comments and I managed to drive a few votes from outside Steam (thanks to a Nomad Fleet giveaway and by posting in a chilean gamedev group). Despite that I was pretty anxious because the traffic was really low and therefore I got way less votes than what I expected.
So you get an idea: my 1st. game Nomad Fleet was also 20 days on Greenlight and it managed to reach 997 votes (it didn't reached the top 100). Beastmancer got only 397 votes during its 20 days. At first, I was worried but eventually I realized that this is not a problem with my current project but simply there's too much projects in Greenlight these days (and probably less people voting or caring at all), I got this from consulting other devs and checking the votes graphic for the top 100 projects, from that I could deduce that the 100th game of the current batch had less than 1k votes.
I also think that how many days it takes your project to get greenlit is now meaningless because projects get greenlit in big batches (probably Valve staff is just overwhelmed by them).
That said, I'm still happy that my game went through and now I'm much more free of anxiety which should help me to work harder.
Preparing the Store Page
Since this is not my first game I can skip all the digital paperwork phase and start with the store page, for that I will need a lot of visual material. What concerns me now is how to create appealing capsules (the rectangular icons that are shown in Steam), I will probably post some here in a future article to ask for your feedback. For the moment I already uploaded a few screenshots and I hope to make a new better trailer soon.
Latest Progress
I've been working in a new UI screen where you can check your captured monsters in more detail:
I'm aware that my monsters are my strongest asset so I clearly need better ways to showcase them to the players.
I also keep working in new monsters, adding special attacks and testing them as you can see here:
I'm also polishing, fixing some bugs and finally I'm starting to "connect" the scenarios I'm creating with the world map, main menu, etc. This is hard and slow work but its finally making this project feel like a game instead of a prototype. I'm also trying to decide how much content should have the future playable prototype and how much tutorials and hints should I add without being annoying.
That's it for now. Pleae consider following the project or my Twitter account if you like what you see.
Regards,
Jorge