Well as promised, here are some screenshots of Battlefield version 2 by Render. He has worked long and hard on this. We had a play test on this map the other day and it rocked. Bugs are gone and fun remains.
Also today, I have the pleasure of showing you screenshots of a WIP Brown Bess render. The skin looks amazing. I hope you will enjoy this when it reaches you in game. You can see for yourself below.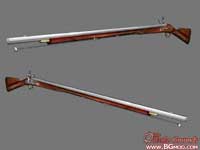 The Shout for Freedom competition is in its final stage now. The best freedom's have been selected and are available for selection in this thread.
The results of this competition will be posted soon. We are pleased to announce Whiskas. He is joining us in the skinning, modelling and 2d art departments. He will be helping us with player skins and models along with some sprites. Give him a good welcome and you will see some great work coming from him soon. We still require player modellers and animators. Again, you can send us screenshots, videos, and/or working examples of your work. You can contact us with a job offer at this address.
As usual, we are pressing on with developing, refining and bug fixing BG to improve your playing quality. More news will follow shortly about the next release. As per usual, please do not hesitate to post on our forums. We look forward to hearing from you.