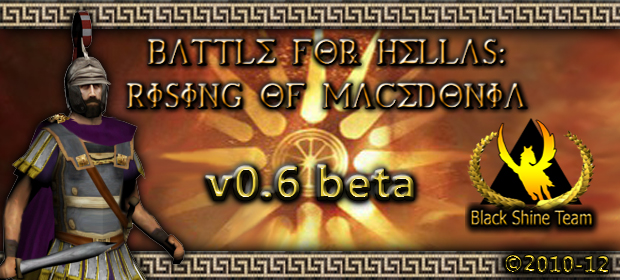 BFH tells about a turning point in the history of ancient Greece, the time of the rise of

Macedonia (359-336 BC).Installation - ROME: Total War versions 1.5, 1.6, 1.9.Alexander.exe. is used.
Macedonia. A small country in the north of Greece. By the middle of IV century BC the country was on the verge of collapse. It seemed the name "Macedonia" would disappear from the map of the world forever but something unexpected happened: in 359 BC King Perdiccas III was killed in a battle and instead the army decided to give the Macedonian throne to Philip who was a brother of Perdiccas .... He was an experienced and sophisticated politician who fought all his life with his freedom-loving neighbors like Greeks, Thracians and Illyrians. He fought not for the gain of his kingdom but for the sake of its survival. The victory meant to him increasing his authority in the Balkans and the greatness of Macedonia when defeat meant a threat to the. Valuable incredible efforts the country, which was destined to become the greatest, sprang .... These developments took place while a deep crisis was destroying the Greek world and the largest Persian uprising had broken out in Asia Minor also.But Macedonia is not the coolest faction in the mod. Balance is built in a such way that each faction has a chance for success. Play is a fun for everybody!Battle is coming, the battle for Hellas ...

Features :
A new map - taken from the "300 WARLORDS OF SPARTA» mod
New Factions - 18 states of the ancient world will come together in an all-out war for the West Balkans and Asia Minor!
New units - over 250 unique models that are not found in more than one other fashion!
Philip II and Artaxerxes III: unique models for tactical and strategic map!
A new 2D graphics
Total AOR - all the provinces are divided between 13 AOR regions. Each is assigned a full line of troops, worthy of an entire faction.

Factions:
Macedonia
Lakedemon
Athens Symmachia
Thessalian Symmachia
Beotia
Aetolian Symmachia
The Union of Illirian Tribes
Chalkidiki union
Achaemenid Empire
Persian revolt satrapies
The Odrysian Kingdom of Thrace
Epeiros

Minor Factions:
Phocis
Crete
Byzantium
Independent Greek colonies
Achaea
Ionian League

The development team:
Russian_ Alexander – the author of the idea, 3D modeling, 2D graphics, cartography, text files…..etc.
Rutalex - gameplay and historical consultant.

The team would like to thank:

Darius & MaxmuS
Artur
Nikoton
Luci'ю_Varen
Koss
Имхотеп
TeNeRiFe_BoY
Basileus
Kelmorian
Mr_Gorby
ky6uk-py6uk
lasturkos
SERAFIM
Alexandros
крестьянин
XeymdaL
VelikoROS
Tone
Leif Ericsson
---------------------------------------------------------------


Download link!!!

Narod.ru