<!--[if gte mso 9]><xml> Normal 0 false false false EN-US X-NONE X-NONE MicrosoftInternetExplorer4 </xml><![endif]--><!--[if gte mso 9]><xml> </xml><![endif]-->
Hello All.
This is quite a long update so bare with me.
Basic I'm going to give people the run down on Multiverse Materials in terms of what it is, progress, story and content.
Firstly I have to admit not a lot of progress has been made. After I undertook the planet Phillip's Sniperville competition progress stopped in terms of mapping for the mod, In hindsight it was a big mistake to start a mod then go off and join a competition. But perhaps the completion will help shine a light on Multiverse Materials, Depending on how well the map does. Since now the competition is over. I can get cracking on the mod once again.
What is Multiverse Materials?
It's effectively just a single player story. The best thing I could compare it to in terms of other mods is something like get a life because it was a story with new content and a diverse range of environments.
So... you're a mechanic whose job it is to look after a computer. Clearly things don't go to plan. It's not as boring as that.
I've spoken to quite a few people and had one or two comments about the computers similarity to Glados. I know that a female AI in the half life universe isn't exactly pushing boundaries in terms of originality. It's still currently being discusses if this should be entirely separate from the half life 2 world or entirely involved in it. Personally I would like references to half life 2 and portal; there is a lot of potholes and lore I would like to tap into. So feedback on the issue would be greatly appreciated. Do you like games that relate to half life 2 and portal? or do you think mods should be separate? A few people said that having links to other games would make people compare the mod to those games. I can understand that, but surely that's not everyone, I wanted to include universes parallel to half life 2 where Gordon freeman hasn't done certain pivotal events. Allowing the player to step in and change the fate of that universe. Because the game spans 500 years I thought it would be nice to come back and see the effects of what you did, later on.
What can I expect in terms of game-play ?
The mod that actually got me started on this mod was Research and Development. I had always played about with hammer and designed puzzles and such, Research and Development embodied that. R&D has very little in terms of coding but new game-play mechanics were created purely from the map. Something I like to say I'm good at, perhaps my sniper map will demonstrate this. Even if it was a tad rushed to finish. As long as everything does to plan you can expect a diverse array of environments tied together with a great story and reinforced with great voice acting.
I know that sounds like there's a lot to go wrong. Most modders think that they can create an amazing story and then it ends up being terrible. So I could be one of those and the story could turn out to be terrible, my strengths lie in making a story fit together. So it will make sense .That, I promise. In terms of other content, I plan a few new weapons and enemies. Both will play strongly in new game-play mechanics.
In other words the weapons are not made with the object of pointing and clicking at an enemy until there dead. The enemies are not made as cannon fodder.
What can I expect in terms of media?
I want the community to see and get excited about the mod but at the same time this is a single player mod . Giving to much away will spoil so many of the surprises I have in wait. The idea is that you travel to other worlds, so showing everyone what that world looks like will take the edge off the play experience. The reason why I have shown people the Crystal caves is because they aren't just caves with glowing crystals in them. So don't expect media that is very revealing. I will submit media when I can. But it will be basic and probably very specific. I don't like to leave people in the complete dark. So included with this update is a few pieces of concept art. Because my artistic talent is comparable to that of a brick, you will have to use your imagination. Also my scanner is older than I am.
So here is a brief explanation on some of the planned content as shown in the concept art.


The first picture is the clockwork miner, this enemy is based on being slow and strong. Expect a lot of them to be virtually impossible to defeat with conventional weapons. This Forces the player to think of more unconventional means of defeating them.


The grasslands hunter will be pretty deadly up close. When you see one, I want the player to think "oh s**t".
Basically it hunts by alternative senses to sight. Found on a world where you own sight is poor. So the player will have to use other means to detect and avoid these enemies. A similar enemy to this would be the tentacles from Half Life 1. Although this enemy is fully mobile.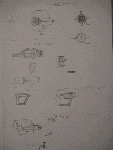 The last piece of concept is a few ideas for new weapons. The only one that is confirmed is the "Graviton Capacitor" The coding for the weapon its coming along nicely. This weapon is fairly central; games like half life 2 and portal have a weapon that focuses on game-play mechanics. Think how boring half life 2 would have been without the gravity gun, all the puzzles that wouldn't have been. The graviton capacitor or "mass gun" is another weapon that creates a direct interface for certain puzzles.
Thanks for reading.