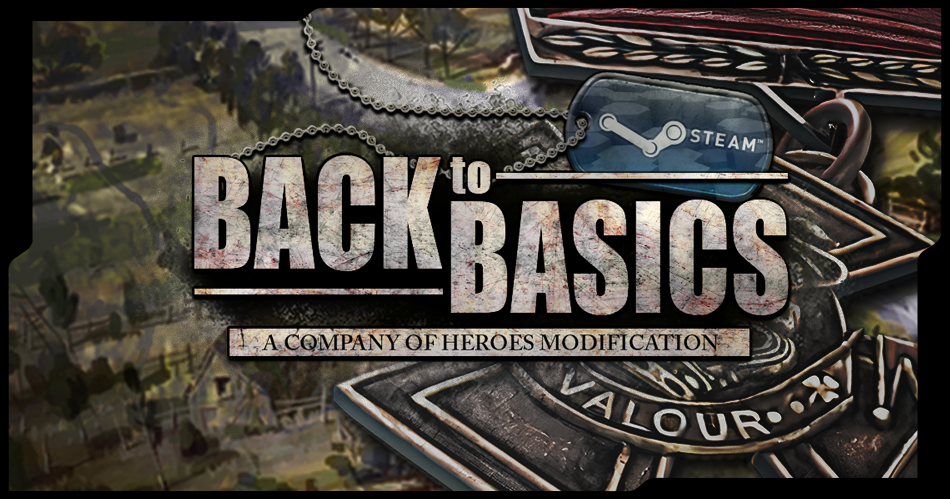 With utmost excitement we can finally reveal that Company of Heroes: Back to Basics is coming to Steam™️!
---
Back to Basics 5.0
We are also glad to announce that Back to Basics 5.0 is scheduled to be released on July 2nd, 10 am PDT (5 pm GMT, 7 pm CEST). The release will be available solely on Steam™.
Alongside overhauled factions, command trees, and plenty of other brand new content, this new version features a revised state of balance. An entirely new weapon damage model, brand new gameplay mechanics, and completely rebalanced resourcing together put further focus on strategy, tactics, proper decision making, and player skill.
AI has always been a core feature in Back to Basics, and 5.0 introduces our most advanced and complex AI yet! The result is a dynamic AI that is much more aware of the various unit class interactions, continuously trying to counter whatever the player is fielding. All-in-all, players may experience a refreshed AI battle experience, featuring 8 AI difficulties that can be challenging and unpredictable, while also being both fair and enjoyable to play against.
Lastly, the mod continues to offer full campaign compatibility. Alongside bug fixes, many of the iconic missions have been enhanced for an overall refreshed experience!
Check our steam page and our previous articles for additional details and information.
---
Discord
Join our Discord! This discord server is where we share our development progress, offer technical support, and offer the opportunity to discuss the mod.
You can invite anyone to this server! Just use this invite link: Discord.gg, or refer to this article.
---
Epilogue
Thank you to everybody who has provided us feedback and shown interest and excitement for Company of Heroes and our mod throughout all the years.
We are excited to enter this next chapter with you.
Cheers,
AGameAnx and Celution