After an alarmingly long downtime since the last Exterminatus news post in June we're finally back to the business of building our mod.
The crash bug that prevented us from releasing a public beta in the summer appears to have been squashed and the maps have been getting some added refinements. This week we're rolling out a new release candidate to the closed beta testing team, to make sure EX is going to be good enough for you patient 40k fans out there.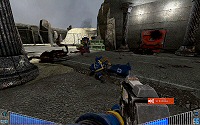 Keep watching this space, we hope to have more exciting news for you soon (well sooner than 6 months anyway). We told you it wasn't dead...
Merry Christmas to you all.