Welcome all again to another news update. Smaller than normal but still we have progress. In regards to a website for the mod that is being discussed and sorted, design given to someone to come up with a first version. SVN wise have found a site and will be playing with the ins and outs of their system.
Now onto what we can show. Jojo has given us the final version of "Bear" and he looks as cool as ever.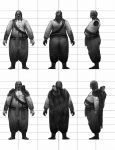 Jojo has now moved onto doing some environmental concept s which I hope to show soon. In regards to weapons we have both some new concepts and a new model from one of those concepts! Concepts courtesy of Joel
And the finished mesh for said first design (the other two are currently being worked on).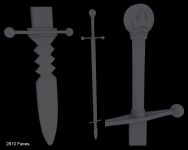 Thats it for this news, I hope to update in about a week with models for the two remaining swords. As always we can always use more help, concepts, modeling, mapping and programming, if you think you can help then PM me.