After a longer than normal period of development, I've finally finished rewriting and optimizing all of the code for Apocalypse Not. Several fixes have been implemented that drastically reduce performance drops and improve the overall experience.
In addition to the performance improvements the key feature of fortifying buildings has been reworked. Gone are there hideous flags in the various buildings, and in their place is a new simplified system that utilizes a new command menu. Fortifying buildings now requires you to bring at least 3 survivors into the area and select Fortify from the command menu.
Further improvements have also been made to the pistols and rifles as well. While aiming down the sights accuracy is increased and bullets will generally hit precisely where the sights indicate.
A new experience and level tracking system has also been implemented that awards experience points upon killing a zombie. After acquiring sufficient experience, your character will gain a level. Currently there is no benefit from levels, but those features will be added into the next release. You can see the new experience bar in the picture below.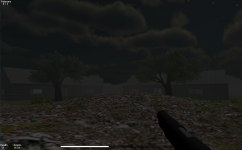 The largest changes in this release lie in bug fixes. Invisible walls blocking certain edges on the small map type have been removed. Zombies also will no longer float in the air until the player comes within range. A debug feature that started the player with addition ammunition was removed from the last release. And finally players will now properly get a random melee weapon instead of always starting with the axe.
The game is currently available on the official website and will soon be up on the IndieDB page as well. Below are several screenshots show casing the changes to the buildings without the old flags, and also a picture of the updated map screen.
As always I appreciate any feedback and bug reports. The game will soon be moving into the Beta phase which will require a $10 pre-purchase to access so try it out for free now while it's still available.