United Nations Space Command PR-TRANSMISSION 44877O-89
Encryption Code: Red
Public Key: file /charlie-nine-four-six/
From: >>FLEETCOM.MO.BL.AM
To: >>CAWCOM
Subject: STATUS REPORT
Classification: Restricted
/start file/
Kapow! We're back, and it's been a while too, so I'm going to just get on with it.
Covenant at War
The Covenant, until recently they've been playing curiosly small role in the mod, with only three ships and two fighter classes to fend off the UNSC's various weapons of destruction, but not anymore. The mod Halo: Sins of the Prophets for Sins of a Solar Empire (https://www.moddb.com/mods/halo-sins-of-the-prophets) are good friends of ours, we've been working with them and trading models for quite some time and now they're helping us fill in the Covenant shaped hole in CaW.
The first ship to be revealed from this trade is the Covenant Destroyer, fully skinned and ingame:
More will be revealed in a later update.
Variety is the spice of... warthogs?
Hmmm... ground work, haven't shown any of this for a while never the less, here we go.
We have three types of hog on display today, the standard chain gun, your faithful companion the gauss hog and finally the rocket hog, as seen in halo 1 pc: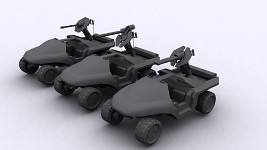 And yes, before you ask, we are indeed working on a troop hog aswell.
Hardpoints, points that are hard
To help give the mod a totally new feel we've been re-designing everything, no matter how small, and today I'm pleased to bring you a first look at our new hardpoints, well, the ones for the engines and the weapons, you'll have to wait till next time to see our shield hardpoints.
Weapons:
Standard:

Mouseover:

Engines:
Standard:



Mouseover:


Ingame: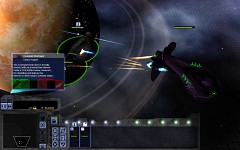 Something's missing...
And that something would be Anh, he's been disconnected from the internet for quite some time, so unfortunately you're not going to get to read his usual wall of text and awesome, sorry guys, maybe next time.
Speaking of next time, it's won't be for two/three weeks due to me being exceedingly busy, but trust me, when the wait is up, it'll be worth it, have a good few weeks everyone, see you on the other side.
/end file/