United Nations Space Command PR-TRANSMISSION 07489R-83
Encryption Code: Red
Public Key: file /epsilon-two-zero-zero/
From: >>FLEETCOM.MO.BL.AM
To: >>CAWCOM
Subject: STATUS REPORT
Classification: NA
/start file/
Here we are again, the end of the week, and yet another update from us here at Apex Studios.
To start us of, a quick shot of our CCS Battlecruiser, it's had a few changes made to it since last week, it's 'neck' has been thinned and it's hardpoints have been relocated, now bristling with pulse lasers you would not want to run into this ship with anything less than a fleet of 3 to 4 ships... or 2 marathon cruisers.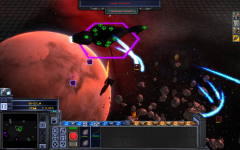 We have another ingame shot coming up, but first.
Be a Hero!
Our favourite game company, Bungie, has launched a campaign to help the earthquake victims of Haiti this week, for every thousand people that play Halo 3 or Halo 3 ODST Bungie will make a $100 donation to the Red Cross for Haiti relief efforts, up to a maximum of $77,000.
Here are the specifics:
1. Round up all of your friends and hop online with Halo 3 or ODST any time next from 00:01AM PST Wednesday, 1/20, through 23:59PM PST Thursday 1/21.
2. Edit your appearance settings so your character is wearing the RED HEART emblem.
a. Press START
b. Select "SETTINGS" / "APPEARANCE"
c. Select "EMBLEM"
d. Select "Hearts" ICON, "Circle" BACKGROUND
e. Back out to the APPEARANCES menu and select "COLORS"
f. Set "EMBLEM PRIMARY" to RED (or MAROON / BRICK / ROSE depending on which game you're playing!)
g. Set "EMBLEM SECONDARY" to WHITE
3. Once your emblem is set, play! This can be a custom game or a matchmaking game, just make sure it's played online, on Xbox LIVE, or they can't track it.
I know I'll be on Halo 3 next week, will you?
Source: Bungie.net
On with the update, remember the UNSC Heavy Destroyer? Well it isn't a heavy destroyer anymore, to accomadate the new Genesis Destroyer model it has been re-purposed as a Light Destroyer, here it is, rigged, ingame, and ready to fight the Covenant: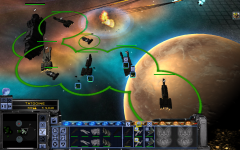 Unfortunately that's all I have to show you today, I know I promised you some more stations, but unfortunately I had some of my AS-level examinations last week, so progress was slowed on that front.
SO I'll just finish by reminding you to vote for us in the Top 100 Mods of 2009, see you next week.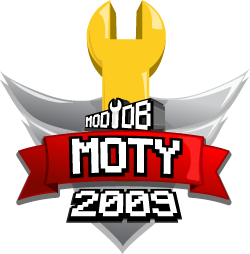 /end file/
---
United Nations Space Command PR-TRANSMISSION 07489R-84
Encryption Code: Red
Public Key: file /epsilon-two-zero-one/
From: >>FLEETCOM.MA.GAIUS
To: >>CAWCOM
Subject: STATUS REPORT
Classification: NA
/start file/
Dear Community,
First of all I'd like to introduce myself before I start with my part of this update.
The name is Darth Gaius (Dgaius), Mapper of Apex Studios and just recently appointed to do the Covenant at War soundtrack.
As you might have noticed I was the first to join Covenant at War after Blamtroid started it up almost two years ago. As a mapper I was part of multiple modding groups of which none actually saw daylight. As soon as Blamtroid asked me to join his mod I agreed to map for him since I really liked the idea of CaW.
So Mr. "Darth" Gaius... You have been part of this mod for the whole two years and we never saw an update of any kind. Neither have we seen your work, what's up with the sudden comeback?
Believe it or not and yes it's very cliche, but the answer is a lack of time. And we all know the reason why.... yes it is.....school.
But eventually I was able to take a little time and tadaa! Here are the results!!
The first results are two maps I finnally managed to finish after laying around for a whole year. The first map is my impression of Balaho, a snowy and Industrialised world.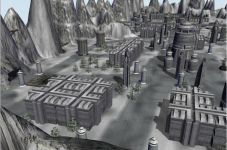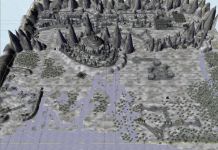 Obviously the vanilla ground bases seen in the above images will be replaced with the CaW ones once they are finalized.
Next week: Reach Docks
The second result is the first track for the CaW soundtrack.
Hold on there, wasn't that Gotoprime's job?
Yes it was, but we're not entirely sure where he is... So I've been given the task of making the soundtrack now. Blamtroid will soon be uploading the first track of the soundtrack, either this week or next week.
That was my update for this week, I hope you enjoyed it and from now on I'll try to update you guys frequently and with some more examples.
Darth Gaius out.
/end file/