Incoming Transmission, FLEETCOM.MO.BL.AM >> CAWCOM
.:BEGIN:.
Hey there, welcome to the first Apex Studios Weekly Update of 2010, and to be honest, it's quite awesome.
Five new things for you today... well... nine, if you include all the varients.
To begin with, think back to the 13th of November 2008, we showed you our model of the UNSC elephant, however, that model was covered in poly deformations and wasn't all that pleasing to the eye from behind. Needless to say it was taken apart, tweaked and finally we can present to you once more, the UNSC Elephant: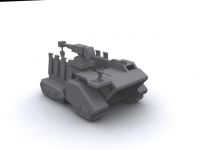 It's in the process of being skinned, so next week we hope to show it to you ready to be put ingame.
Next up is a quick reworking of the CCS Battlecruiser, the front of our ccs was horrible, segmented and lumpy, so with some simple extruding and smoothing I fixed this problem: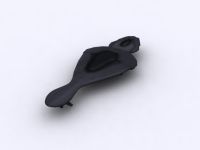 The CCS is already skinned, rigged and ingame aswell, as shown below: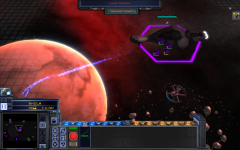 Number three on our list of awesome this week is a little work into the spacedomes, as I played vanilla EaW:FoC the other day I realised the star backgrounds were really poorly made and unrealistic, so I've started work on new ones, as shown in the image below, with our ingame prowler in the foreground: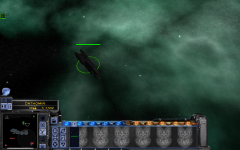 The fourth thing I have to show you isn't from the mod itself as such, rather a few improvements to our website, Anh Nhan has managed to integrate a Chat system in the top right corner of the screen and a new screenshot gallery under 'features', link: Hcaw.unitedstudios.co.uk
Finally, I have something some of you have been waiting for quite a while, the first real look at our Stations. This week I present the UNSC Station to you, next week you may see something more... how to put it... purple?
The UNSC Station: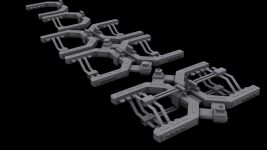 .:END:.
Incoming Transmission, FLEETCOM.MO.ANH.NHAN >> CAWCOM
.:BEGIN:.
Welcome back everybody, We haven't posted an update since last year, so here we go! A big excuse first The last two(??) weeks were !#$§&?ß@ for me, I never slept until 3AM, and sometimes I don't sleep at all, it's my laptop's fault, don't worry. Notice: Due to these happenings I could talk some junk. Sorry
Mod of the Year Award
As you should have noted, we're in the Top100 of the MOTY Awards. So vote for us! I only have to say four simple words. Just. Four. Simple. Words. WE. WILL. DO. IT. It was a creed written into the founding documents that declared the destiny of a nation… No, I'll stop…
Why do I always forget that I'm bad at PR? Ah shucks, just vote for us. Click on the really bottom left entry (Star Wars Empire at War Forces Of Corruption), and then on the first entry that appears left side (where it says "Vote!", but be sure that it's THIS mod).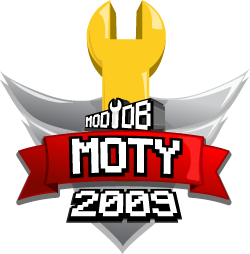 Thanks for everything, guys and especially watchers! You made us to that what we're today: One of the Best.
New Units
It seems like I'm back at modding after all that rendering and coding (added some awesome new features to the website ;)) I now finally have managed to make a new unit again. I may now present to you the overworked UNSC Prowler. Right, not a new unit, but I didn't like the old one for some reason… Ok, the model was messed up, too many inefficient polygons and some more mesh errors which were teasing me (couldn't really refine the model further), so I made a completely new one from scratch. A bit more than like the frigate now (the UNSC Light Frigate was made to a prowler you know), and about the same poly amount, but this time no sucking mesh errors and a clean three-dimensional model.
As a prowler which had to be completely black after my opinion, I didn't had to make any texture, which saved me LOADS of time, and rigging… But because Blam didn't want something completely black ('cause it would be quite hard to see), he made a texture for the prowler. See below.
Render: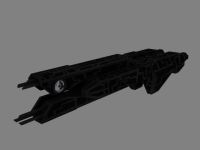 Render without texture: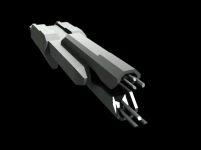 The old one for comparison: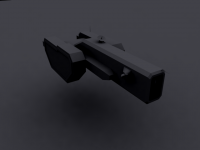 See the difference? As said, more detailed, but with the same amount of polys.
Ingame: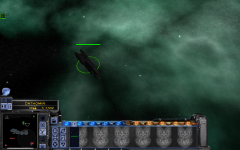 If you read this, you really read my whole part. Not many can do it without skipping some parts Some lines left, and you did it! Please tell me in the comments whether you left something out or not. Just a little survey, to improve readability of my update part. Thx!
Questions from the community
• "When does this mod come out?" – AAAAAAAAAAAAHHHHHHHHHHHHHHHHHHHHHHHHH! WHERE'S THE ROPE?
I think that was it from the first update of the new decade
Regards,
Anh Nhan
.:END:.