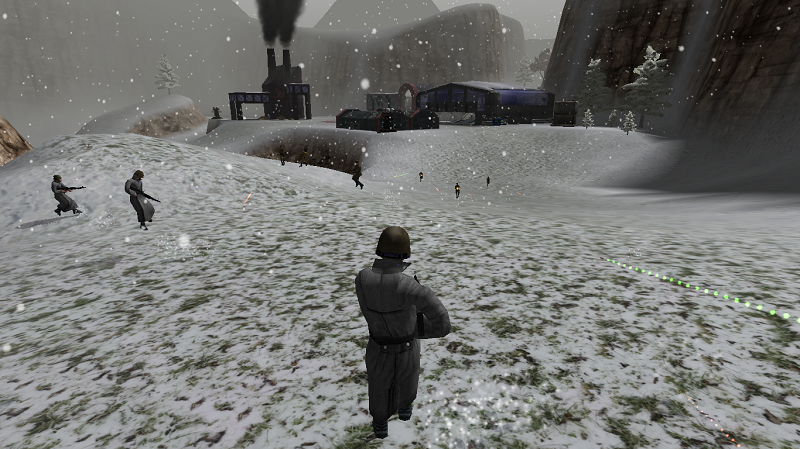 Yep, that's the new map Camos Canyon, but even newer! Now that Nuclear Winter is out, most of us have shifted gears back to Gamma again, and what the future gameplay model feels like and what the maps look like. The new gameplay is quite fast and furious, so fast that we've tried to slow down some parts of it (you'll notice in particular that Ore Trucks have been slowed substantially, although they are tougher).
The media that follows was recorded during recent test events, and as such may include incomplete or missing assets (such as misaligned first person weapons) and Teamspeak chatter. But it gives a good idea what it is like in Gamma, so enjoy! First up, some still shots. All of the images may be clicked for larger versions.
Now, to the good stuff; the videos. We'll start with Camos Canyon, a map introduced to the public in Nuclear Winter but already redone for Gamma purposes. Fast cash, and large tank clashes.
Fissure, rebuilt to have incredibly more area to fight on multi-level scaffolding around the central area, redesigned ruins, new caves to explore where Silos are tucked away, and underground access to both sides' barracks.
Guard Duty, a small-sized, low-tech map that has become known to testers for early infantry combat and an excessive amount of artillery exchange back and forth across the river
Complex, with a redone and accessible frozen river and interior portion. Remove the middle hedgehogs to allow tanks to roll down the iced-over path, but don't forget that it's a two-way street.
And finally a compilation video that shows off some of the aforementioned maps plus Antlion, a new infantry-only deathmatch map centered around a pit with a pillbox that will chew up any soldier who marches too close. Grab crates for upgrades!