COME JOIN US ON DISCORD
2.8.1 Update
Soon (TM) we release the 2.8.1 Update for AotR! While the team loves the positive reception to the 2.8 release,we were not entirely satisfied with some gameplay elements. Before moving on to the next major release for updated space combat, we wanted to bring a small update to further balance ground combat. What started off as a small effort eventually became something bigger as we started tinkering with more and more stuff.
This update will break previous saves from 2.8! so if you want to continue a campaign from 2.8, make a backup copy of the previous version.
Ground Changes
Let's start off with the main focus of this update. The majority of changes revolve around changing a few key elements of ground combat that we thought were lacking depth or balance in the previous release.
Air
Ground air combat has been fully re-evaluated. Ground aircraft have has a tendency in AotR to be either really good, to the point where it is all you ever need to build, or easily countered and rather pointless. We wanted air to be a dominating presence on the battlefield, but something that could be easily shut down if properly defended against.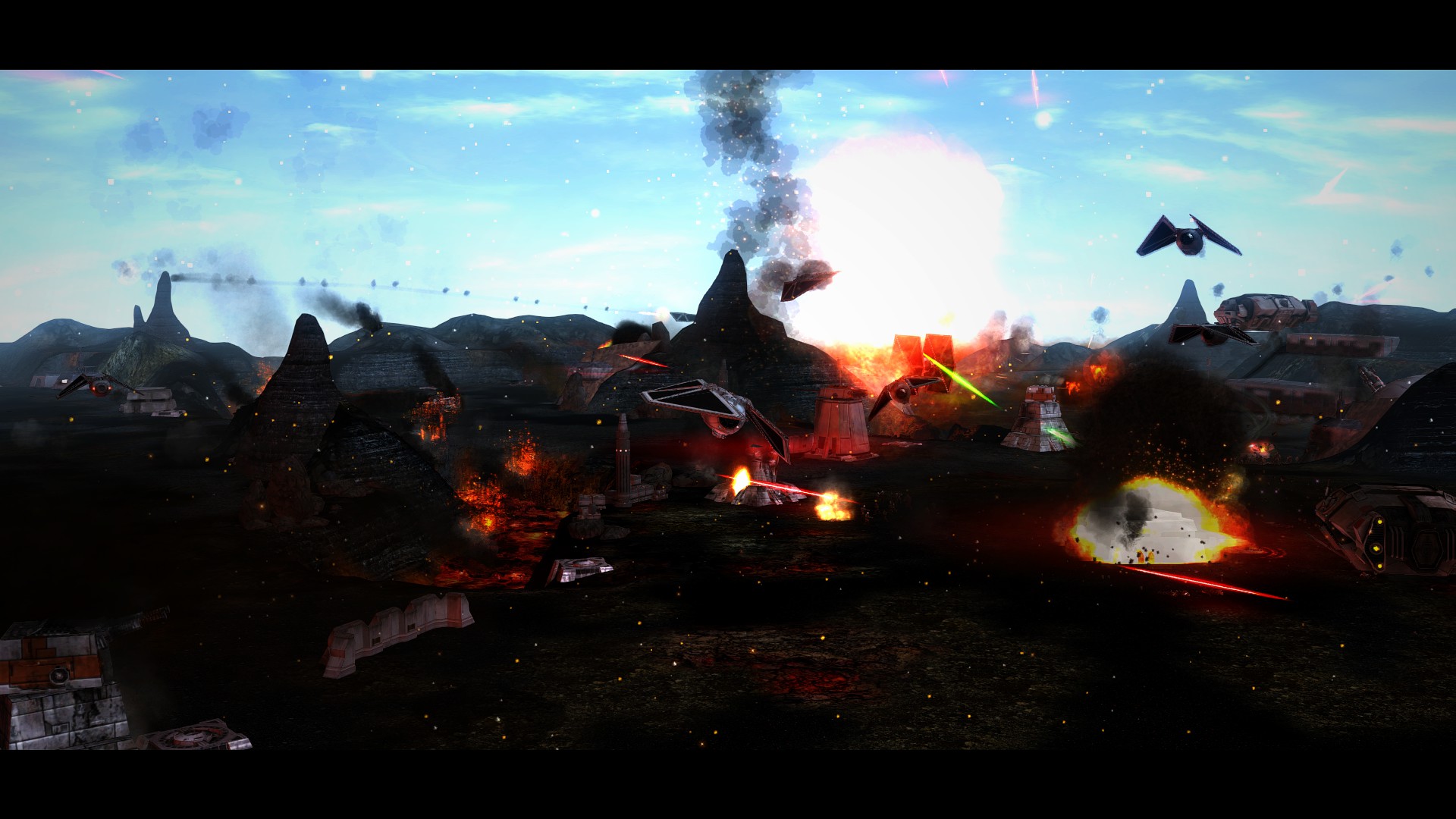 We also wanted Air to feel a bit more natural and also need a lot of clear airspace to operate correctly. We have redone the speed and turning of all air units, so that they require a lot more room to operate. Anti Air must be cleared around a good amount of the map before they can begin to dominate the battlefield. Also, the changes to movement have made Air vs. Air combat have a lot more to do with the positioning of the units during a dogfight.
Non anti air weapons would also have a tendency to be too effective against Air, so we lowered the accuracy dramatically. Along with that aircraft will also miss small ground targets more and their weapons are really only effective at the target they are designed to hit. Now non-AA weapons will slowly chip away at air armor so that aircraft can safely strafe run non-AA units.
However, we have added new ways of killing air with the addition of a flak battery to the medium build pad which will essentially shut down aircraft across large sections of the map. The standard AA turret is now a fast firing laser which is quite effective against unshielded targets. Lower tier unshielded air will now be chipped away from standard groundfire, and shut down completely with dedicated anti air. Shielded higher-tier air units will require a more dedicated Anti Air counter to take down.
Infantry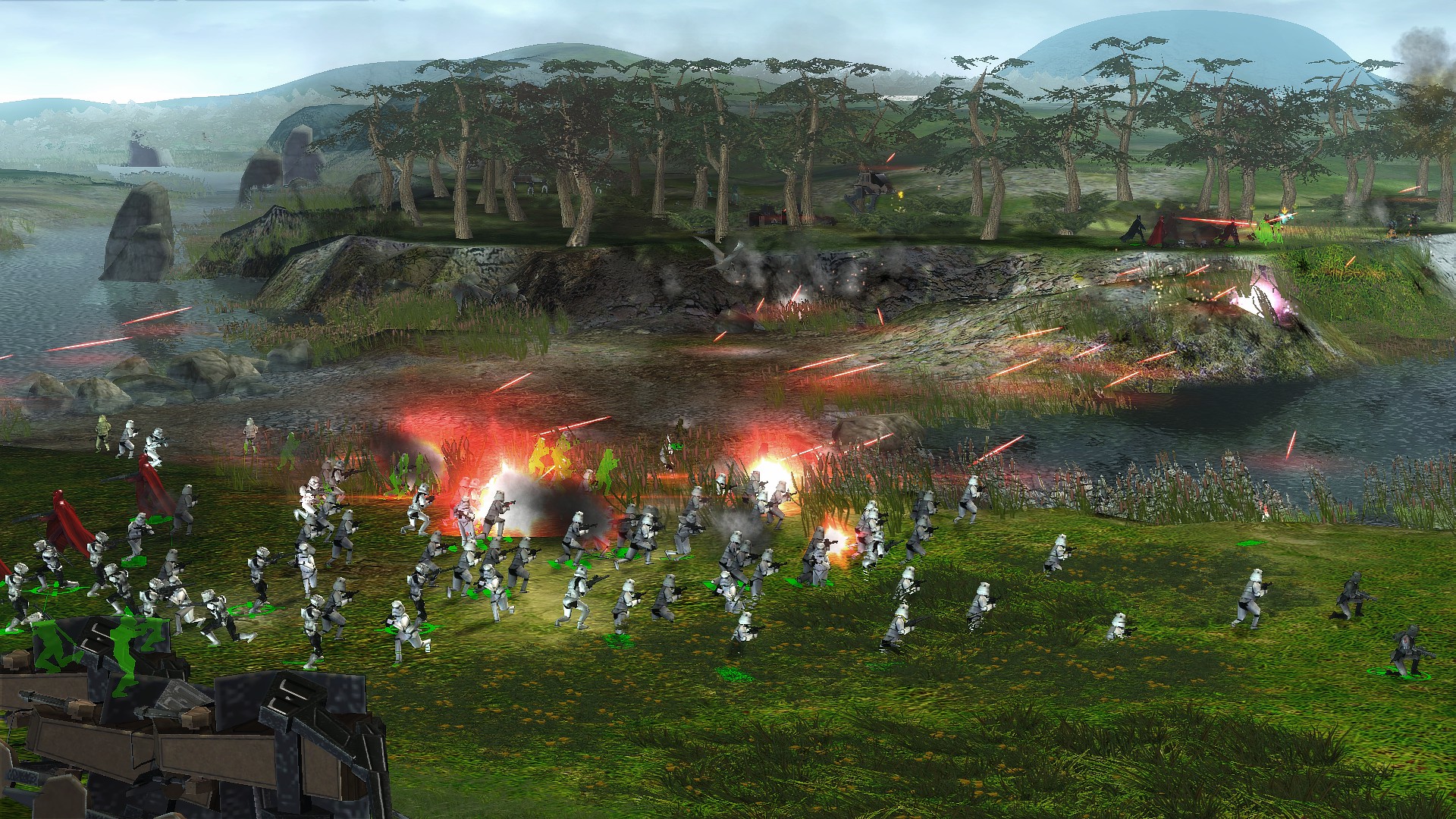 Rewriting the Tech for Infantry
One of the main changes to infantry is an overhaul of how they are handled in the codebase. Thanks to a discovery by the Thrawn's Revenge team, we now know that infantry units in galactic conquest were being tracked individually. Which meant that one infantry platoon essentially counted the same as having 40 or so ships in GC. This meant a major performance hit and lots of lag the more infantry were built in campaigns. We now use a "Company Spawner" system developed by our code wizard Maxim, to effectively eliminate galactic conquest lag by reducing the infantry companies down to one unit. One side effect of this will be that when calling down infantry into a landing zone, you will see a flag representing the troops and not the units. After that however, everything remains the same. Also another added bonus of this tech is that now you will properly see which infantry companies died in the post-battle screen along with a much more accurate auto-resolve calculation mid-combat.



Infantry icons have also been updated, with a small identifier in the bottom right corner to help you know what the role is of the squad.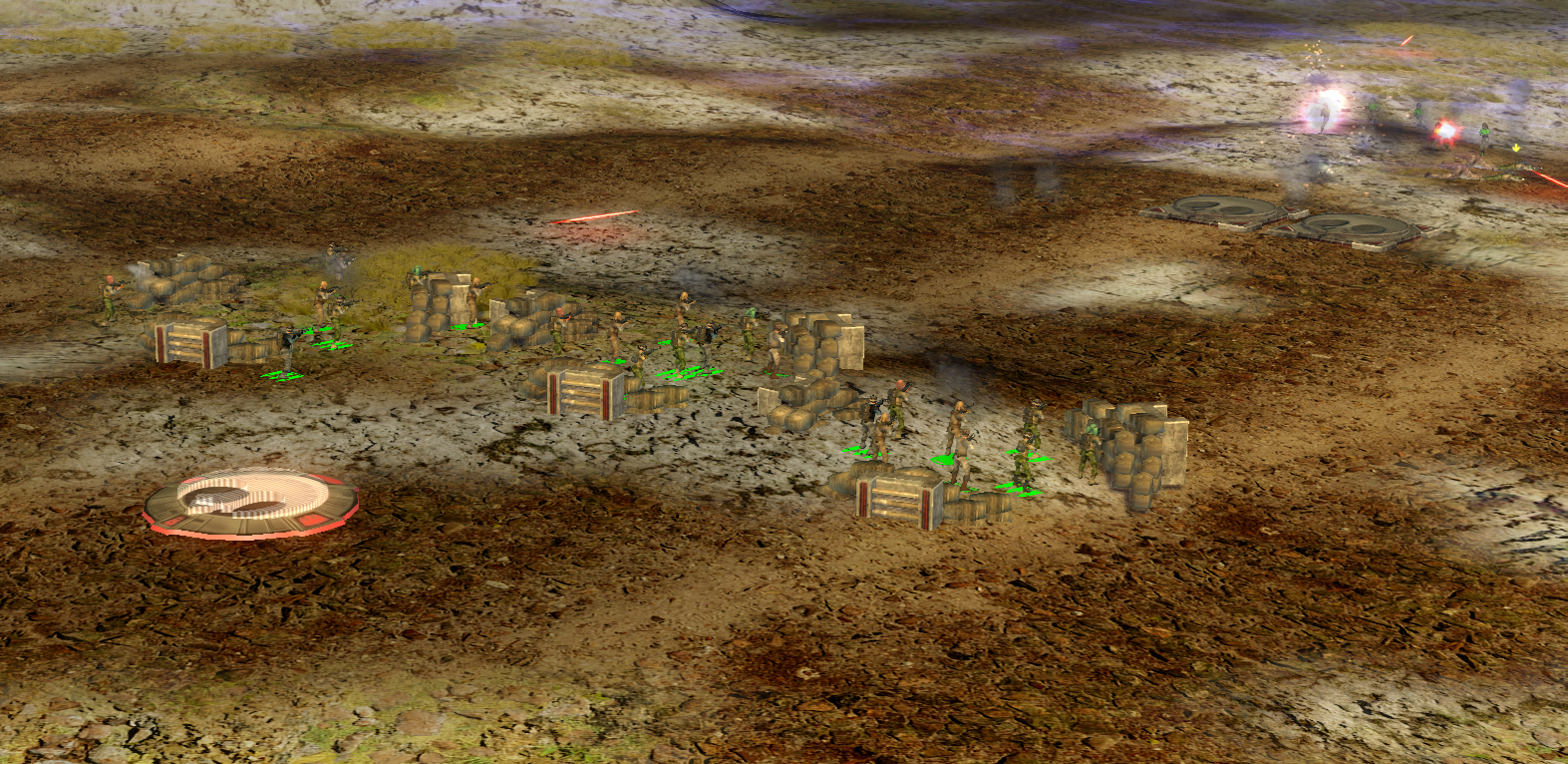 Pictured above: Rebel suppression platoons digging into a defensive position with their new deploy sandbag ability.
Grenades
We have also added many new grenade types that are used by infantry. Infantry descriptions will let you know which companies use which grenade types. In battle, each infantry that uses a grenade has a custom icon under them for the type of grenade they throw.
Frag Grenade: Orange colored grenade. Hits a wide area, slows down hit infantry, very common.
Concussion Grenade: A Yellow anti vehicle grenade. Lowers the defense of hit vehicles which causes increased damage against them for a few seconds. Common sight on rebel infantry to fight the empire's mechanized focus.
Thermal Detonator: Red color, very high damage, but uses fire damage type. This makes it less effective against droids or vehicles, but super effective against infantry. Can one-shot low tier infantry.
Proton Charge: Red color, the premier anti building grenade. Common sight on infiltration units to destroy buildings quickly to allow for follow up attacks on weakened planets.
Ion Grenade: Blue color, best grenade against vehicles. Stuns vehicles and droids for 5 seconds and does Ion damage. This makes it useful to damage shields, but also does enough damage to oneshot weak droids.
Plasma Grenade: Orange color, rare grenade type that ignites the ground and damages everything over time.
Poison Grenade: Green color, rare grenade type. Creates a toxic cloud that damages infantry units inside it
Glop Grenade: Green color, explodes into a glue like substance that harshly slows down infantry and droids for 20 seconds. Common on CSA infantry, but also used by pirates.
Flash Grenade: White color, stuns infantry in a wide area for 5 seconds. Useful for surprise attacks or to allow for retreats.
Stun Grenade: Purple color, stuns infantry in a small area for 10 seconds. Used mostly by close range units to survive attacks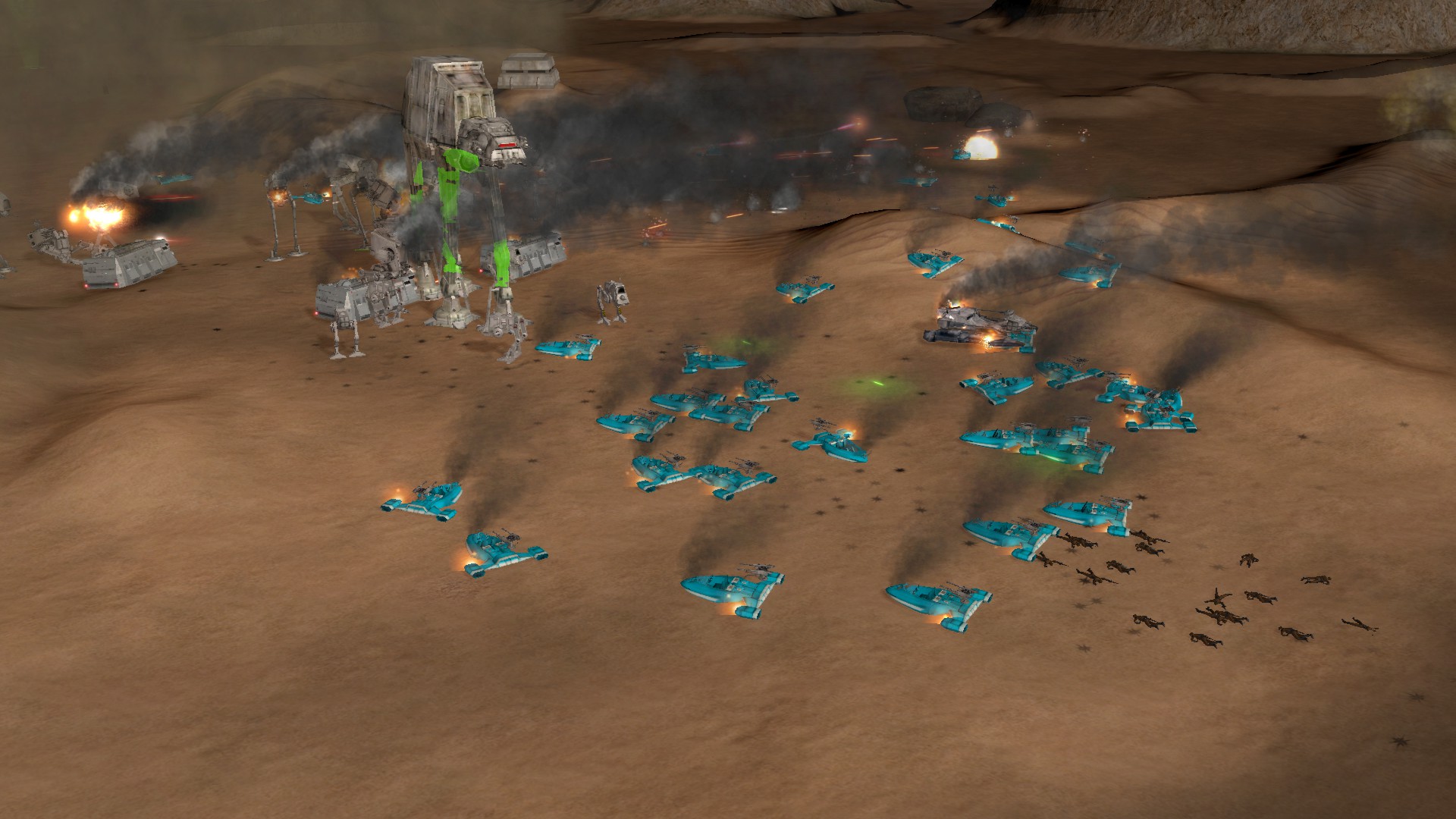 Infiltrators
We have redone the stealth capable companies for all three factions, with the Rebellion receiving 3+ new types of infiltrator squads. The main focus of this redesign was to lower the ability for infiltrators to take a planet by themselves. Each infiltrator squad is much more specialized to destroying certain types of targets, be that buildings, infantry, or vehicles. Along with that, infiltrator companies have been reduced in company size dramatically so they can no longer withstand sustained combat. This turns infiltrators into only being used for quick hit-and-run attacks against unfortified targets of opportunity. The Rebellion also now has its Infiltrator Academy brought back from the base game, and produces units based on the main ground base level.
New Units
We have a couple of new units and some model updates for existing units as well.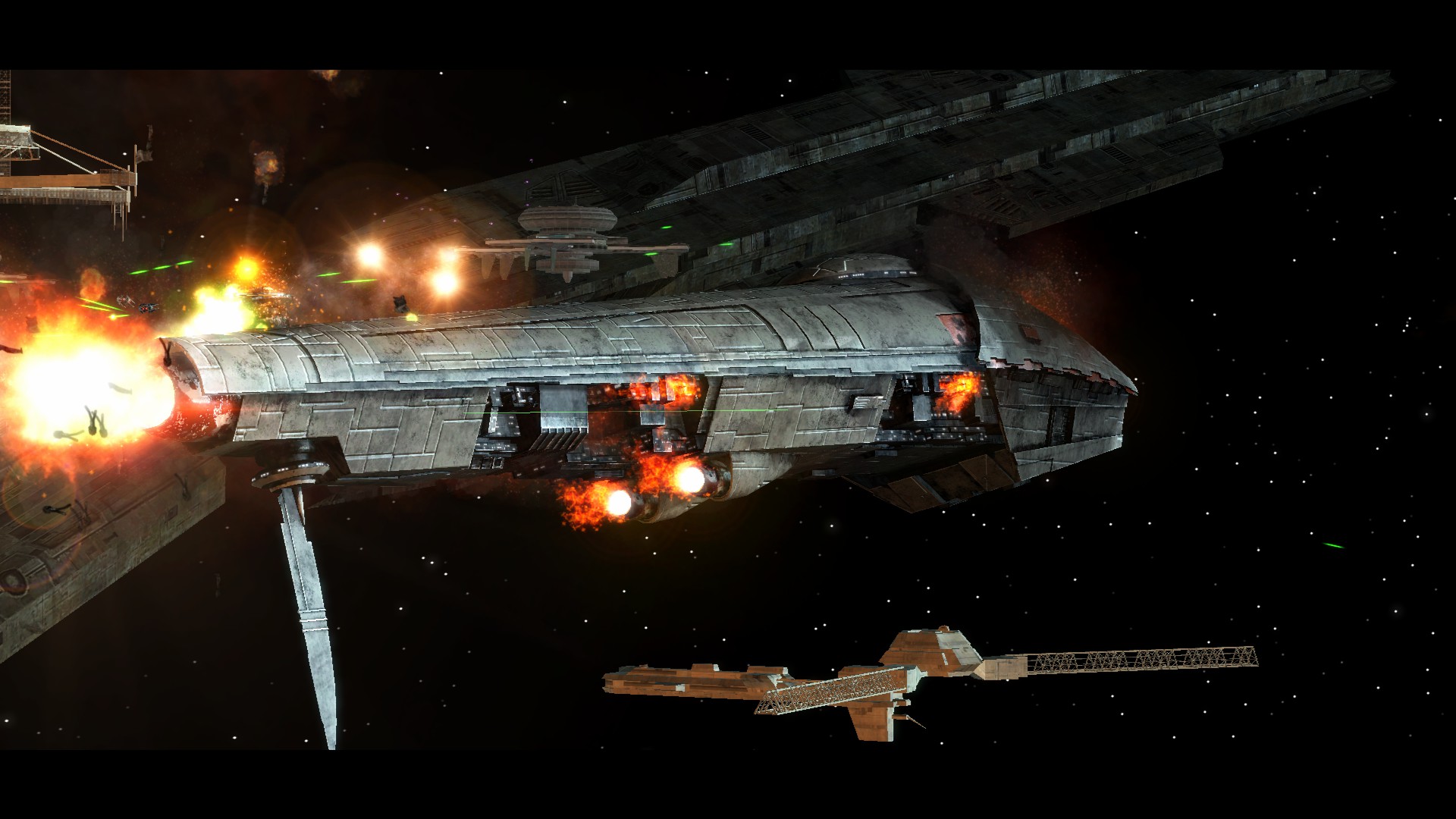 T1B/T3B Tanks: Completely new models and some balance tweaks to armor/shield types. The T1A tank now has an additional grenade launcher for anti-infantry duty.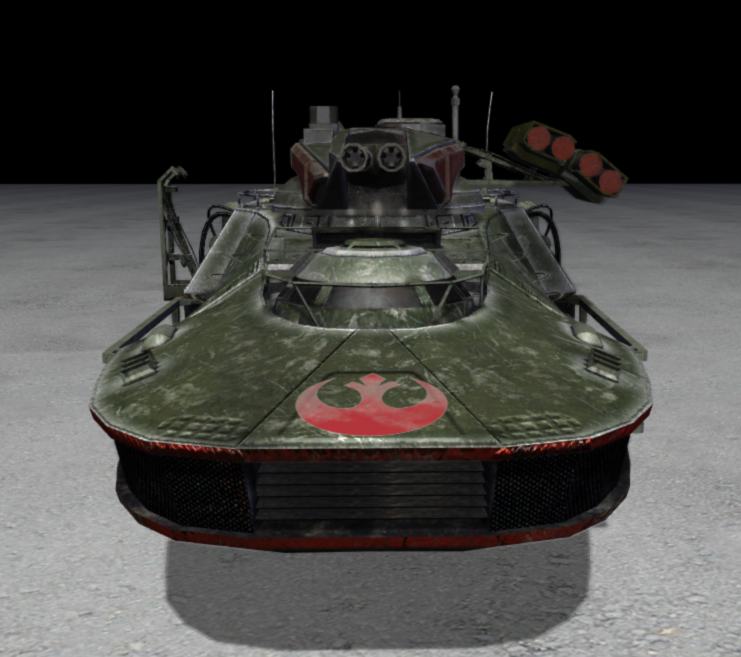 Occupier: An imperial support tank featured in Rogue One. This tank is used mainly to support a defending position by building support structures on the back platform of the tank.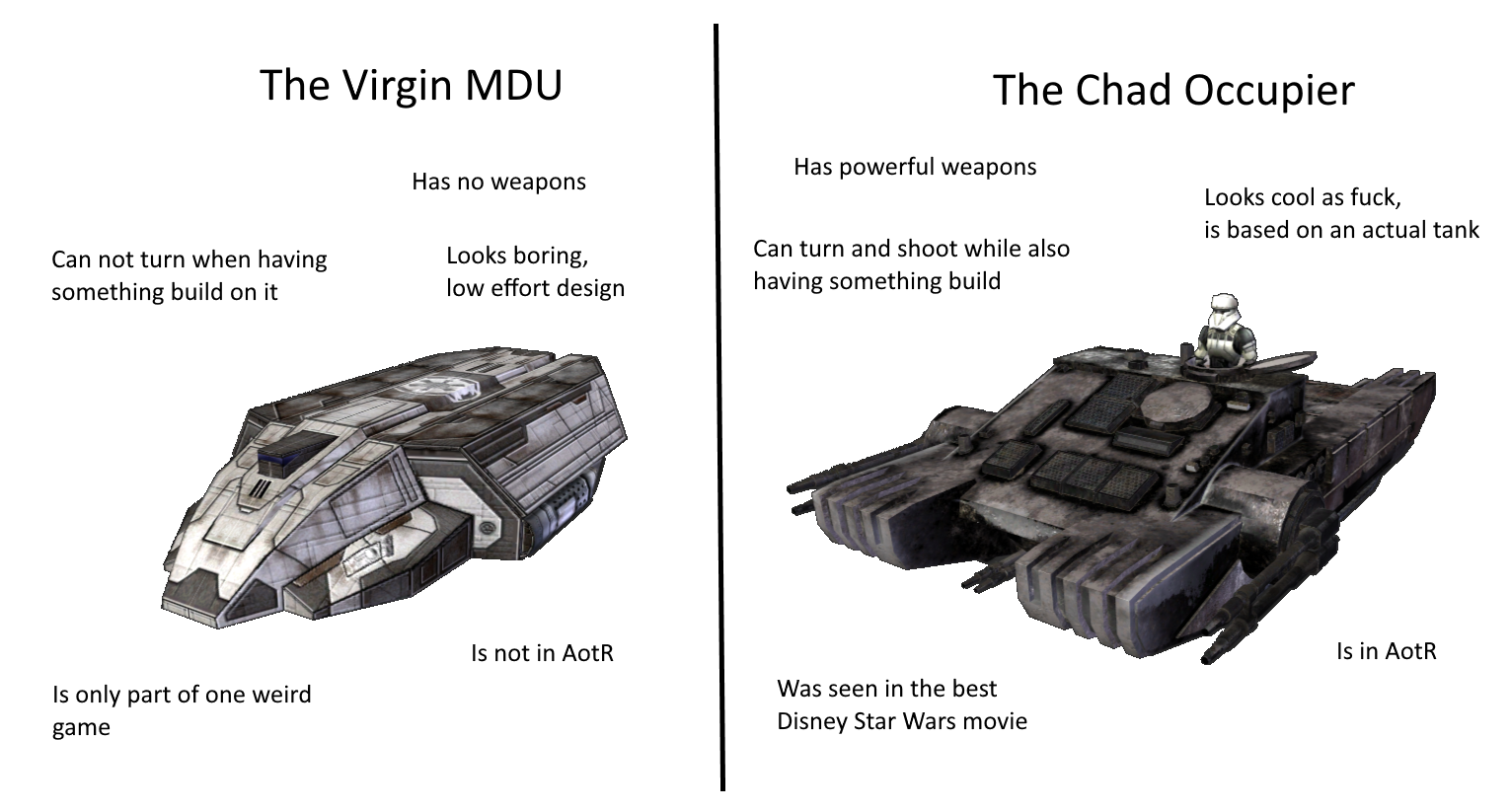 AT-DT: Low tier Imperial artillery featured in Solo. Produced from the first level of heavy factory, this tank will provide long range fire support. It's main cannon is very powerful against buildings and infantry. However it has little armor to protect itself and the crew is completely exposed, making it weak against anti-infantry based weapons as well.
Archon Tank: A brand new tank design taken from the cancelled Battlefront 3 sequel. This tank replaces the AAT for the Hapes Consortium. It features heavy ion weapons used to immobilize enemy vehicles.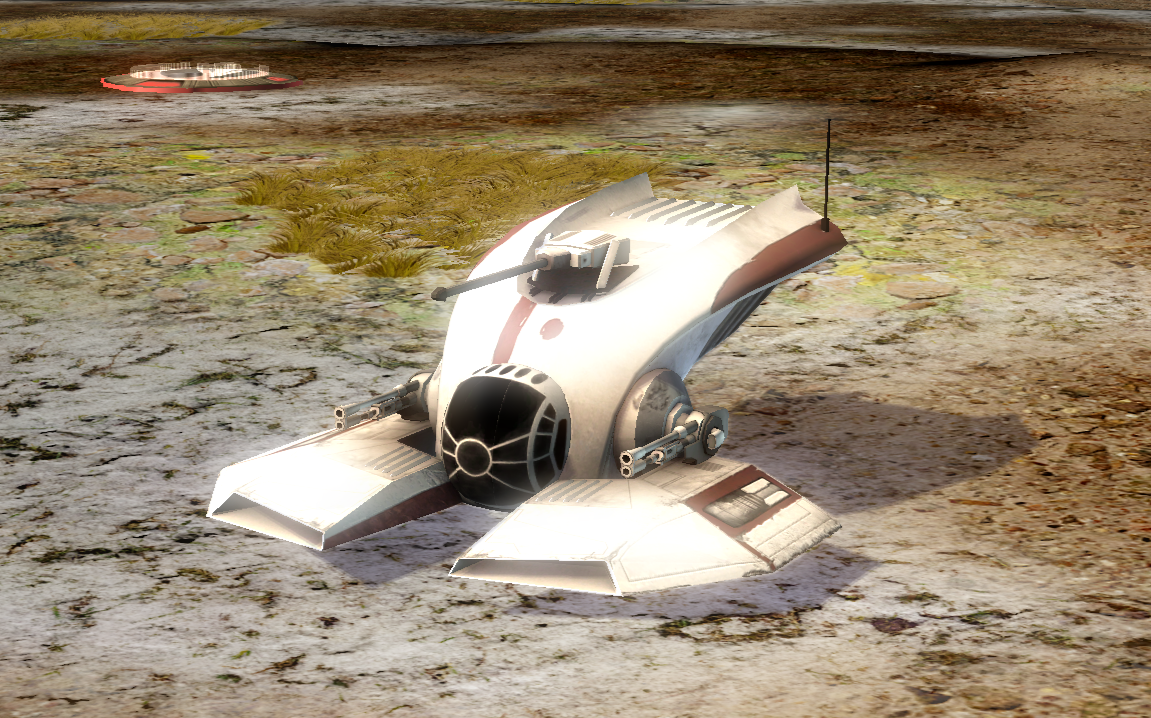 Espo Walker: A light anti-infantry walker similar to the AT-PT. The CSA uses these heavily to protect against civilian uprisings, but can be effectively used against most infantry in open combat.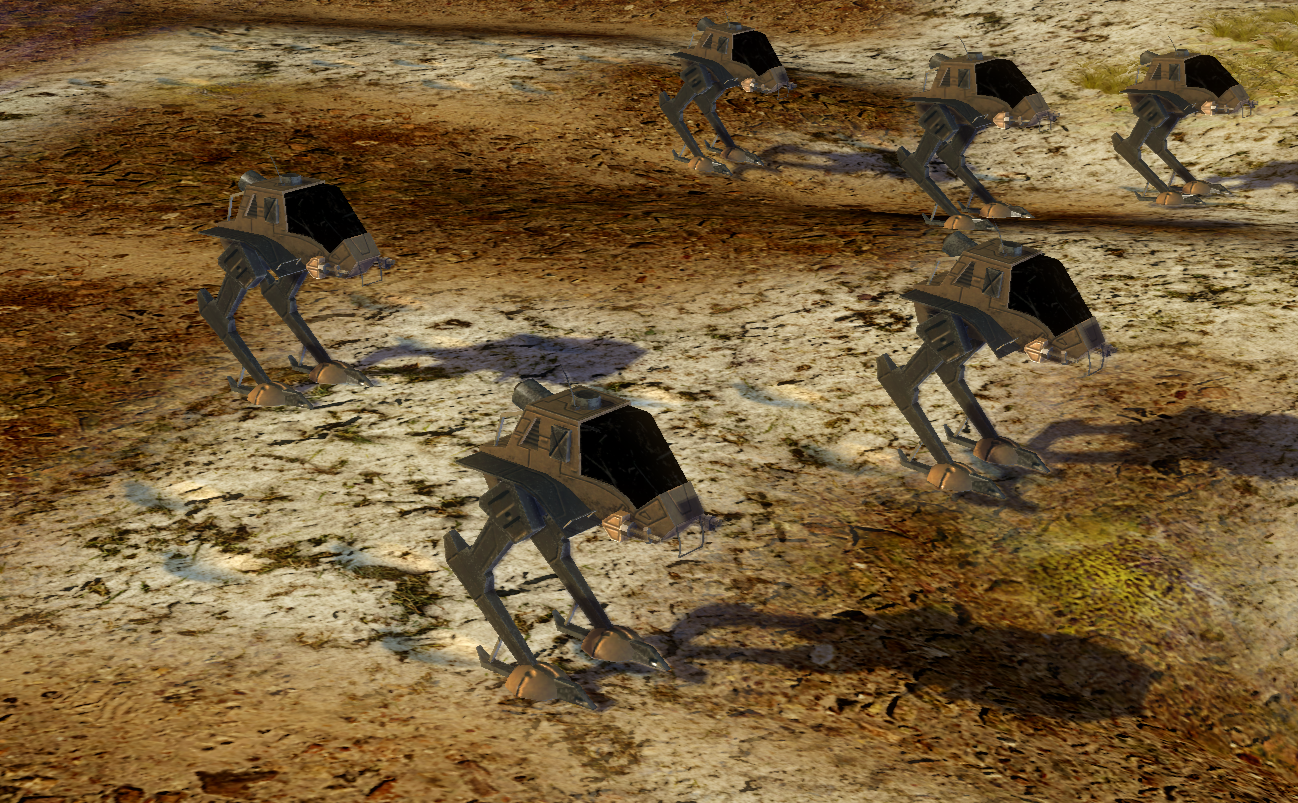 Hapan Space Units: The Hapans also get two new space vessels. Alongside the Battledragon, the Hapans now have the RoyalDragon. Painted in a menacing red color, these ships are twice the size of a standard Battledragon and function as the main command vessel and carrier for their fleets. Also added to the roster is the small picket Beta cruiser which is mainly used as a support ship and is able to shoot down incoming missiles and rockets.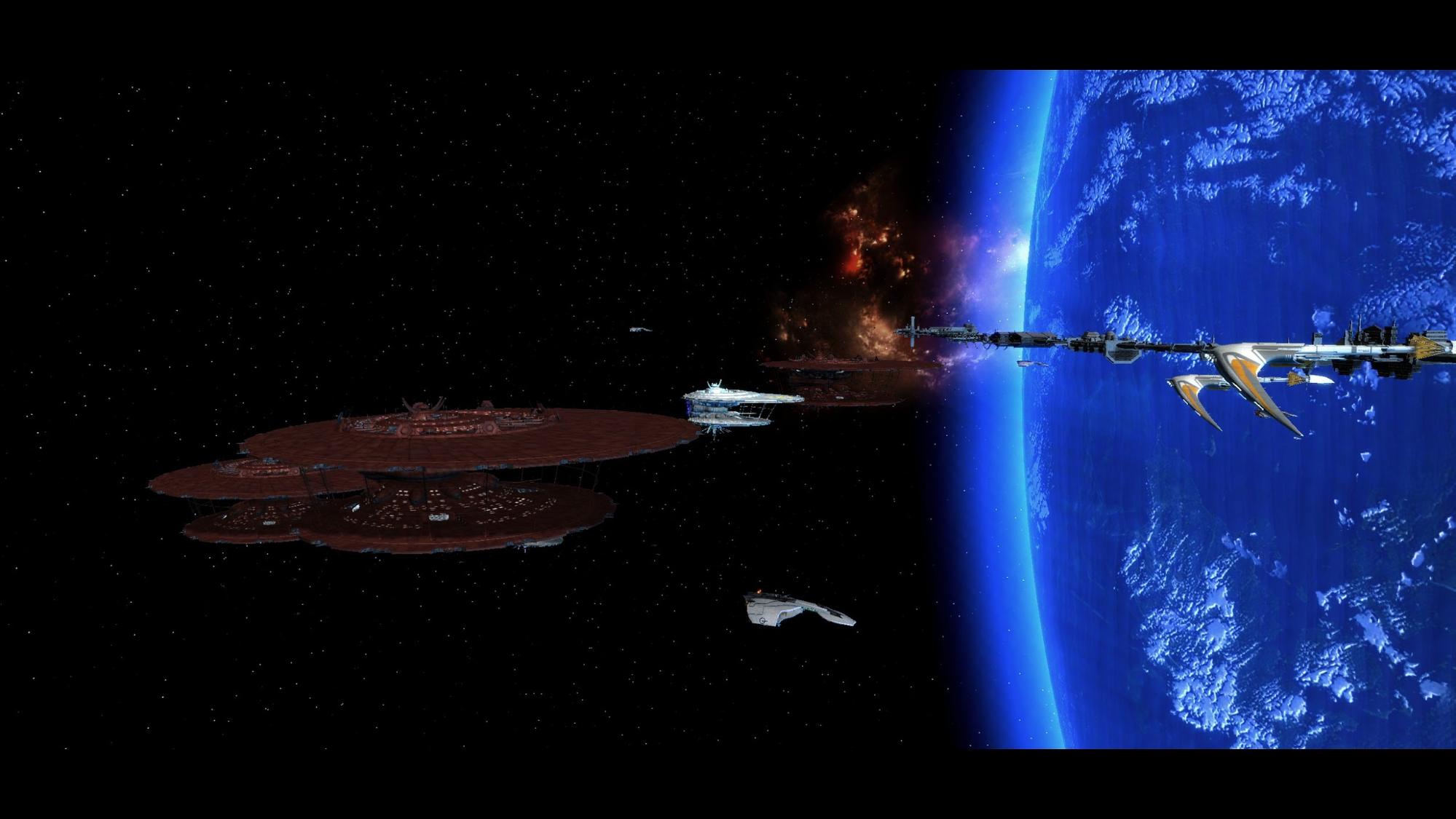 AI Updates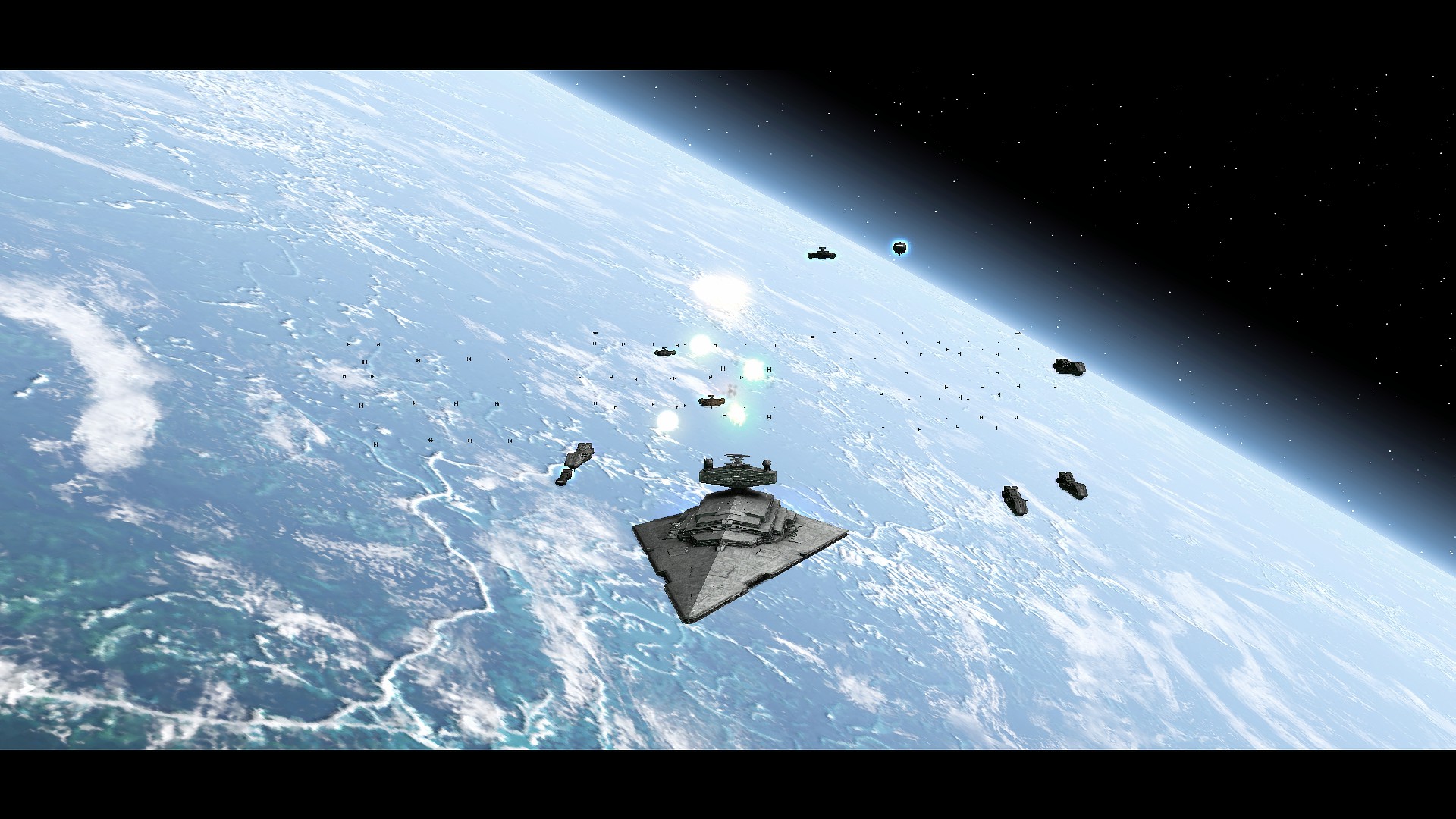 As with every update, the AI is going to get better and better. The following new AI behaviors have been added to dominate you
Ai will now properly move their forces to a landing zone before issuing a retreat. This means they will no longer lose all their units when they order a retreat, and you will need to stop them from getting to a landing zone. They will also ungarrison units from buildings before they retreat.

New AI behavior for Bunkering. They should only bunker something if enemies are near. AI will leave a garrison if there's no more nearby enemies.

Ai will now properly rush into a shield if they are attacking and not sit outside the shield.

Ai will anticipate your attacks and start protecting/attacking the correct starbase/buildings sooner.

New plans for ground battles: Concentrated attacks on important structures and control points.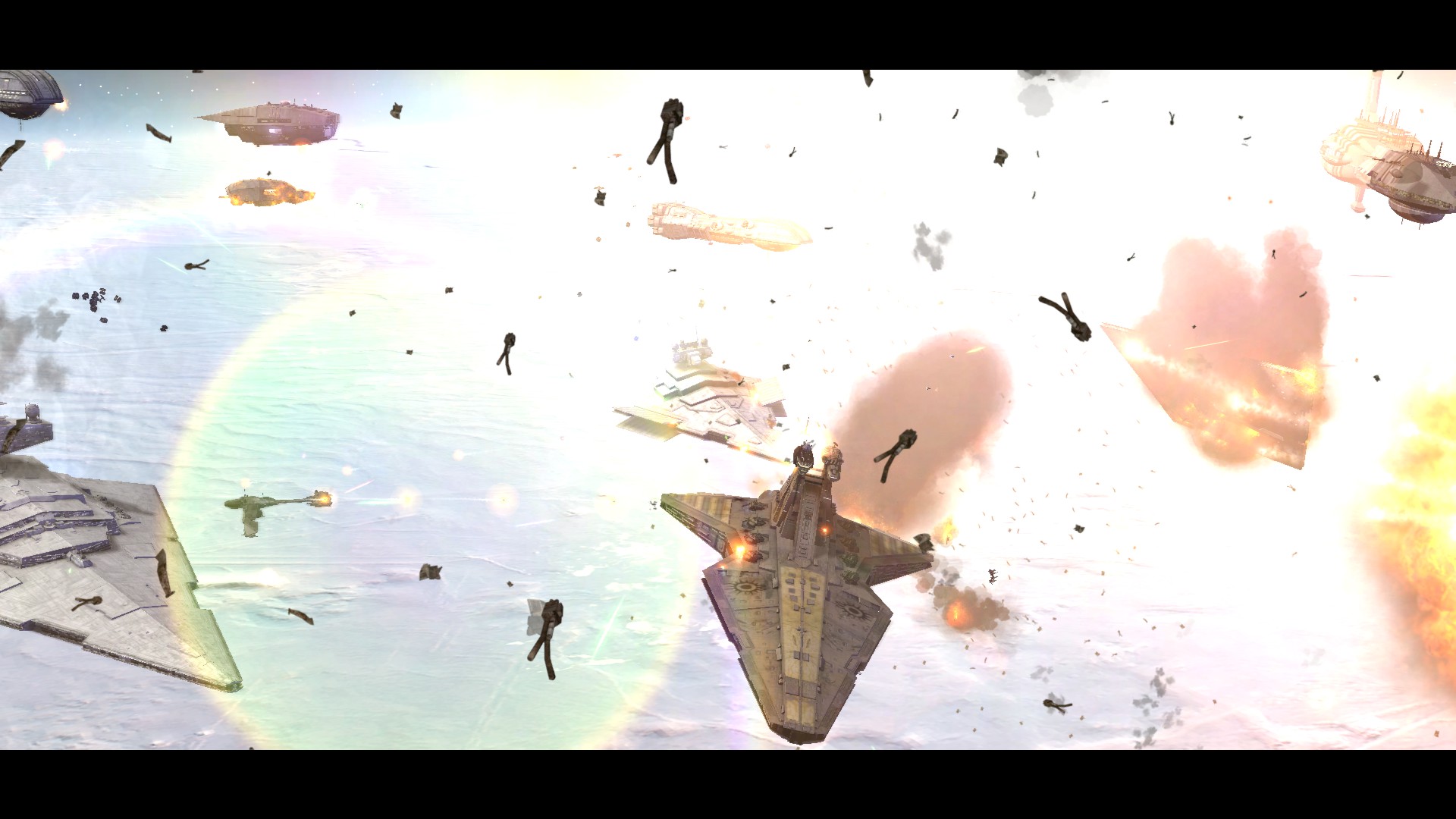 Minor GC Tweaks
Finally, there have been some minor balance updates to the galactic conquest campaigns. Starting forces and planets have been adjusted on certain smaller campaigns. New trade routes have been added between planets that have only one connection. This means that taking the main hub of an outer rim cluster does not disconnect the individual planets from themselves. Finally, the random campaign starting pirate forces have been reduced, and a planet starting with buildings is much more rare.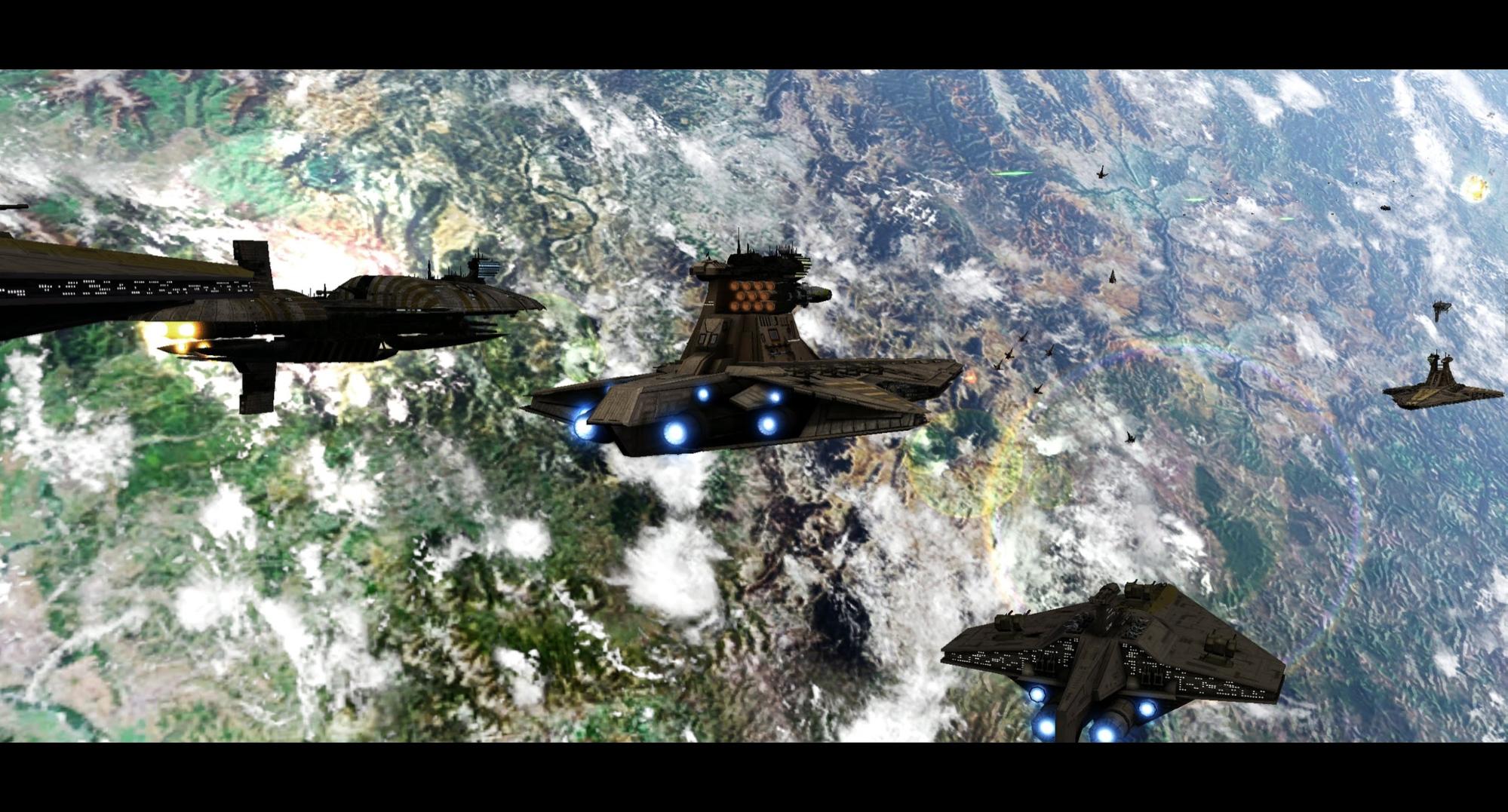 And as always, a sneak peak for the future of space combat…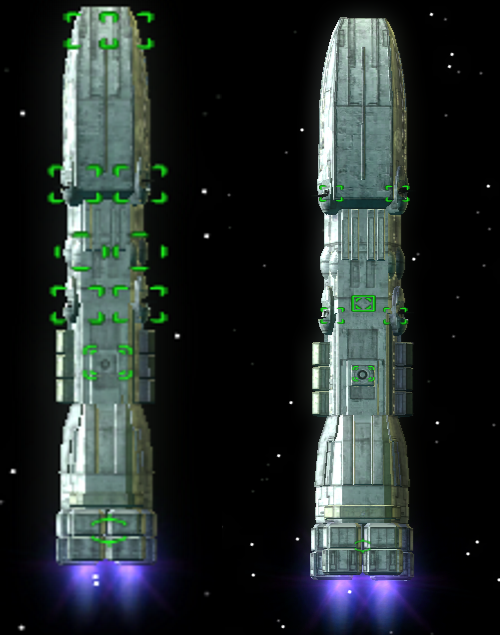 And a meme i guess…