We Have A Discord Come Hang With Us There
Welcome back to another AotR update! Today we are talking about the much anticipated release of the ground update the team has been working on. We have a lot of juicy details to share, so let's get on it.
The team has been hard at work on revamping ground combat, but more generally revamping the mod in general. We are happy to announce that the next release is releasing very shortly! Because of the large amount of sweeping changes we are dubbing this release AotR 2.8. We feel that this update is a major overhaul to not only ground, but a lot of systems in the game along with tons of new additional content. Given that its such a major change, we want to signify that leap by updating the version number of the mod.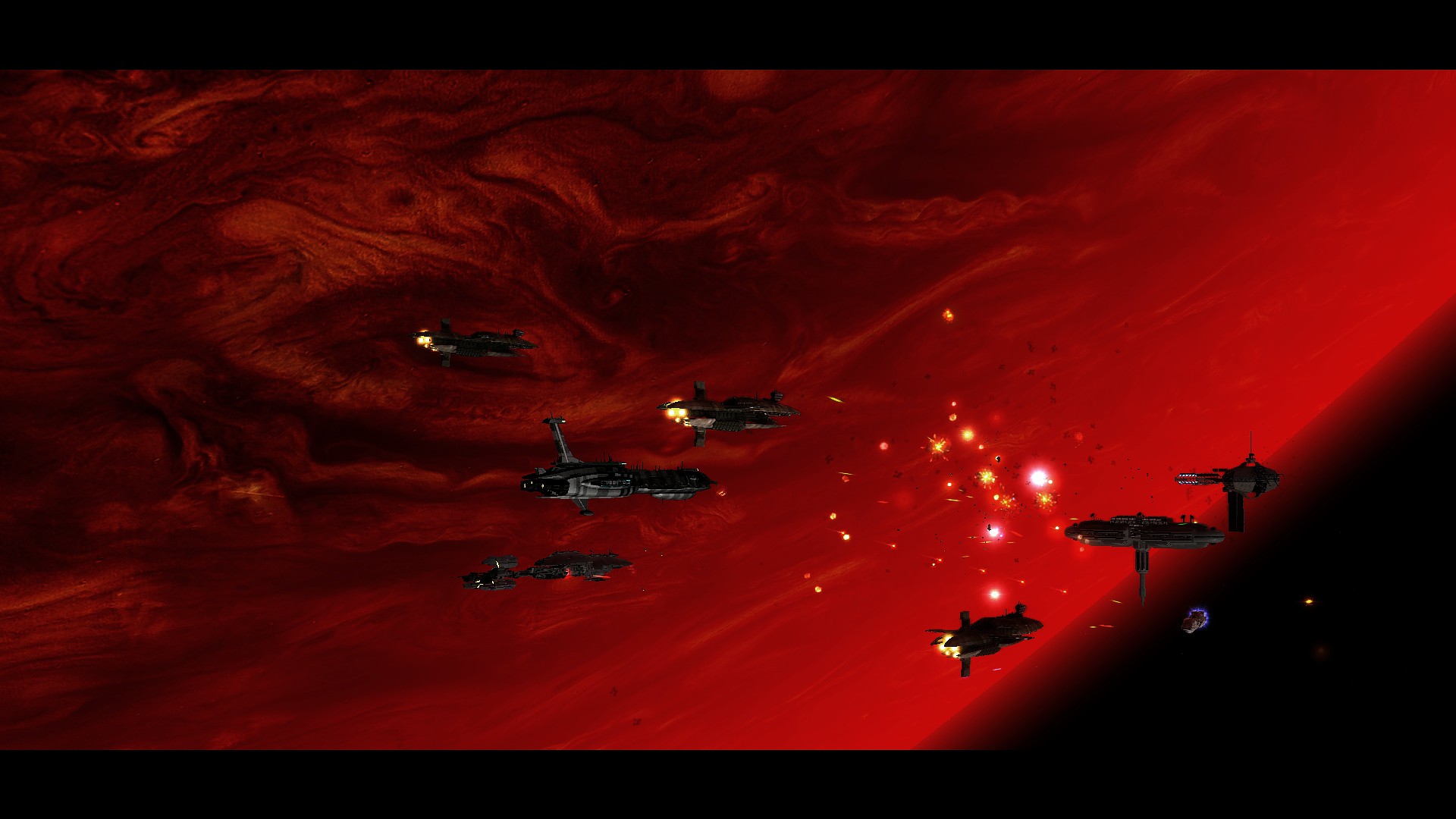 Before we get into the nitty gritty of this update, I wanted to take a step back and talk about the current live version of the mod. With every mod release we always tend to break current saves of campaigns and forcing players to start new campaigns on the new version of the mod. This time around, we will avoid that issue entirely. We will be versioning off the current live mod version (2.7.2) as its own workshop item. So if you currently have a 2.7.2 campaign and the new update rolls out, you can go and download the 2.7.2 mod as a new workshop item and continue your campaign there. The main AotR workshop item will be updated with the latest release, while this new workshop item will always remain 2.7.2 in its current glory. Much like the 2.6 workshop item, you will be able to always go back and play the 2.7.2 version of the mod if you wish! There are also plans to upload the old 2.5 version of the mod as well in the future. We want players to be able to experience the full evolution of AotR over the years, blemishes and all.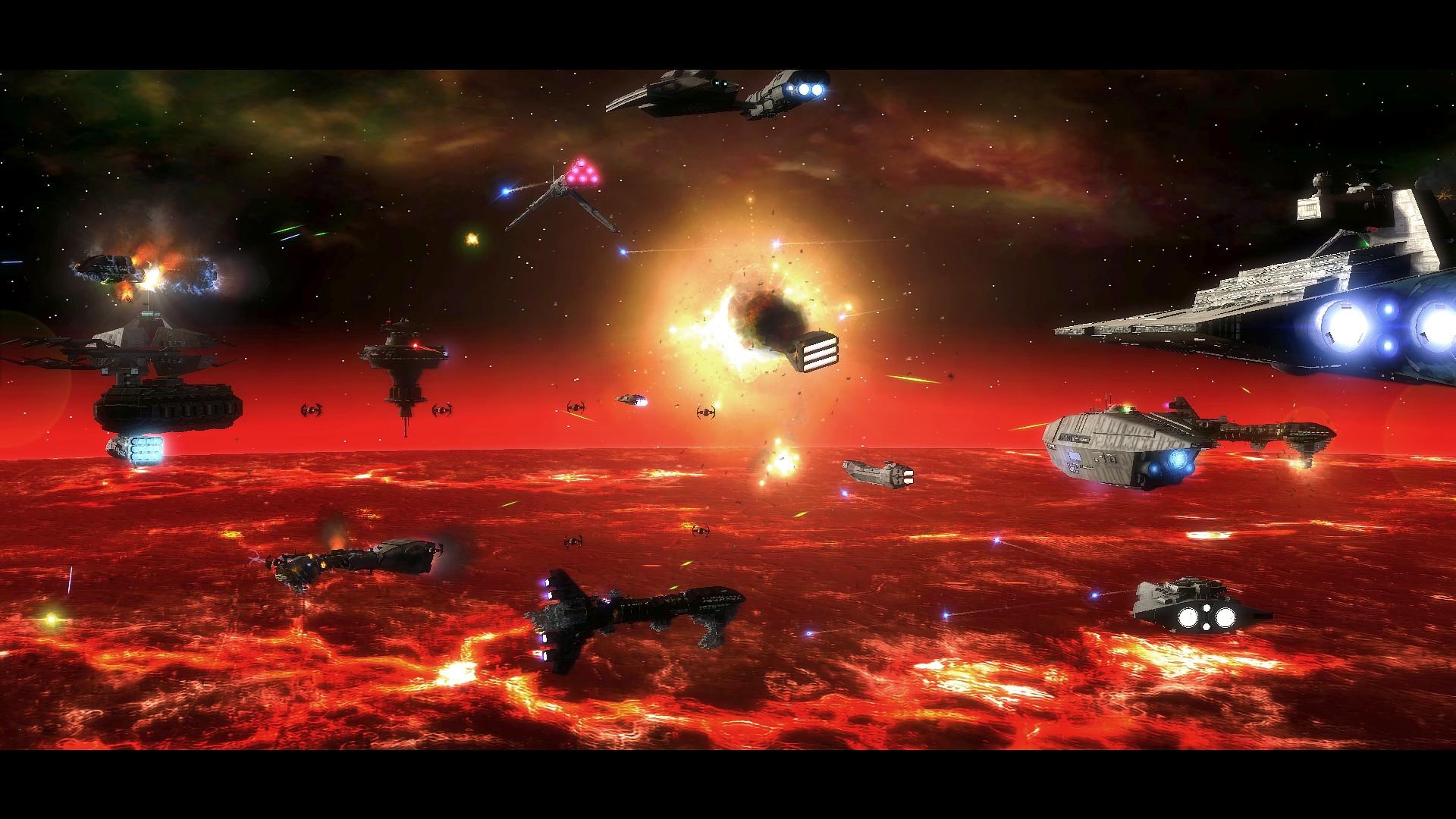 Make Ground Great Again!
One of the main focuses for this release is a complete gameplay overhaul of ground battles. Going into this we knew this was going to be a massive undertaking and full of unknown challenges. Ground in Empire at War has always been a miss for the team in terms of fun factor and gameplay, and while we did work on ground in all the previous updates to add new content, we never really took a hard look at why ground combat is just not as satisfying as space combat. This time around, we have done just that and identified three main factors ground combat has always suffered, regardless of mod.
Learning from Space Combat
If you ask most EaW players, "Do you prefer space or ground combat?" the majority of answers will be a resounding "Space!". So when we initially started thinking about how to design the new iteration of ground combat, we started looking at the differences between space and ground. We found space combat to be simpler than ground combat and more focus put on actual fleet vs. fleet engagement. In space you usually only have one to two space stations defending and mostly open space as your main battleground. However, when we looked at ground combat, we noticed a slightly more complicated design. On average there are 3+ buildings and a nebulously defined battle zone. Along with that, there are many more elements to ground that space doesn't have: Different unit passability zones, landing zones as dedicated spots to bring in troops, turrets and capturable emplacements, civilian forces, and a completely different population system of 10 companies at a time, to name a few. A typical round of ground combat involves many more decisions that both the player and the AI need to factor in to invade or defend successfully. Sadly, the AI is also one of the major pain points of ground combat because of these reasons.
The main thing we took away from looking at these differences is that the key theme of ground rework would have to be simplification. Create ground to function more like space combat. Focusing on the main army vs. army interaction rather than the secondary objectives. We also needed to have a more deliberate placement of where the defending base would be, and what the paths would be to get there.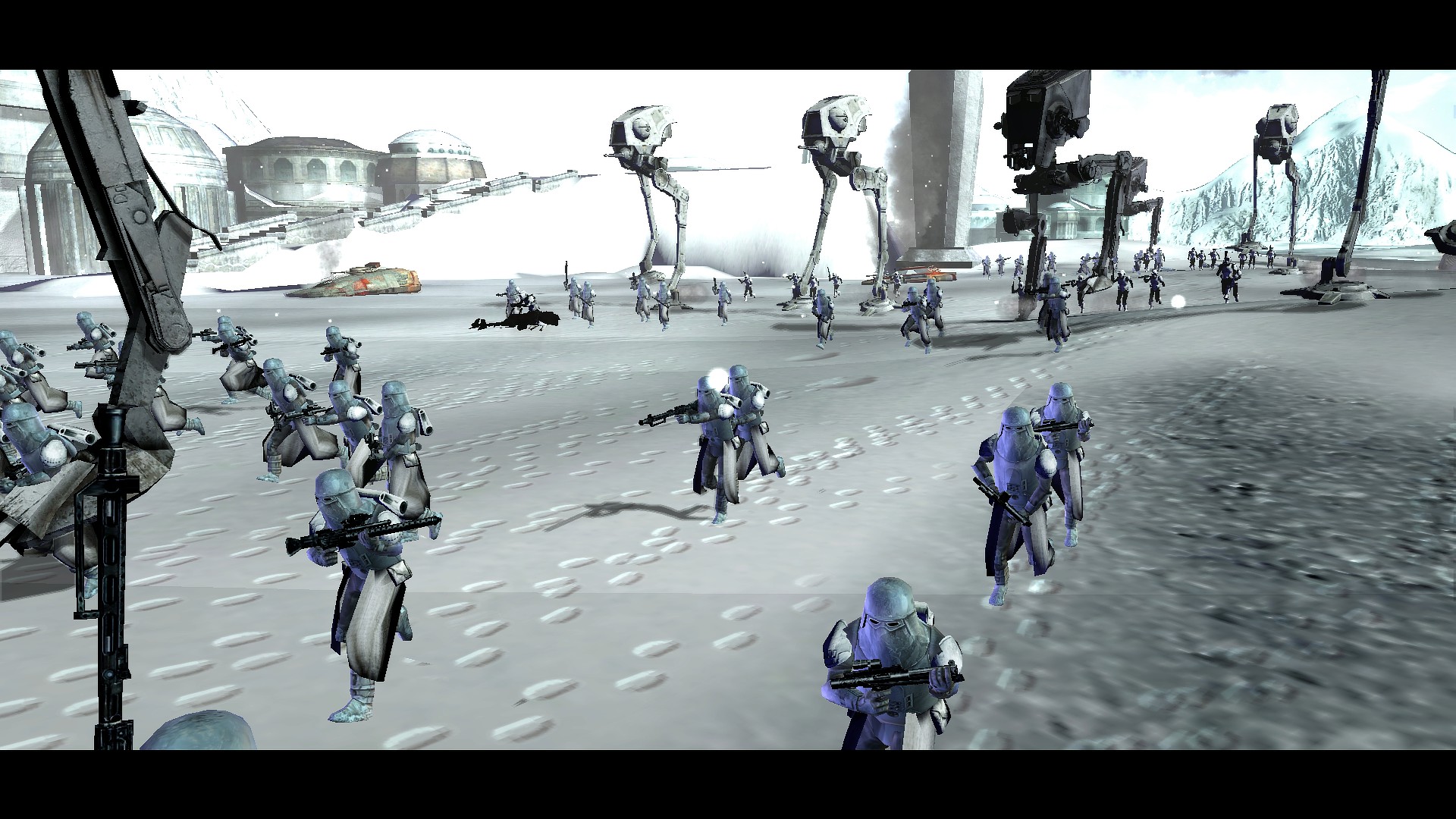 Maps
As you may have noticed, one of the major things that differs from space combat and land combat is the map design. I think one of the most understated problems in EaW land combat is the map design. Many vanilla maps feature narrow passages and many alternate routes. Combined with the already poor pathfinding, and you have a recipe for frustration. Unorganized drop zones and base layouts cause the player to trek on a long hunt and destroy journey usually once the main battle has been over. On top of that, there is the nasty bug surrounding terrain causing units to shoot into the ground and not do any damage causing AI to not fully deal out the true damage of their army and making the player easily win ground combat. As such, ground maps needed to get overhauled entirely.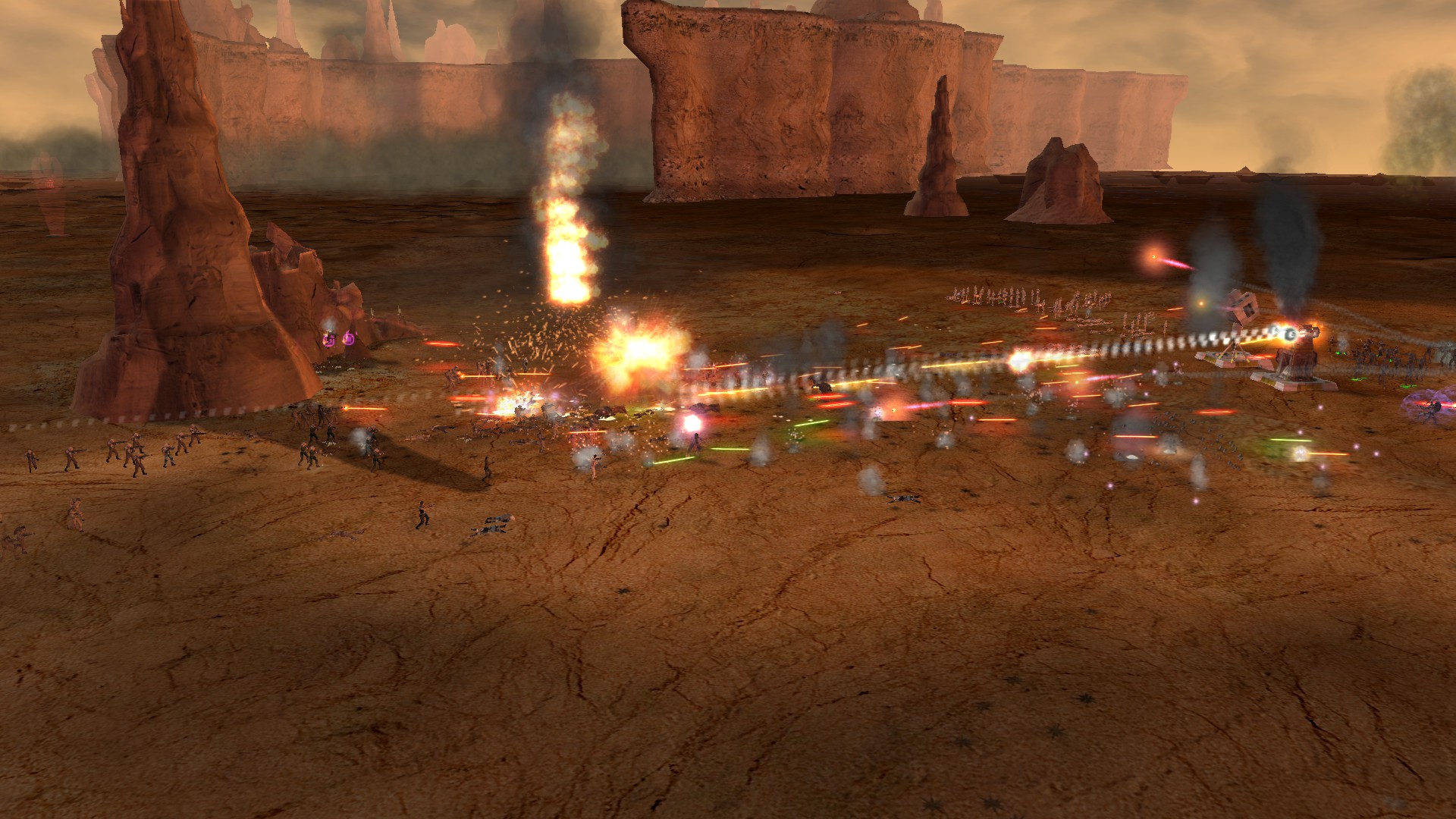 Based on these concepts, along with some more nuanced findings, we ended up having to redo basically every map to suit our new design. Many vanilla maps were found to be basically unusable without a major overhaul, and as such were replaced with other maps or designed from scratch. All maps were given redesigned features including but not limited to: larger landing zones, all forests allowing infantry and small vehicles to travel through and grand defensive bonuses, wider pathways and open battlefields, and a main base area defended with destroyable walls that give defending units additional cover. Most maps were also flattened out and mountains flattened and replaced with forests or rock formations. This allows for armies to more fluidly move though the map, and treats infantry much like fighters moving through asteroids in space. We also designed maps with multiple forward defensive positions, so as attackers pushed forward, they would push the defenders back to the next defensive position. Landing zones are now less of a necessity to max out pop cap (as attackers already get the maximum from the start) and more about being able to land troops closer to the front line.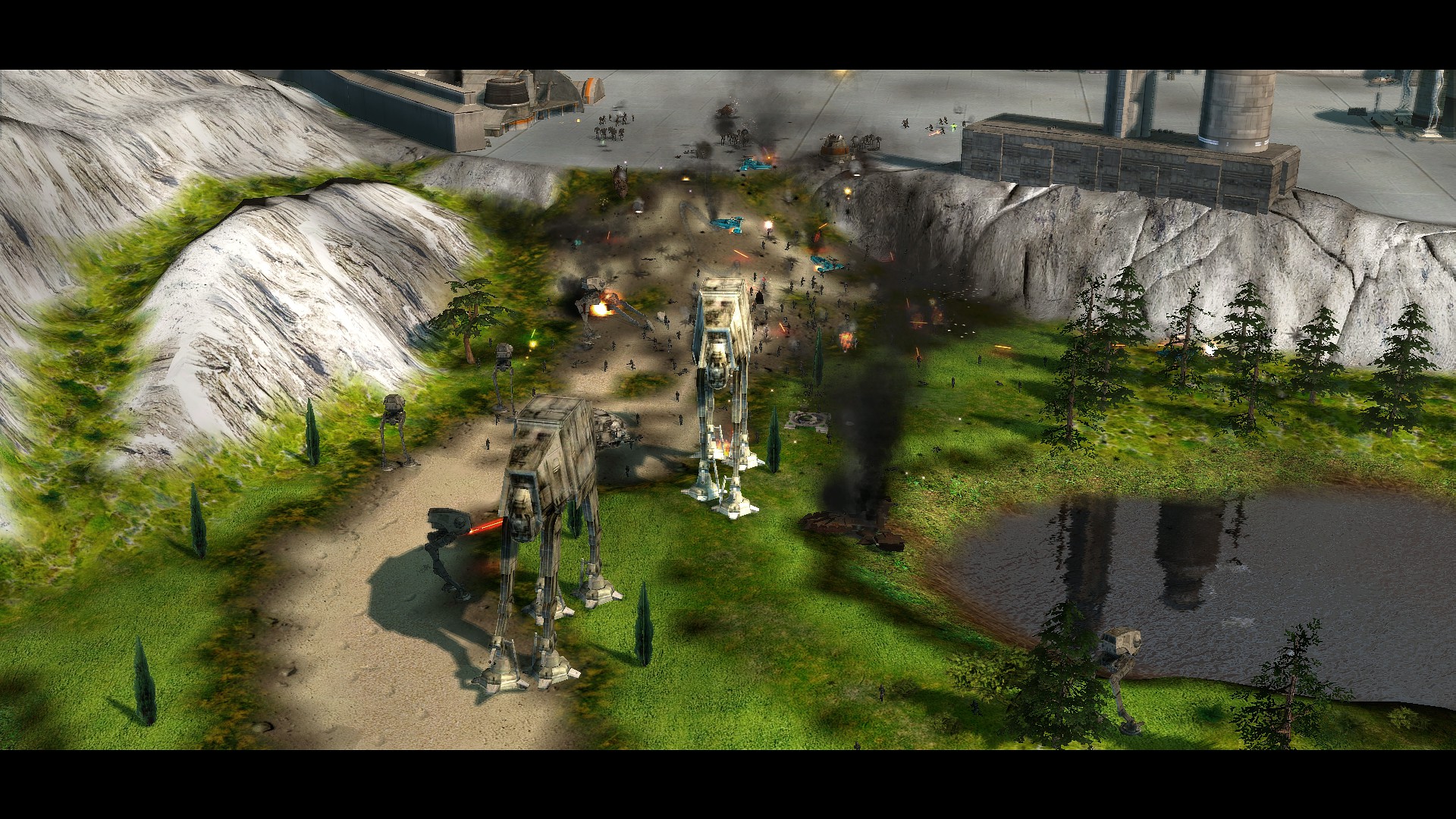 All of that being said, here are some stats about the work we (well really Maxim) has done on ground maps:
All 90+ ground maps completely overhauled by the madman Maxim himself!

20 maps from Phoenix Rising have been ported over, to replace vanilla maps and other before used maps, that didn't fit into our gameplay vision

9 new maps were created by Maxim: Felucia, Rhen Var, Bespin, Bilbringi, Geonosis, Iridonia, Thyferra, Concord Dawn and Manaan, which together with Ord Mantell and Malastare makes 11 original MaxiM maps

All 93 maps were adjusted to feature new big landing zones, medium build pads, more infantry accessible areas, which also often provide cover bonuses, and less obstacles that block pathing.

Of these adjusted maps, one was made by ThatOneBullet, Yaga Minor. One comes from Clone Wars 4.0; Umbara; 26 were given to us by Radical Edward.; 6 are old SMG maps; And finally 28 are vanilla maps

It is planned to free release the adjusted Vanilla, the SMG, and our new maps, so other mods can use them, if they chose to do so.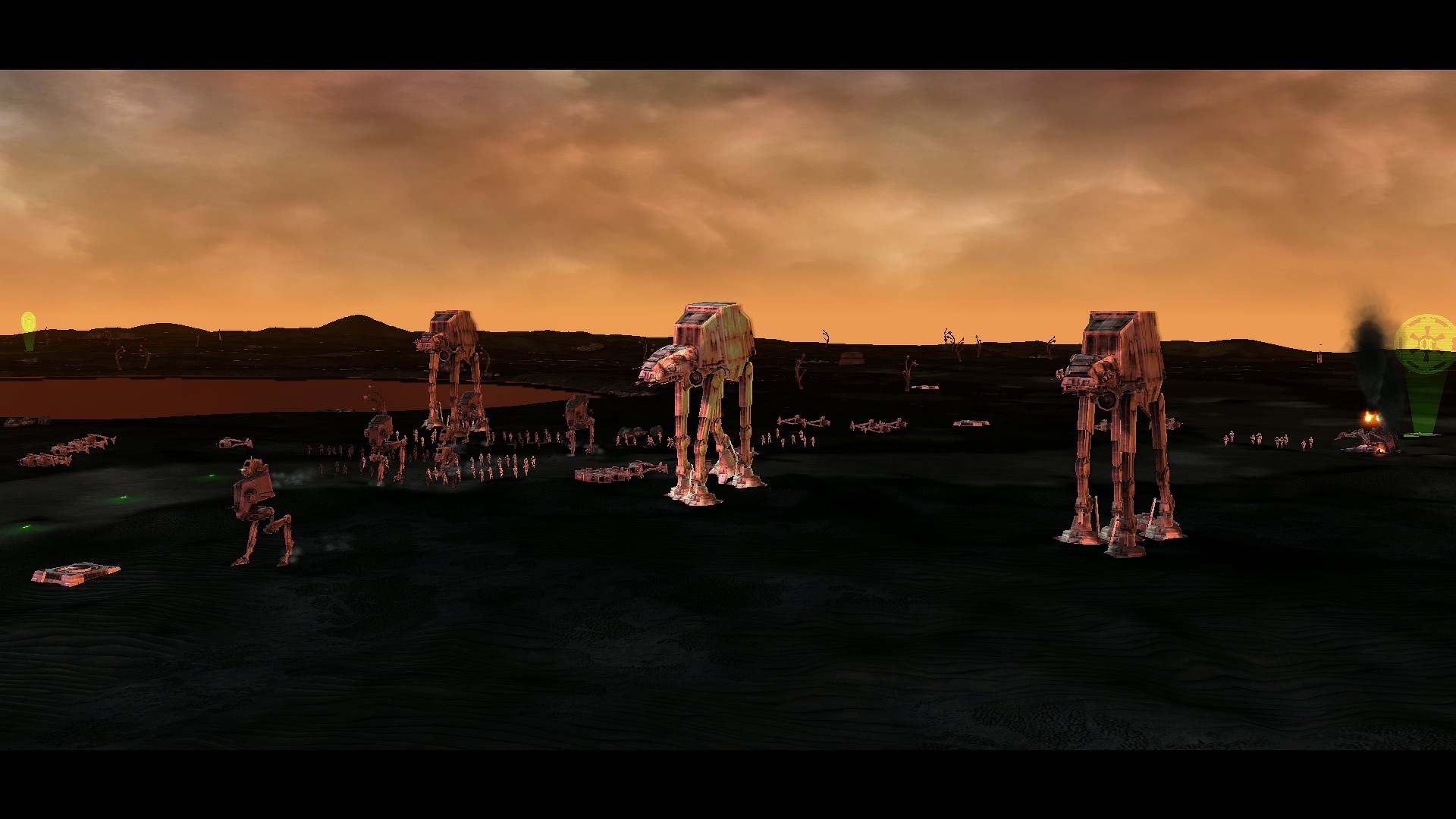 Unit Balance and Mechanics
With the new ground combat redesign came an all new approach to designing units and abilities. Following the tradition of non-uniform infantry and levels of infantry previously established by AotR, we pushed that design to the next level by redefining what an infantry company would contain. Each infantry unit in a company has a specific role and weaponry that help them fulfill that role. We also added easy to spot icons for each infantry type to help distinguish them from each other, and each unit now has a detailed description of what weapon types and abilities they have. We then took these new infantry types and combined them into role specific companies. Each faction now has infantry companies that fulfill different roles, such as dealing with other infantry, armored targets, or performing sneak attacks. The more veteran infantry are less in number, but pack more of a punch individually. Infantry is now required to pull off a successful invasion, being more flexible at terrain navigation and also taking fire away from the more potent vehicles.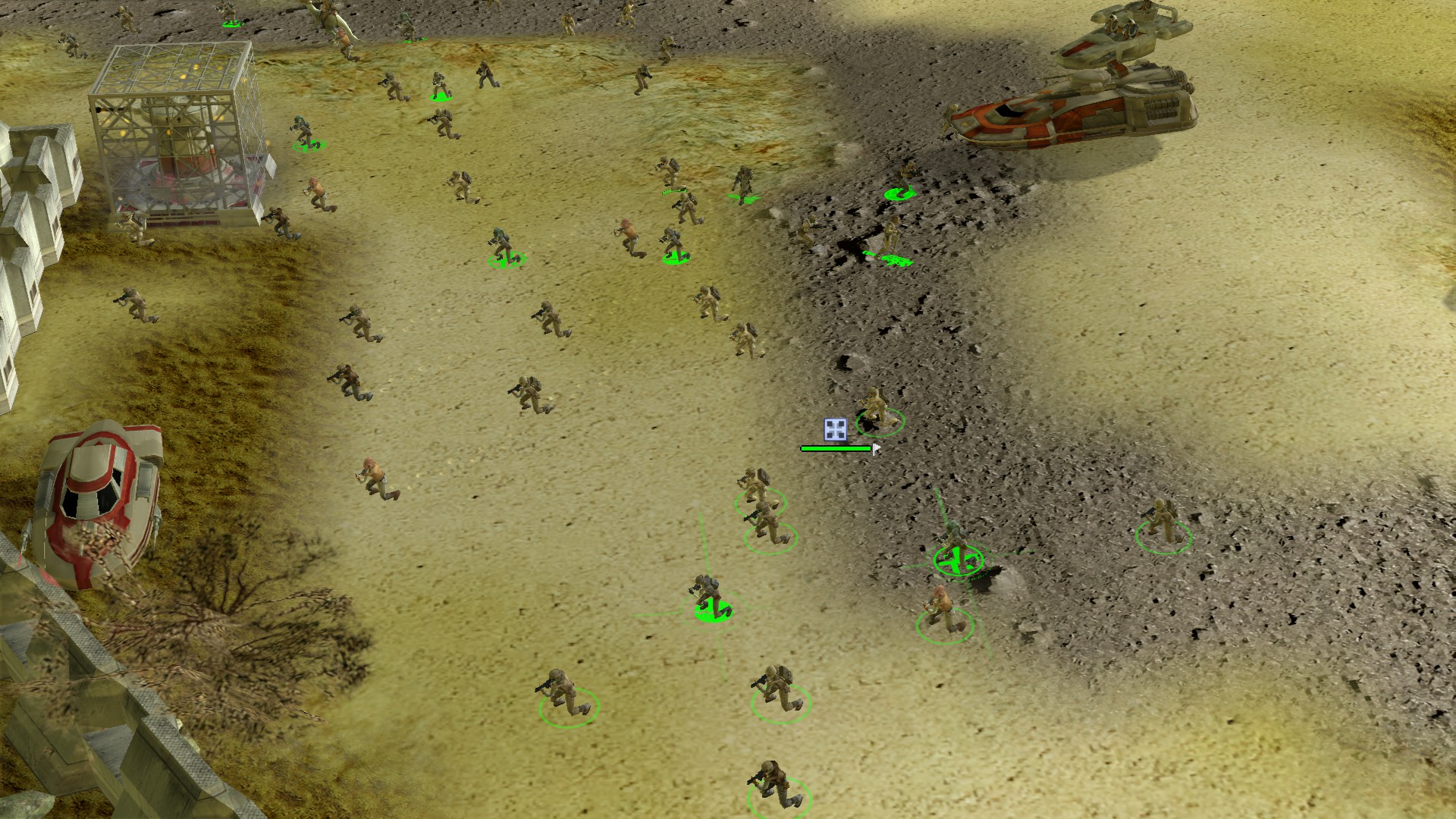 Weaponry has also been redone, and many ground weapons have additional passive effects when used against targets. Grenades now concuss infantry causing them to move slower, while heavy machine gun fire will suppress them causing a lowered fire rate. You may now notice additional particle effects indicating a unit is affected by one of these. The balance of what weapons are more effective against certain targets is much more defined, and you can no longer win battles solely using the "most expensive" unit. Aircraft have also heavily been looked at, becoming more of a support/glass cannon role. Aircraft are potent damage dealers, but any proper anti air defense will have your entire aircraft wing completely unable to operate. There are also a ton more unique abilities, upgrades for heros, and new units to complete the roster for ground combat.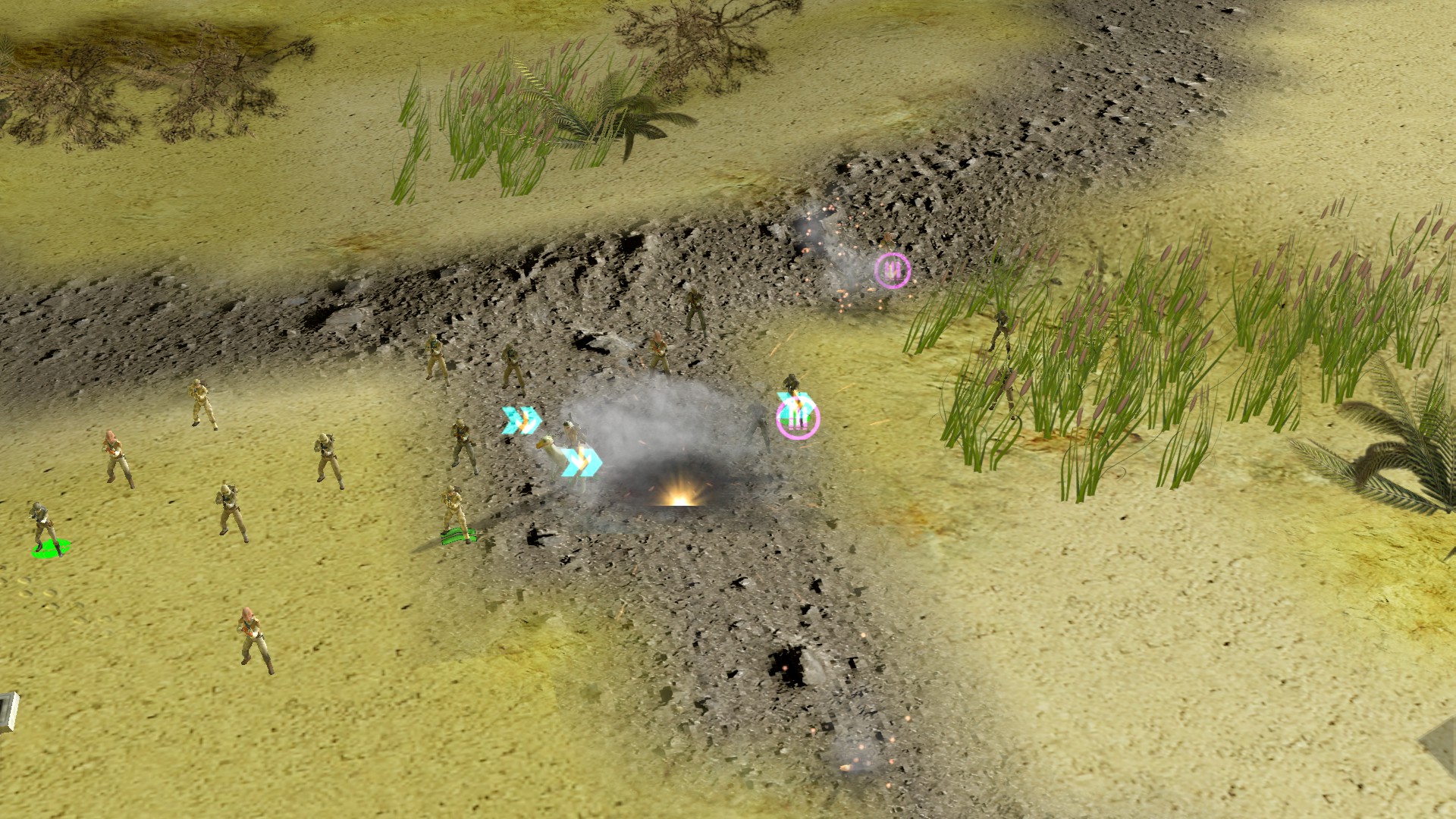 Brand New Galactic Conquests
Thanks to the talented Maxim and Than's Vans, we have a bunch of new galactic conquests for you to enjoy! One of the biggest pain points we've had with previous AotR versions was how disorganized the campaigns were. We felt that they did not have the proper balancing or time put into them, so we stripped them out in one of the 2.7 updates. However, we were left with basically two choices for players, the full GC or Random. We quickly realized that replayability was an issue of our mod. Therefore this update we bring you a large amount of new and old GCs.
The Classic Web
Something the team has sorely missed after the 2.7 update was the old classic "web" campaign found in versions before 2.7 introduced the new canon galaxy. Something so quintessential of AotR was now gone, and while the new campaign was a labor of love, we definitely missed it. So now with some Maxim magic, we have a new and improved Web campaign which works alongside the canon campaign. With some breakthroughs in how to deal with story missions and AI, we can have both at the same time! You won't have to choose which you wish to play anymore! The new Web has the same basic layout as the old one, but with some planets shifted around to keep them lore friendly. Also added to the campaigns are some small sections where the 3 non-playable factions can exist. While they are still active, they are not nearly as big of a threat. The moment this GC became playable was just pure nostalgia filled magic. And with all the new features carried over from 2.7 and this update its an even bigger treat to play!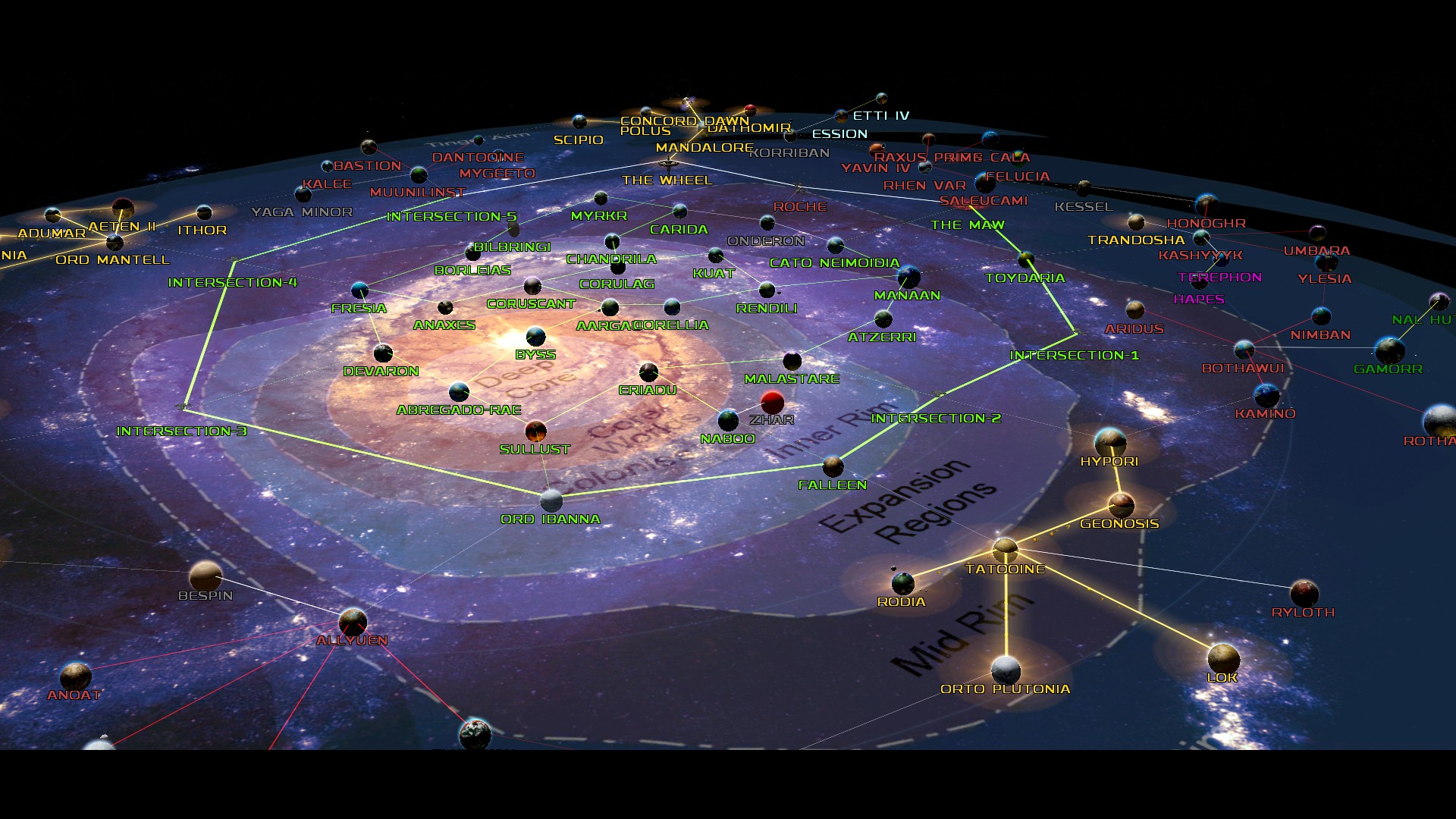 Expanded GCs
Along with the classic campaigns, we have a bunch of new scenarios that you can play through. We have a full set of small campaigns geared towards specific experiences, such as Endor's Eve which centers around the battle of Endor; Or Outer Rim Tug of War, which surrounds the center planet of Coruscant with the outer rim. Additionally we have campaigns for both the Classic Web campaign and the Canon campaign that feature only Rebels vs. Empire and one campaign where we start both you and the AI in the NR era tech level. Side note, while the NR era is present keep in mind we have not yet balanced or fully designed any NR era units or factions.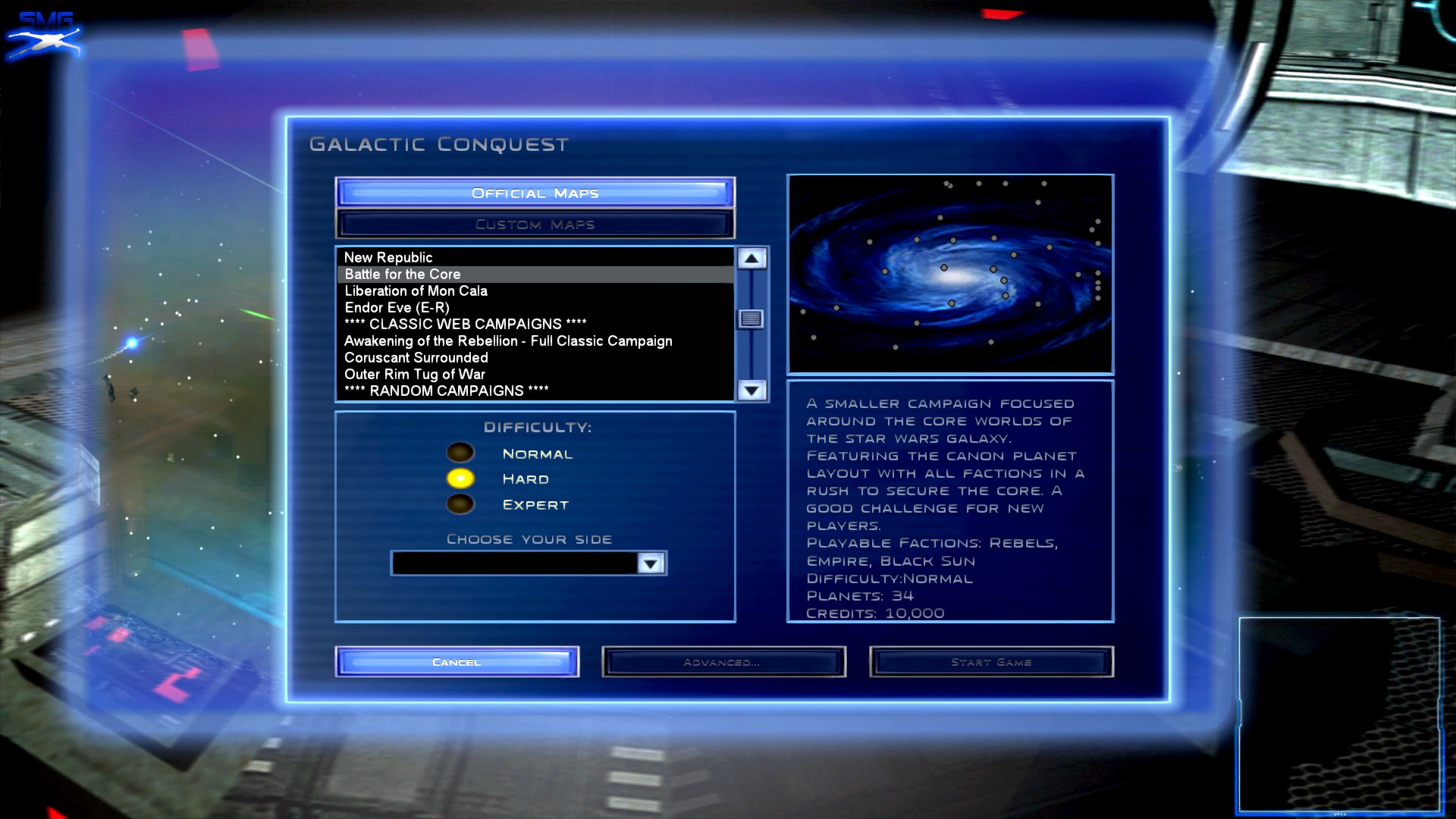 Put On Your Listening Ears
This update Mr. President went through a whole sweep of space and ground sound effects. Every weapon has gotten a complete sound touch up. Most of the sounds now represent how much damage the weapon does with the sound of the weapon being more bassy and louder. Many clone wars units have gotten special sound treatment with weapon sounds that come from the prequel movies and clone wars animated series. Also a new sound template system allows for the smaller calibre weapons, such as fighter weapons or blasters, to be decreased in volume as you zoom out the camera. Heavier caliber weapons will travel across the map further. Mr. President also recommends that you also change your sound settings in the options to 3D, as he has designed the sounds with a proper surround sound system in mind.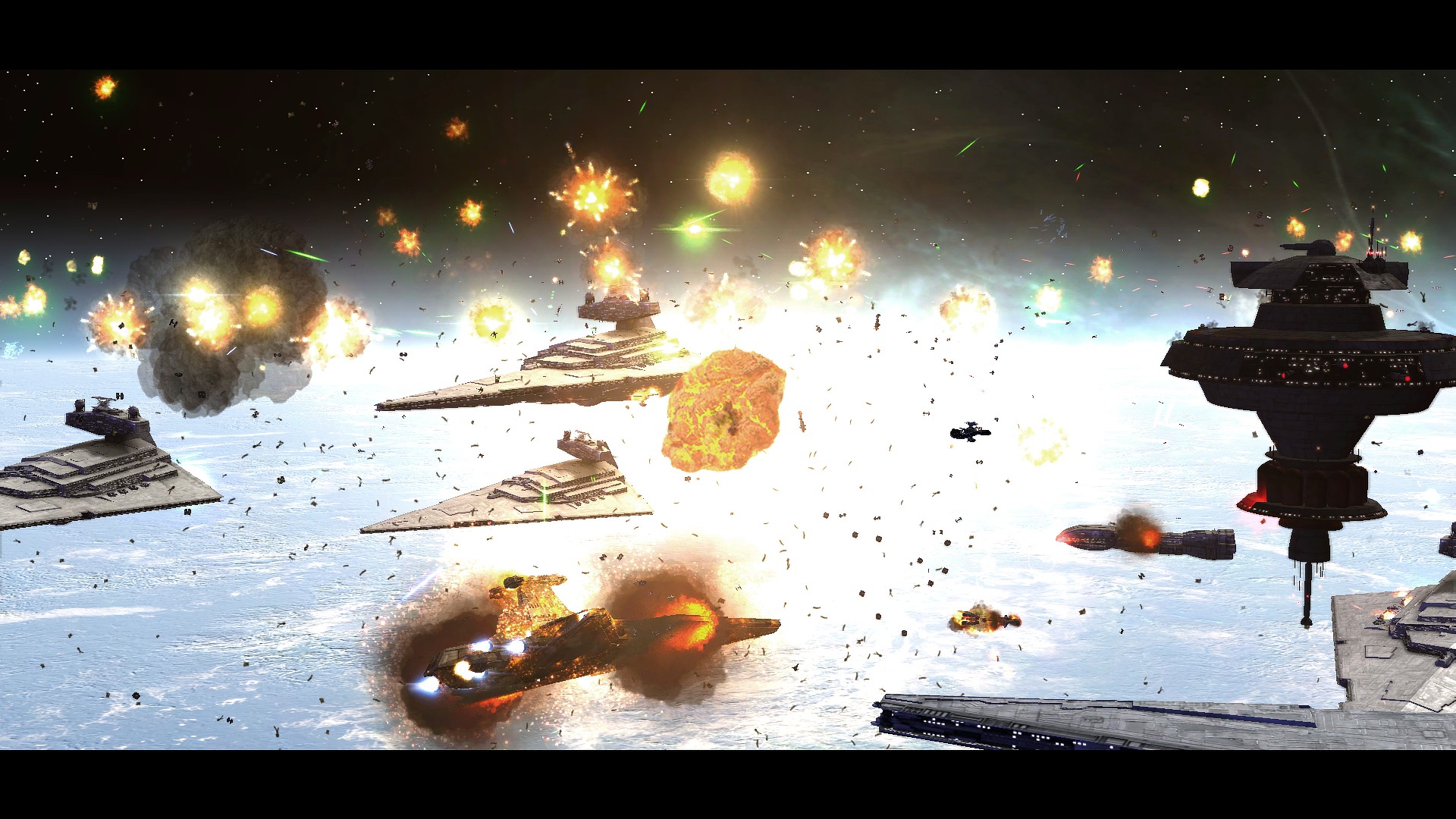 What Comes Next?
The team is going to go on a short hiatus. However, we will be back at it shortly. Next update we will be focusing on revamping space combat much like how we have redone ground combat. Many of the added features you see in ground combat, such as weapon effects, abilities, and the unit balance, will find itself in space. We also want to invest some time and play the current version as is before starting on the next update in order to get a better feel for what else we need to improve on.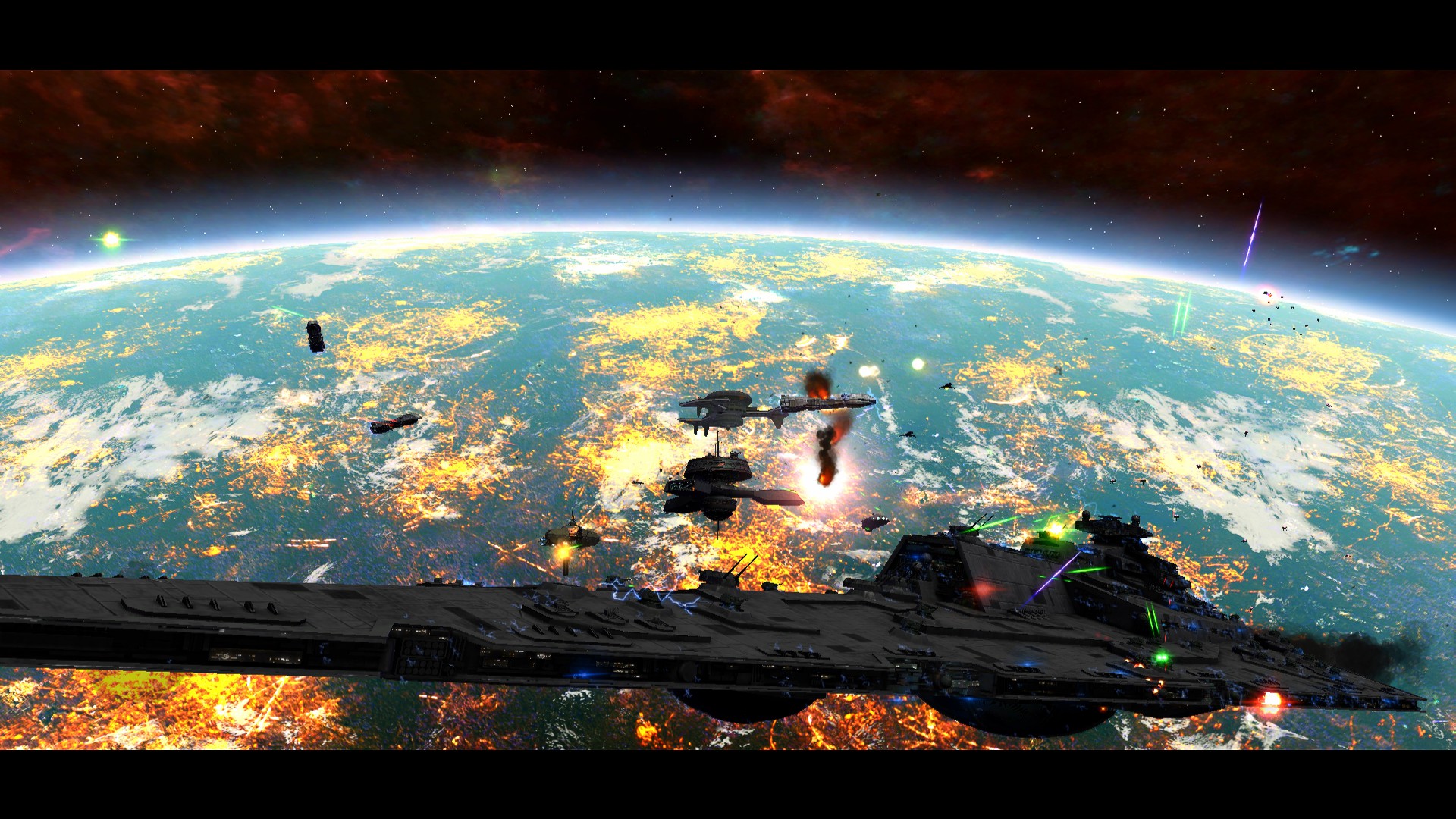 Anyways, that's it for now, we hope you enjoy the new version and I'll be back here again once we have more news on the next update!