We are really sorry for the delay. Honestly, we had planed to launch the IndieDB page back in February, but our work on the Prototype has delayed many administrative tasks. We are very grateful that more than 1500 fans are following our page on Facebook, but in the end, IndieDB is where we belong.
This game is a co-production between Against All Odds Games, founded by Ali-Han Ibragimov in Prague, and Homegrown Games, veteran Austrian Indie developer, currently located in Blindenmarkt, Lower Austria.
The World of Antinomy

The Holy Land, 1892 A. D. - The Ottoman Empire has diminished into marginality after the disastrous defeat in the Russo - Turkish War. The Sultan's grip on the outer regions of his once vast realm has vanished. Local administrators, faking proclamations and hiring mercenaries, seize the power and rise to tyranny. A time of crumbling order and chaos, but also a time of opportunity: Eccentric British lords are digging in the desert seeking treasures of the past, Persian merchants make a fortune by closing the gap to the far east and the Zion movement has led several thousands of Jewish settlers and pioneers back into the sacred land of their ancestors.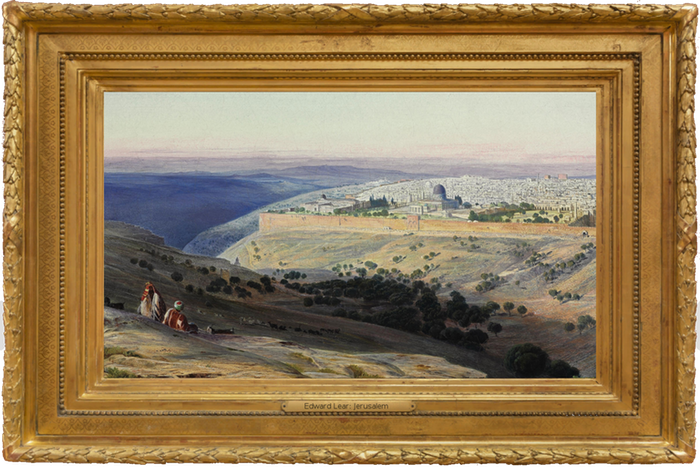 Jerusalem 19th century as depicted by Edward Lear
The Game Antinomy is a first person action adventure & exploring game with RPG and strategic elements.The player takes over the role of Nathaniel Rosenthal in his early 20s. Returning to Al-Hamra and his mentor Omar, who had sent him abroad for several years of higher education and military training.The joy of reunion is short, as Al-Hamra gets attacked and taken by forces sent from the capitol.Barely surviving the onslaught, Nathaniel roams the desert, searching for surviving members of the clan, finding new allies in a desperate effort to retake Al-Hamra, bring justice to the murderers and eventually free the land from injustice, as his father and Omar have dreamt.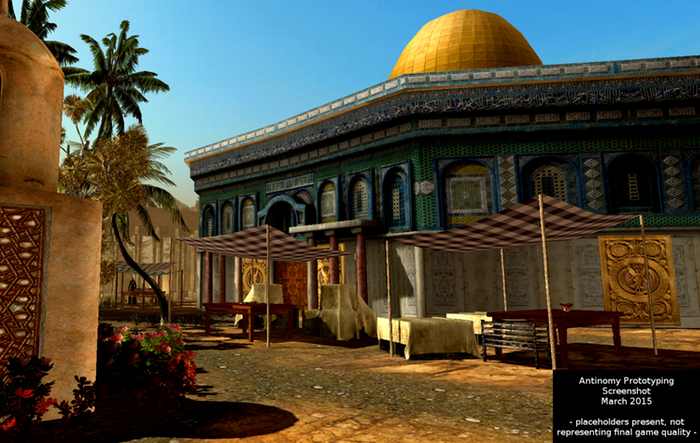 Early Prototype Screenshot: The Heart of the Capitol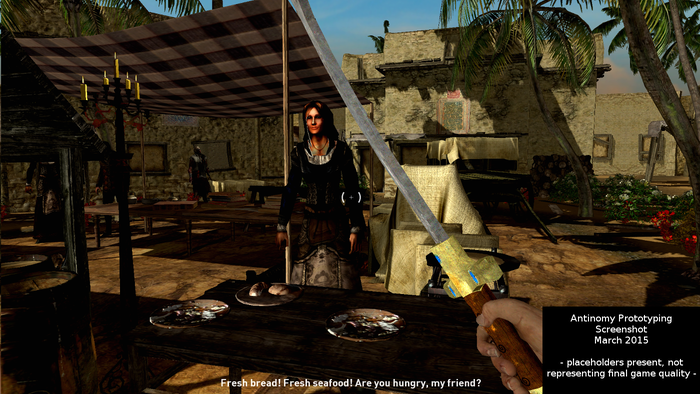 Early Prototype Screenshot: The Al-Hamra Market
Where do we stand now?
Right now we are polishing the prototype. The entire world is created in terms of terrain, geographical features, key buildings, settlements and of course major cities. Production quality characters are modelled to replace the place-holders, a logic framework is being created in LUA, and our level designers are filling the huge, huge world with decorative elements and the buildings with interiors.
Follow us to stay up-to-date!