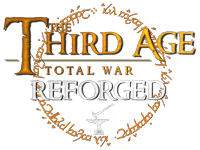 ---
Hello to all fans of Reforged!
As alot of you probably know, the developers have been hard at work and have finally released the new 0.95 patch for Reforged!
We would like to post this article to announce the release, and furthermore to post a changelog of the many new additions added in this patch.
---
Faction & Unit Additions:
- Elves of Lindon, Dwarves of Khazad dum, Rhudaur
- Cardolan replaced Eriador, with a brand new roster and Arthedain replaced Arnor.
- Umbar received entirely new numenorean heritage reskin for their mid and high tiers. (by CoweringComa)
- All other factions have received many additional reskins and new units, such as trolls, artillery, various different infantry, cavalry, and archers. while some units have been removed to make space for new units. (500 units limit in-game engine)
- Most of the units now have visible armor changes when upgraded.
- More diversity added to models within a unit.
- New Siege Engine reskins added by Crimson Behelit (isengard Ballista, ladders and ram) more still in progress.
- Bunch of new animations including troll drummers, two handed cavalry and fancy moves for assassins and elves.
Brand New Meta:
- All units and factions have been rebalanced entirely via a new statistics system developed by the reforged team, physics has been greatly enhanced and the immersion of the game greatly increased.
- No more OP units (give or take the odd error you may find, but will be fixed in the next 0.95.1 hotfix).
- More focus on faction playstyle differentiation.
New Maps:
- New organized map system set in place, with dozens of new maps added.
- New epic, and immersive siege maps created by Wk added. (Cair Andros, Dol Amroth, Grey Havens)
Additional Content:
- Over 30 New Loading Screens using fan art from the middle earth universe. (replacing the old ones)
- New Intro Cinematic created by Jordan aka Jmonster.
- New menu background and intro animation by CrimsonBehelit, UI changes by WK.
- New horns, and the general advisors have been adjusted accordingly to each faction.
- Brand New Name System set in place by Stefan2110 for majority of factions.
---
Thank you for your continued support!
Regards from The Reforged Team"
- All our Social-Media & Donation-Page Links:
Discord : www.discord.gg/Reforged
Youtube : www.youtube.com/ThirdAgeReforged
GoFundMe : www.gofundme.com/tatwreforged
Twitch : www.twitch.tv/ThirdAgeReforged
Twitter : www.twitter.com/tatwReforged
Trailer: