Finally. After much tweakage and sleepless nights, we're ready to release an enhanced version of the MSUC Phase 4 release of Planetstorm. Once again, we apologize for the delay, but certain bugs just had to be fixed.
The good news is it's here. And we've put the time spent fixing into adding new features as well. In addition to the core gameplay improvements, here are some of the things to expect for this release:
Our old capital ship models have been replaced completely with gloriously detailed new versions. Named after some of our loyal Saturday Smackdown Express players, :) a big thanks to the bunch.
Two new space maps, AFF-Kerrat - set in orbit around a dying sun; and AFF-Ixion, which features the Halifax station, the site of the Crowning Day Massacre. As well as streamlined and reworked versions of the previous maps AFF-Meudeverre, the Sea of Ice and home of the hidden Antarean outpost Aquila 9; and AFF-Errah, a surface assault on the mining and production facilities of an Antarean-occupied desert planet.
Improvements to vehicle handling and weapons. All vehicles now have different camera modes for easier steering and aiming. Surface vehicles via the mousewheel, and spaceships via a new 'changecamera' keybind.
Improvements to infantry weapons. The sidearm is now always available, the amount of ammunition you can carry has been increased, all weapons are now visible in first person, and the amount of movement sway reduced to more realistic levels.
Added pregame briefing screens with objectives and a few gameplay tips
Two brand new character models with more to come.
Squad order command via the 'command menu' keybind (Default 'V'). Press to bring up marker, press a second time for context-sensitive actions. Recall your squad with the 'followme' keybind.
We are also glad to welcome aboard Xyx from the XS HarpyUT3 Mutator team, who in a span of a few days have already started to bring the surface vehicles closer to what they are meant to be in their final form. As usual, big props to the AFF team. :) A more detailed changelog can be viewed in the readme file included in the release. Anyway... enough with the talk. Let's show you guys some ingame action! :)
SCREENSHOT GALLERY
(click on the thumbnails to view in full resolution)
Kerrat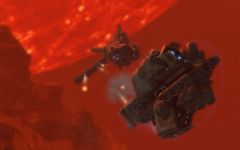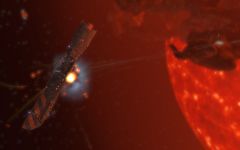 Ixion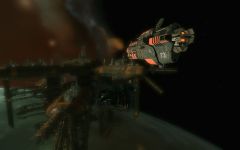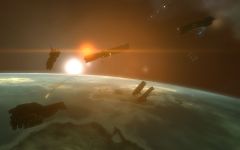 Planetstorm Wallpaper
Courtesy of Stranj. Click on the provided links for a full resolution poster size wallpaper. :)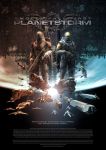 ---
INSTALLATION
If installing to the same location as a previous version of Planetstorm, delete all the contents of the directory first or run the uninstaller.
Ensure UT3 is patched to version 2.1 (Steam installs will have done this automatically unless specified otherwise)
Run the AFF:Planetstorm Installer EXE
You will be asked to locate your install of UT3.
The installer also supports Steam installations of UT3, so if you have your UT3 on Steam, select this option - default locations are provided.
You will then be asked where you would like to install the AFF:Planetstorm Mod, default is C:/Program Files/AFFPlanetstorm/. Select a location and hit Next. DO NOT install the mod in UT3's install directory. On Vista it is recommended to NOT install Planetstorm in the suggested Program Files location unless user is Administrator and has UAC disabled.
The installer will now install AFF:Planetstorm and create shortcuts for the game and the editor.
If you are having problems with the installation, don't hesitate to ask us in our Forums.
---
ONLINE SERVERS
We also invite you to join us online in our official servers donated by CozmicShredder. We have a regular playnight every Saturday at 7 PM GMT, but you're free to join in anytime. :)

Server IP: 208.86.251.34:7777
Server donated by CozmicShredder of CozWorld's game servers
---
---