SMAR•CADE 2.1 - Anarchy Edition will be released for everybody to play in about 1 week.
It is a comprehensive update to the entire mod to make it more fun & easy for new people to pick up and use.
The reason for the update is to turn SMARCADE into an accurate prototype for a full-version game I am trying to publish called Anarchy Arcade. In order to get published, the concept needs to gain some momentum so I have spent the last 3 months implementing many of the features from Anarchy Arcade into this comprehensive Source Media Arcade 2.1 update.
In this news article I will tell you about the plans for Anarchy Arcade as a full-version published game, and then in a couple of days I will release more information & media about the substantial SMAR•CADE 2.1 - Anarchy Edition update itself.
What IS Anarchy Arcade?
Turn your shortcuts into a 3D world you can walk around in with your friends! Create, explore, & share in Anarchy Arcade.
Anarchy Arcade is a careful mix between a game and a utility. It will transform your boring desktop into an immersive 3D world where you literally walk around your files.
Its purpose is to make your day-to-day computer use a fun and entertaining experience while maintaining your freedom to use your computer just like you always have.
Desktop Icons vs 3D Arcade Cabinets
Standard desktop icons are small, static, and don't really tell you much about what they launch.
On the other hand, Anarchy Arcade's 3D cabinets are high-resolution, dynamic, interactive, and jam-packed with information about what they launch.
High-resolution DVD covers, box art, wallpapers, descriptions, and even streaming video trailers are shown directly on the cabinets. Plus, you can interact with each cabinet's screen to access even more info.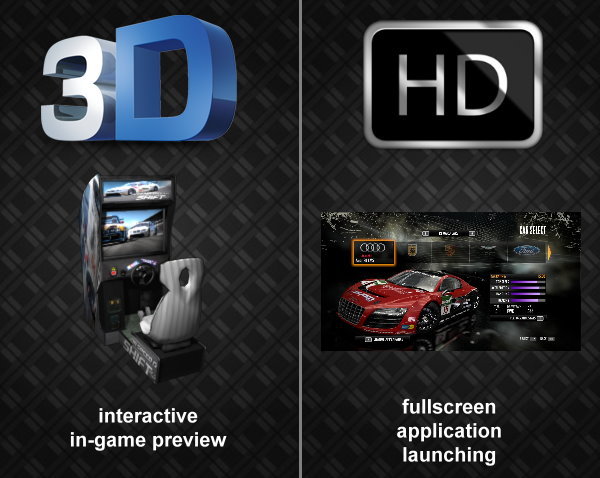 Your games, movies, and applications launch in fullscreen HD just like they always have.
Anarchy Arcade works with some of the largest community-supported media information providers to automatically find tons of info for virtually any game or movie that you spawn a shortcut to.
Every cabinet is 100% customizable. Use your own pictures, videos, or descriptions instead. You are able to control every aspect of the cabinet from how it looks to how it launches.
How to Play
Anarchy Arcade is more than just a utility. It features persistent, progressive gameplay that rewards the player for being creative and guides them in building a vast, personalized world generated from their PC and powered by the world wide web.
At the start of the game you will be given a blank venue; think of it as an empty room. Your objective is to turn this empty room into a neat little arcade by spawning shortcuts to your personal games and movies.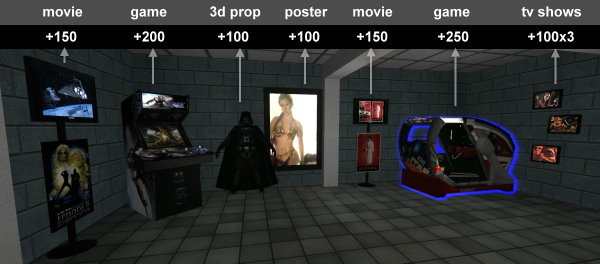 Each item has a value formulated by how much you use it & how much you've customized it.
The more that you play and customize your venue, the higher it will be valued at. High valued venues will attract NPC patrons who wonder around your arcade, playing your games & watching your movies.
You win by getting your venue to a high enough value. This unlocks the next venue and also grants you some spiffy rewards along the way.
Building a Virtual World
You use the map to travel between venues. Every time you go to a venue it will be just as you last left it; you never have to worry about saving or loading your progress.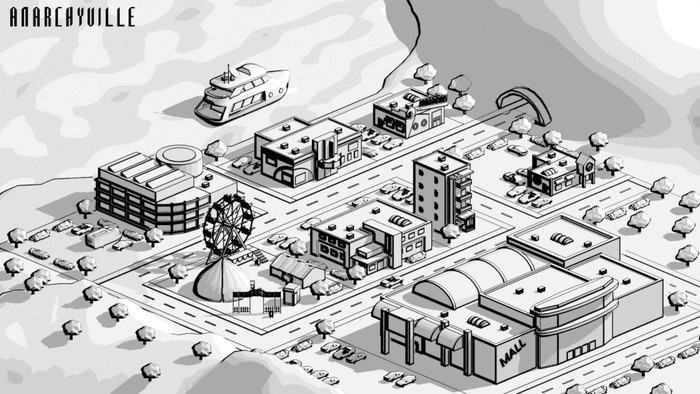 Each player creates his/her own personal version of the Anarchy Arcade world.
Each venue offers a unique, real-world theme for you to use as inspiration when building your arcade.
You'll have so much fun customizing the venue that you won't even realize you're creating a sort of physical folder of related shortcuts simply by placing them next to each other.
Clustering together related items like this immerses you in their theme and also makes it easy to find what you want when you want it.
What better time to have a strategy guide at your finger tips than when you're about to play the game itself? And on that note, why not have the movie and posters of the stars there too?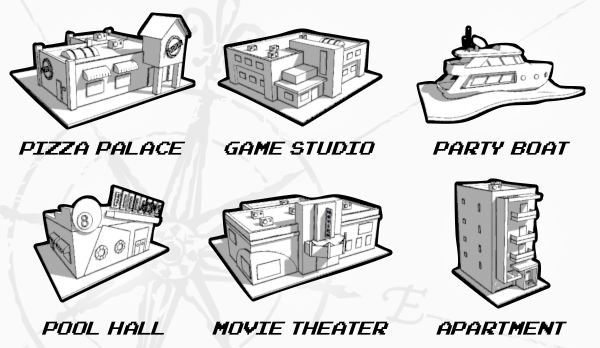 Most venues offer 2 or 3 rooms of the building's interior to customize.
Placing your shortcuts in the virtual world will naturally organize them and you will be able to visually remember where they are instead of memorizing a folder path. You'll know exactly how to get around in your personal version of the Anarchy Arcade world.
Social Experience
Anarchy Arcade has several ways for you to interact with your friends and bring them into your world, even if they don't have the game! Use what ever suits you and your friends the best.
Live Multiplayer Worlds
If you're able to be online at the same time, just bring up your friends list and invite them into your venue. They will appear right in front of you and experience your world exactly as you do. From there you can show them around, let them go explore on their own, or play games and watch movies together. And that's just the beginning. Live multiplayer worlds are great for connecting with your friends, sharing your media, and checking out what your friend's are into these days.
Share Your Media, The Legal Way
Share your favorite free and copyrighted material with your friends in an immersive and completely legal way. Anarchy Arcade's intelligent shortcut-matching system will allow them to launch the games they own just as easily as you can. And for games that they don't own, they can be shown customized links of where to get it from.

Venue Save States
These are perfect if you and your friends never seem to be online at the same time but you still want them to experience your awesome new venue. Just export a Venue Save State and send it to your friends. This will allow them to load up your venue and experience it exactly as you do when ever they want.
Community Expos
These are like the venue save states, except that each of your friends gets their own personal space on the showroom floor. Put your best foot forward when decorating your space and show off your newest games and latest trends because your Communnity Expo space is shared with all your friends.
Facebook Integration
Take your social experience to the next level by linking your Facebook account with Anarchy Arcade. Now when ever you see something you like, you can click the Share button and make a post about it on your Facebook Wall. You can even include the download/purchase links in the post.
Anarchy Arcade can also use your Facebook profile to make personalized recommendations for games, movies, music, and news.

What can be used in Anarchy Arcade?
By now you're probably getting the picture that Anarchy Arcade can launch just about anything you can throw at it. Whether your pasting in YouTube URLs or picking shortcuts from the file browser, Anarchy Arcade makes it easy for you to add your stuff into the 3D world.
Websites, YouTube videos, news outlets, etc.
Websites have a full-featured live in-game preview displayed directly on their cabinet's screen. This means you can watch your favorite web videos, read the news, and browse the web without even leaving the virtual world. However, you could also just launch the shortcut to open it in your default browser instead.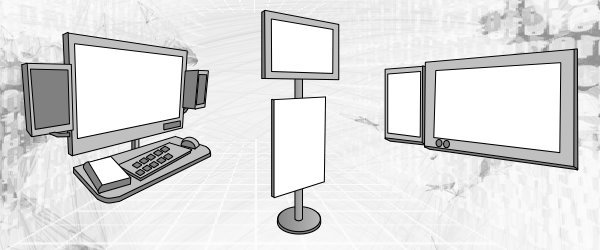 Fully interactive websites are shown directly on the cabinets' screens as previews.
Games, Movies, TV Shows
Thanks to Anarchy Arcade's media information partners, the previews for these types of shortcuts are automatically super-charged with HD boxart, detailed descriptions, and HD trailers streamed directly from YouTube. Use the interactive 3D previews to decide what you want to play, and then launch it in full quality.
Pictures
It will take about 2 seconds of playing with Anarchy Arcade before you'll want to spawn a picture of yourself on the wall. Whether you're pasting in a URL for an online image, or picking one right from your hard drive, an HD in-game preview is shown right on the shortcut's screen.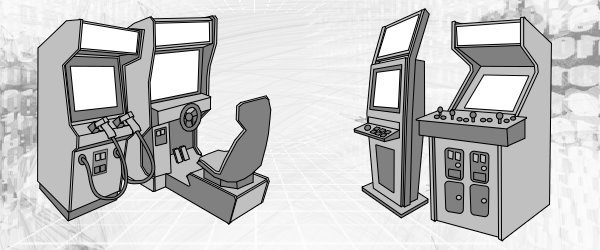 Playing a game with your friend is as easy as walking up to the cabinet their at and launching it.
Others
All other types of shortcuts will have a standard preview generated for them. It's up to you to customize it with your own artwork, trailers, and descriptions.
Use Windows As Always
Anarchy Arcade does not disable ANY of your standard Windows features. The programs you launch will open right in front of the game. You can still use your Start Menu, ALT+Tab to switch between programs, and continue using your computer like normal. You can even bring up your standard 2D Windows desktop by clicking in the corner.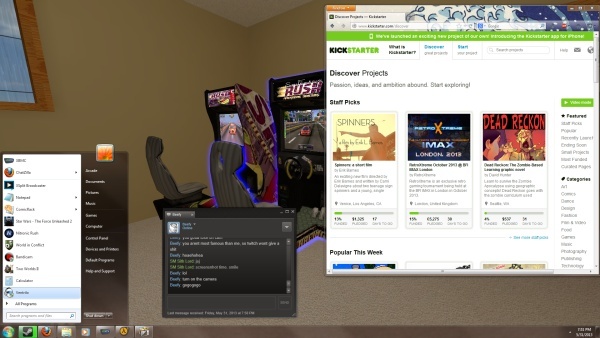 Use windows just like you always have. Think of Anarchy Arcade as an interactive wallpaper.
Computer Performance
Anarchy Arcade is all about enhancing the user experience, and this includes giving you the fastest and most responsive experience possible whether your exploring in Anarchy Arcade or playing your other games and programs.
First of all, Anarchy Arcade has a multi-threaded design which allows you to get into the virtual world and start walking around before it's even done loading.
You can instantly switch between Anarchy Arcade and your other running programs with out any delay.
If you're playing a resource intensive game, Anarchy Arcade will detect this and actually dump all of its system resources so you can play your game at full speed & top quality. When you're done, just close your game down like normal and return to your virtual world and Anarchy Arcade will load its resources back in.
Prototype - SMARCADE 2.1: Anarchy Edition
Anarchy Arcade is not something that I just woke up one morning and decided to see if I could make it. As a user I wanted a program that would make launching my files more entertaining, but after looking at the programs available I found that they all had blatant problems.
The main issue was that they were all too restrictive to be useful in one way or another. Some forced you to shop from a particular store, turning their entire program into 1 big marketing scam. Others would only let you launch specific types of files, or they wouldn't play nice with Windows and force you to change how you used your computer. It seemed like they all had their own agenda and didn't care about the user.
That's when I set out to create my own non-restrictive 3D frontend. It had to let you shop from any store, launch any type of file, not interfere with how you use Windows, and be completely customizable.
Anarchy Arcade is a concept I have been researching and developing for 3 years. It has had 2 iterations of public prototypes, with a 3rd major revision to be released in about 1 week.
Most of the featured planned for Anarchy Arcade have been implemented into SMARCADE: Anarchy Edition so it will give a very good representation of what using a full-version of the game could be like.
Keep an eye out for this free Source engine mod to be released to you in the very near future, and support the project by following the social networking accounts I have set up for it.