Hey watchers, it'll be mostly you checking this out now since this is a "archived/private" post.
I want to start with a community question that I hope will help me make a decision.
Would you like servers changing and staying to hazard/race maps only while there is no one in the servers?
This takes some knowledge you may not be aware of, but currently servers will do this when there's only 1 active player(1 playing, no other people or only spectators) during a map change.
But servers can still be stuck on deathmatch maps when there is absolutely no one around, this means players can sit around waiting for their fav maps to come around before joining the server... but I wonder who really does that.
The advantage of doing this is clear, players can always hop alone into a Hazard/Race map on a server alone and still play, it's basically a sort of practice mode. Why sit in a server alone? Well the mentality of a lot of gamers nowadays when treated it with alot of empty servers in a game/mod is to wait for someone to join because they don't want to sit alone in a server alone doing nothing waiting for someone else to join.
But! With GraviNULL you can play and have some fun alone, meanwhile those people waiting to see a sign of life will see someone on the servers and may join you and before you know it you may have a party started!
So is it okay by you the player/watcher to have a server only rotate through Hazard and Race maps only unless there are two or more active players?
Website
Bekey is about to finish with the website, here's a preview picture: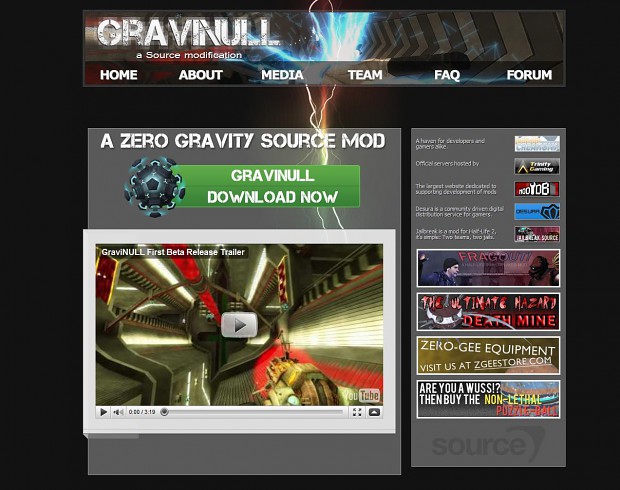 There's a few stuff that needs some working out, the FAQ and About page need some filling up, so I wonder, what kind of questions would you like to see answered, or would you have liked to see answered if you didn't know the answer already?
The media and team page need some work too, but that hopefully won't take too long either.
Beta 1.1
Yes that's right, Beta 1.1 is already on the way, here's a checklist of what you can expect:
At least one new map(gn_laserblender after difficulty adjustments probably)
Remove health regeneration penalty when getting hit by mines dealing 25 or less damage and speed up overal health regeneration.[DONE]
Tweak red mine charged time[DONE]
Updated trigger_push that has an optional "set speed" mode, where the touching players will slow/down speed up until they match this speed(and direction) [DONE]
Optional trigger_push change to have an "absolute" set speed and direction.
OnGrapple and OnGrappleReleased outputs on all entities that can be grappled.[DONE]
Take a look at improving wall bouncing/wall scraping.
"Really" have the grapple target system grapple onto the entity closest to the crosshair, absorbing and blue mine seeking still use the distance method, updating those is in order as well.
Possibly have only hazard/race maps run while no one is in the server, instead of just when there's only one active player.(depends on community feedback)
I have set the deadline for the programming part for myself to be friday 9th July 2010, that's right only a week after the 1.0 release. However, I may be pressing GuessMyName(the creator of gn_laserblender) too much with this and it will need some time in our testing chambers to make sure it won't be as ridicously hard as before.
If all goes well, this means the new release will be out in about 5 days, it likely won't release if there isn't at least one map ready for release by then though.
Trinity Gaming
As some of you may know, Trinity Gaming hosts most of our servers, I'd like to give a shout out to them for their support for mods, they have provided seven servers for GraviNULL from various locations, it seems that due to the busy days(what with the crazy Steam summer sale) not alot of people are using them, which seems a shame. But regardless, a shoutout to Trinity Gaming for supporting GraviNULL.

That was all for now, I hope to see some replies from our watchers!