Update 3/26 - Terminus Machina now looking for voice actors/actresses to fill medium and smaller roles. Male and female. Only requirement is something to record with.
Update 3/23 - Now accepting entries for the Terminus Machina Logo and Title art competition! The winner will be featured on the Terminus Machina in-game splash screen and end-credits.
1.) The title must have "Terminus Machina" in it.
2.) The logo may include the abbreviation "TM", but does not have to.
Please submit art to SilverSpook.

Update: Music for Terminus Machina needed! Tracks include:

1.) Nukila's Club
2.) Old punk's pawnshop
3.) Title music
The Terminus Machina alpha is now officially out of the murky purgatory of "debugging" and has officially been tested by actual homo sapiens other than this particular masochist who gave unholy brain-birth to this Deus Ex total conversion.
Maps fail to load, mod compatibility issues with the Steam version of DX, levels with wormholes into the Andromeda Galaxy and textures with references to the mysteriously vanished, segregated accounts of investment bank clients. The standard alpha faire. However, no truly perplexing issues thus far that can't be fixed with a little tweak of a .uc file, a drag of a .utx file, or a heads-up disclaimer in a README file, so that's good news.
The first major area and its adjoining minor areas have been completed, with all of the missions fully accomplishable from start to finish. I've tried to allow for flexibility as much as possible as well, and almost every "objective" within the game is optional, but each will reveal a different facet of the world, characters, and storyline. There should be at least as many ways to complete the objectives as there are in Deus Ex as well. So hopefully players will have reason to reboot the game and reapproach with a different lens again and again, as that is one of the brightest jewels in DX' well-deserved crown.
I'd estimate about 80% of the dialog for the extant lines have also been recorded, and this decision was primarily because I felt the psychological reality that a voice actor brings to the words was important in the particular case of Terminus Machina. Because it IS fairly writing-heavy (in a DX / Planescape / Arcanum sense), and which can be somewhat oblique and eclectic at times.
Believe it or not, you can actually get through this area using some of the new "modifications" in Terminus Machina.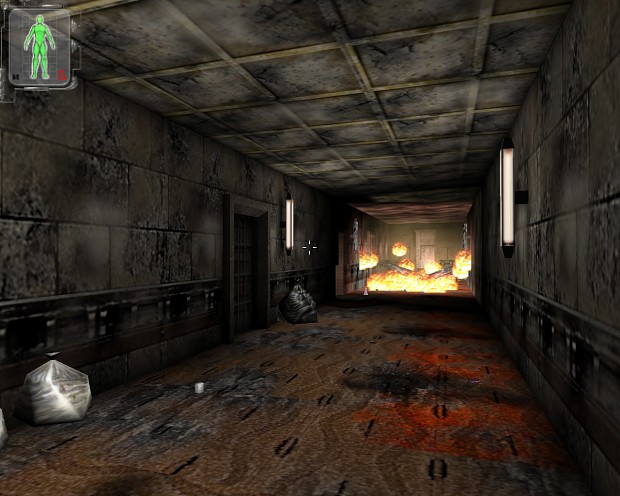 Introducing the silverized trench coat, aka "The Anti-Drone Cloak". Another DIY augmentation the player can create that renders you invisible to Predator drones. Security, style, plus the .999 fine silver threaded throughout works as currency in a hyperinflationary pinch!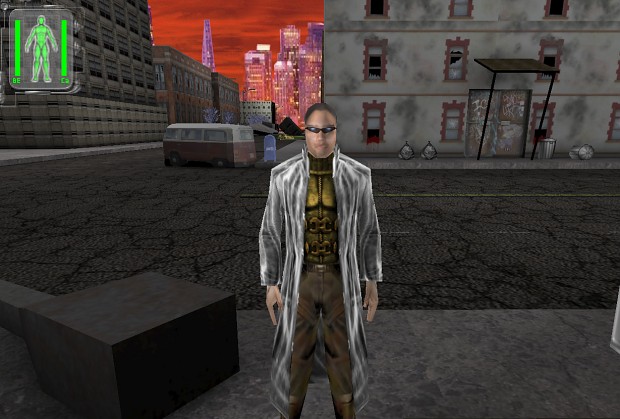 Here's a little sneak peek of a certain NPC's are, which I don't want to reveal for fear of spoilering things.