Hi Galactic Survivalists!

We are very excited to release Alpha 6.5 with our new coop multiplayer mode, replacing the old P2P-IP connect method. Days are gone where you had to fiddle around with port forwarding, your router settings or just with finding out the correct IP to connect to!

Setting up a Local Coop Server for having fun with a few friends is as easy as "click and play":
1. Go to NEW GAME - as you would have for setting up a P2P game in the past
2. Instead of clicking START, use the dropdown and click COOP SERVER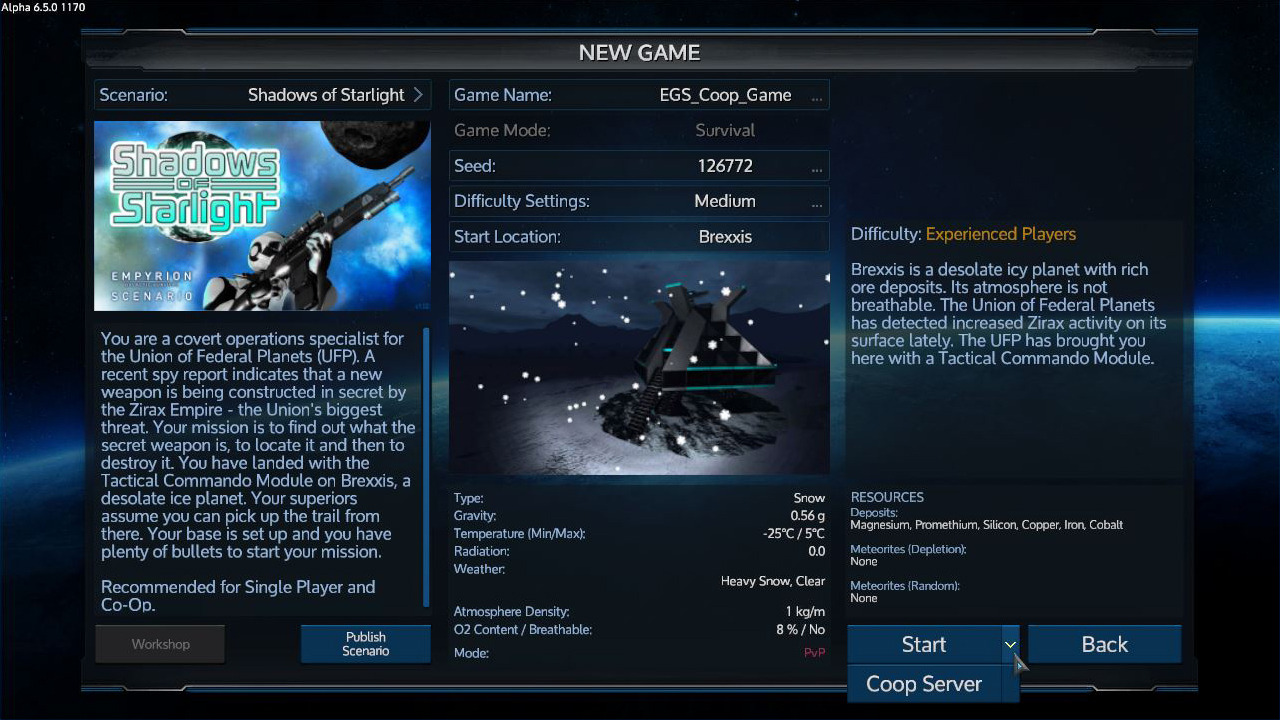 3. This will bring up a dialogue where you can configure the main parameters for your local coop server: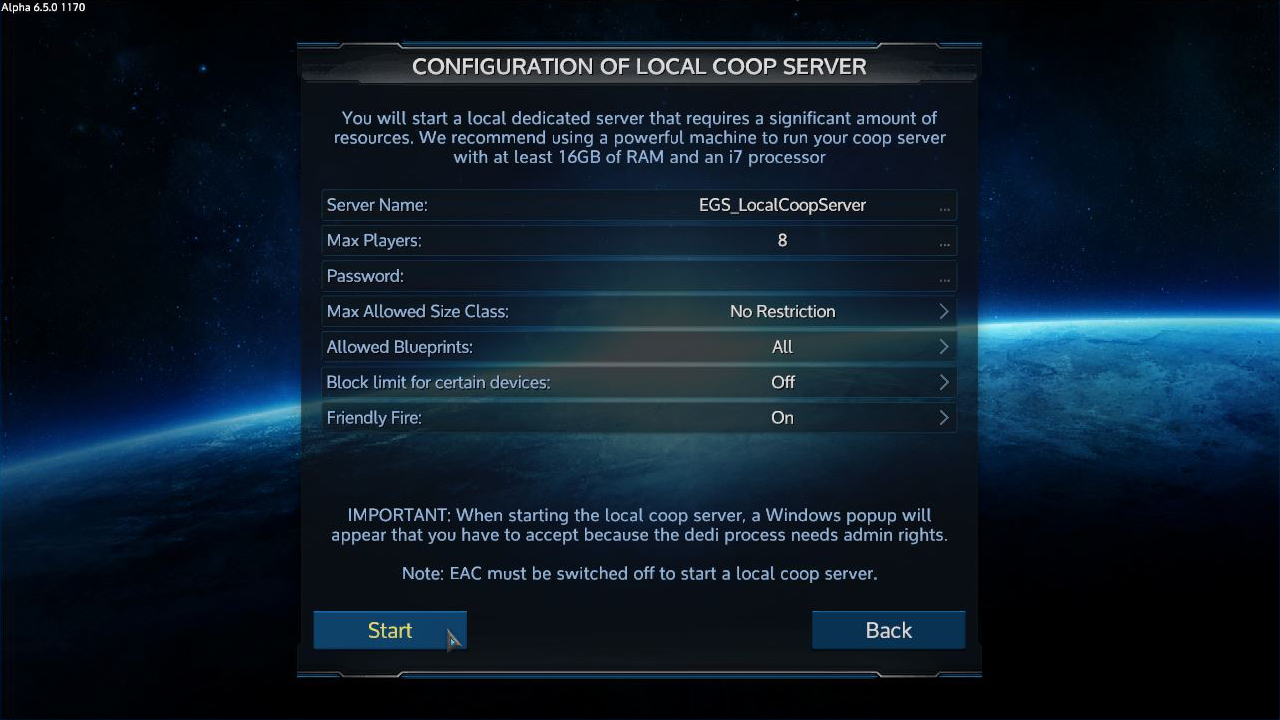 4. Your friends can now easily join your game, either via the friends tab in the in-game server browser or via "Join Game" by clicking on a friend in the Steam client

IMPORTANT: for starting a local coop server you need to switch EAC to OFF!

Alpha 6.5 also adds a new Scenario, updates to NPC combat, improved motorbike handling, re-balancings and visual improvements in terms of medical stuff and player status HUD icons as well as a slew of tweaks for gameplay, sound and visuals. Get the full list below!

As always, please report all gameplay bugs found in Alpha 6.5 here: Empyriononline.com

Thanks a lot!

Cheers,

Empyrion Dev Team

=============================

Changelog: Alpha 6.5.0 (Build 1170)

New Local Coop Server:
- Integrated new coop mode via local coop server
- Implemented resuming a non coop game in coop mode
- Automatically creating the adminconfig.yaml file with the game creator configured as admin (if there is already a adminconfig.yaml, no new file will be created)
- Added internal fixed default values for local coop: Antigrief zones deactivated, no restrictions on number of structures etc

New Scenario: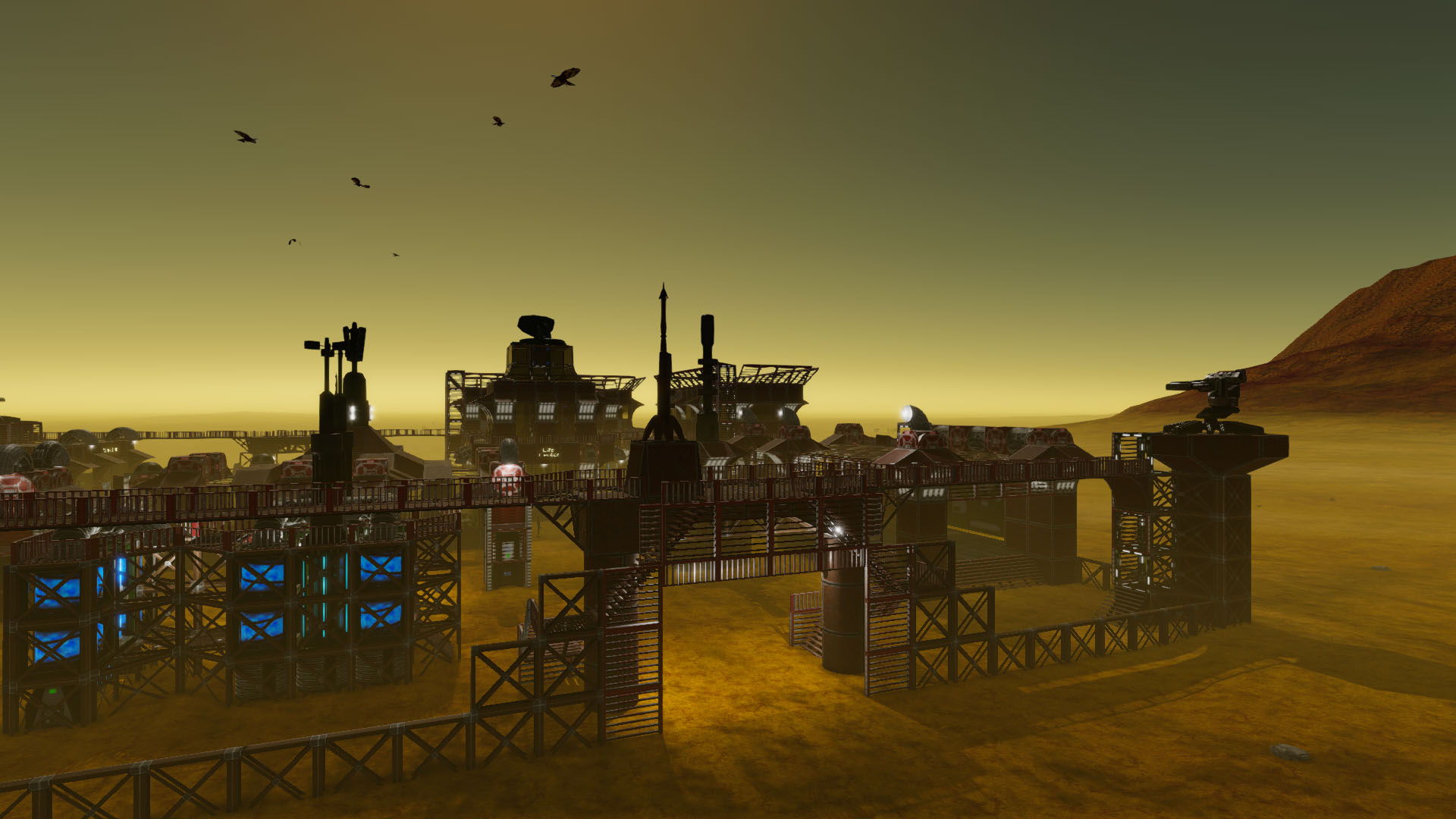 - Integrated new community made scenario: "Shadows of Starlight" Steamcommunity.com
- A big thanks to "amurayiwestgate" and "Taun Hawk"
- In our opinion, this scenario is really awesome. Let us know what you think.

Improved NPC Combat:
- Added rotation speed to NPC (each NPC now has a different rotation speed when turning around)
- More realistic shooting of NPC (now they must rotate completely towards player before they shoot). Note: We will add bullet dispersion soon.
- Adjusted detection angle of several NPCs: increased or decreased depending on the type of NPC (eg dinos now have a 270 degrees angle while eg Zirax have a smaller angle)

Balancing:
- Increased strength of all medipacks by 50% + medipacks are healing faster now.
- Reduced hit points of NPC spawners to make them easier to destroy with weapons.
- Slightly reduced weapon damage of NPC distant weapons
- Rebalanced armor values of some devices (eg turrets take now damage from handheld weapons)
- Explosives are more effective against devices now (eg doors) and less effective against hull blocks
- Reduced damage inflicted by Zirax shotgun.
- Reduced degradation of Player Armor
- Reduced HP and RoF of sentry guns.
- Slightly reduced damage inflicted by Mechanoid robot
- Slightly reduced range of HV artillery to stay below range of some BA player turrets (however, HV artillery is still above range of POI turrets)

Better Handling of Motorbike: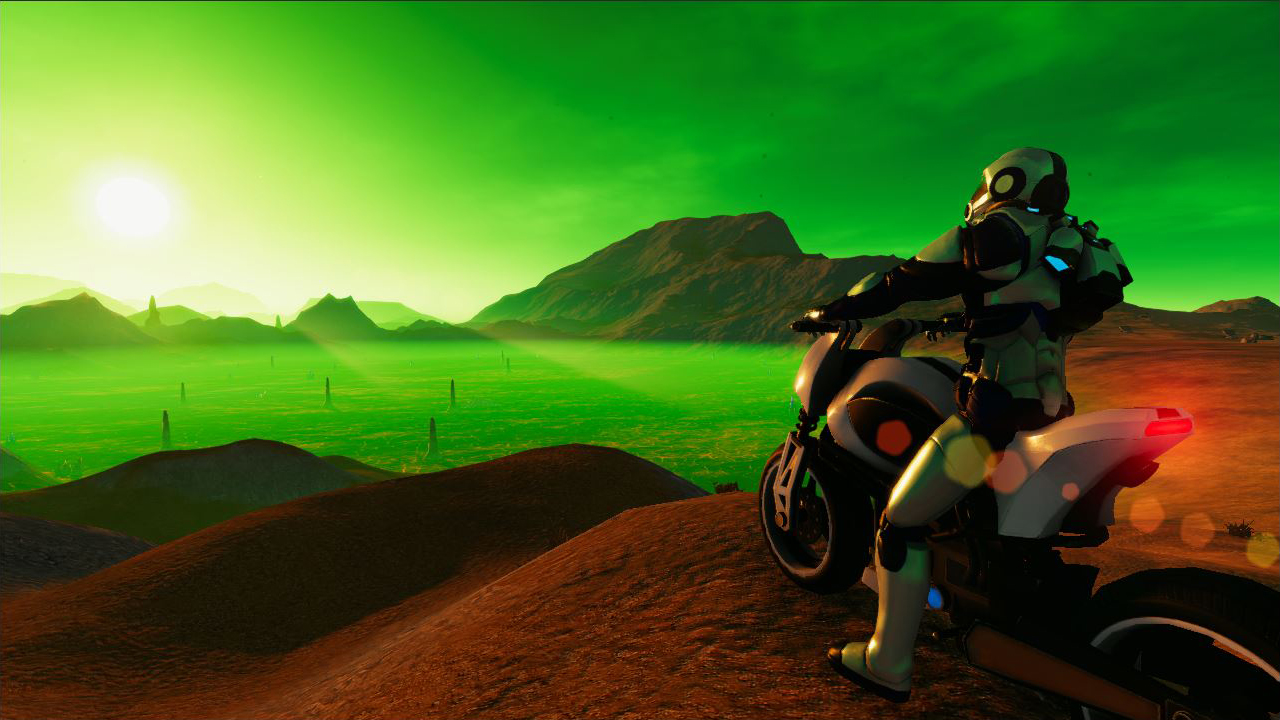 - Tweaked motorbike: overall better handling (eg better turning + acceleration and slightly faster top speed)
- Tweaked motorbike start and stop sound
- Driving sound of motorbike is now less loud

Gameplay:
- Changed: Allow exit of Vessel at 0.1 or 0.2 m/s instead of 0
- Updated rotation speed of turrets (now turrets rotate a bit slower and there is a difference in rotation speeds between turrets).
- Set turret to neutral position when idle
- Handheld weapons now auto-reload when they are empty and ammo is available
- Reduced range of explosion damage for several devices when they are destroyed
- Increased head shot bonus on several weapons
- Tweaked collider on spiders and alien bugs (more difficult to hit head for head shoot bonus)

Visuals and Sounds:
- Updated cockpit 6 based on builder feedback (fits now better to our blocks)
- Removed 3d blood particle effect in first-person view. We now only show the 2d blood particle effect on the screen
- Tweaked animation controller of several NPCs (adapted walking anim)
- Added destroyed version of Armored Golem.
- Tweaked heavy snow effect: smaller particles, less fast, larger area where they drop
- Tweaked open/close sound of barrels: a bit lower volume.
- Tweaked sound of generator: a bit lower volume and reduced distance from which it can be heard.
- Tweaked death sound and hit animation of Zirax
- Destroyed drone sound (fire) is heard less far
- NPC sound is now heard less far (40m instead of 50m)
- Slightly reduced intensity of player light.
- Tweaked sound of laser rifle
- Better rotation animation for NPCs
- Tweaked sound of assault rifles T1 and T2
- Adjusted camera to avoid clipping of laser shots that hit player
- Tweaked weapon hold position of Assault Rifle T1
- Updated Alien Fern planet: better wind movement on plant
- Updated damage texture for Mechanoid, Player Drone and Enemy Drone
- Decreased distance at which HUD objects disappear from 15m to 5m
- Status Effect icons in player window now use new tooltip style
- Changed: Color of Status Effects (good status effects are green, bad effects are red)
- Changed: Color of life stats and durability in player window (Yellow if < 200, Red if < 100)
- Tweaked biome sound on Akua Open Plains (removed annoying cricket sound during night)
- Reduced volume of footsteps
- Added icon for "All" button in Constructor filter
- Improved visuals of the dedi window

Better list behavior in Control Panel:
- Added new line-based scrolling list in Control Panel. This new list is much faster than the old list (especially noticeable for structures with a lot of devices)
- Better search in CP device list: Now also showing objects in collapsed groups
- Now keep selection when re-opening CP and not looking at another Block
- Re-Implemented select next block when grouping in CP List

Changes:
- Added new SV Tier 5 Stock prefab. Thanks to McFluffFace
Manta-Drop-Ship-MK-I 6.0 A Workshop Item for Empyrion - Galactic SurvivalBy: McFluffFace======Updated to 6.0======= The Manta-Drop-Ship-MK -1 is a heavy multipurpose dropship with 12 Passenger Seats "can easly be removed for other things" changelog 103: +better protection for the ammo boxes -2 blocks less...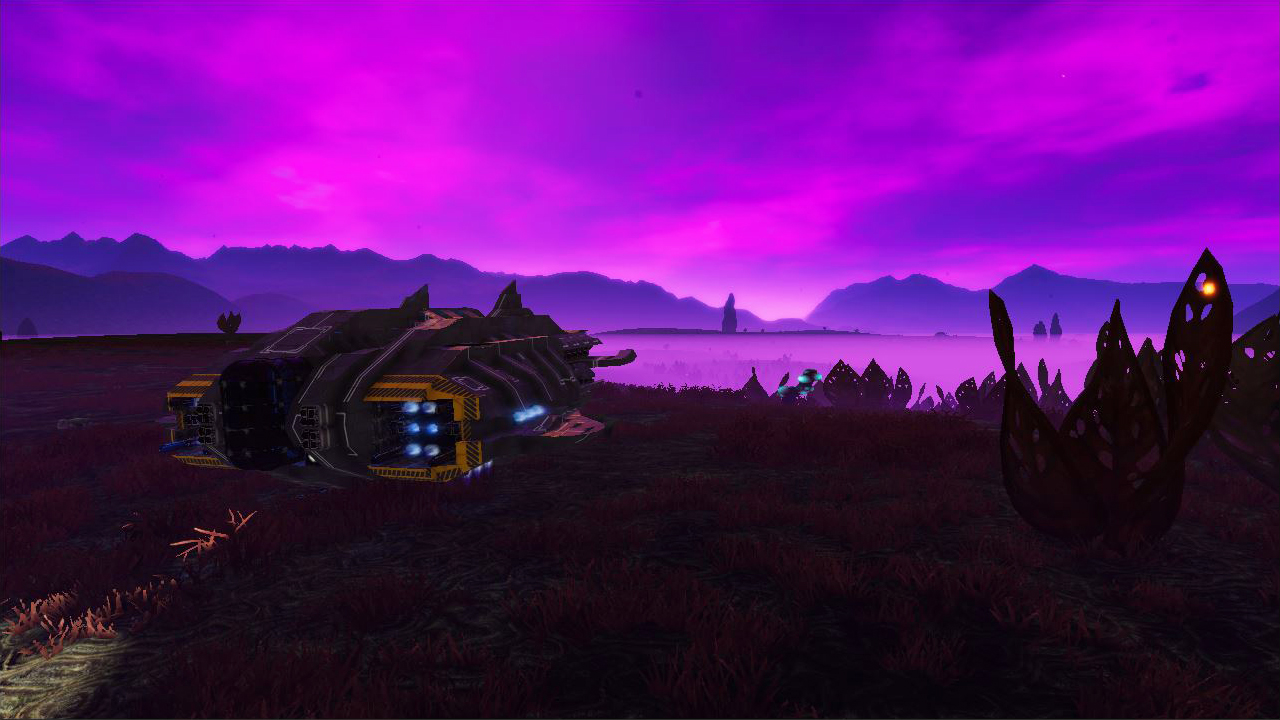 - Added white slime to Ningues
- Added spinosaurus to Masperon Swamp and added small dino to Oscutune
- Server browser list: Line-scrolling list now supports scrolling with the mouse wheel
- Added Russian as Bitmap font (ie font is crisper now)
- Server browser's "Connect" button is now disabled if no list entry is selected or the manually entered IP address is invalid
- Temporarily deactivated PDA Mission "delicious green eating"
- Drill T1 has now same capacity as T2 and it is now made clearer that T2 drill is a major upgrade to T1
- Now writing client side console command executions into the log

Localization:
- Updated Russian: thanks to Sergei Vasiliev, rainyday, foxes and Runningwithhamsters
- Updated French: thanks to Eric Rosson, Kassonnade, Spartan47 and woowoo
- Added Japanese: thanks to Metapo

Bug Fixes:
- Fixed: Problem that audio on several weapons did not play correctly (especially when firing just one shot on automatic weapons)
- Fixed: Turret shooting: turret could hit player even though player is in turret's "dead angle" -> now gun elevation/depression of each turret is taken into account
- Fixed: Problem that several NPCs did have a shooting sound anymore
- Fixed: Drill on HV is loud in the beginning but after 2sec the volume becomes normal
- Fixed: Server detail infos not shown anymore
- Fixed: Problem that is was possible for players who don't have any admin permissions in MP to change the weather.
- Fixed: Problem that Alien Bug 04 could shoot through walls in certain use cases.
- Fixed: After having aggravated NPC you can lose the aggressive state shortly after by running around the NPC.
- Fixed: Homing missiles don't circle around you any more
- Fixed: Problem that turrets did not hit reliable anymore
- Fixed: Random COQ and lost connection from dedicated server
- Fixed: First Explosive placed on an enemy block does not damage block
- Fixed: Several problems with backwards-build vessels
- Fixed: Max-Speed not available for Up/Down/Left/Right if Front/Back thrusters were deactivated
- Fixed: Backwards-build vessel with missing front thruster had 7m/s speed cap
- Fixed: HV T2 Drill effect stays active when changing a slot while in use
- Fixed: Problem with range of particle effect of drill attachment T2 (inconsistency between effect and visuals)
- Fixed: Problem that sometimes thrusters stayed on even though they should be switched off
- Fixed: Problem with flares on motorbike were shining through player
- Fixed: Problem that motorbike turned into the folded version even though player was driving it
- Fixed: Motorbike not as responsive as expected = not really fun to drive
- Fixed: LOD of various 'Tech Equipment Deco' is very low.
- Fixed: When loading into a save or new game & opening the Map the planet info was blank.
- Fixed: Problem that some rocks were floating in air.
- Fixed: Visual issue when Sun shines behind a Planet in the foreground
- Fixed: Texture artifacts on Cockpit 6 (long fighter cockpit)
- Fixed: Placing 2 Repair Bays possible by using Mirror Mode
- Fixed: Problem with re-filling after having used sorting in new line-scrolling list
- Fixed: The temperature of the Furnace doesn't change when it is disabled via CP
- Fixed: Line-scrolling list auto-selection (lead to flickering when entering an IP address in multiplayer window)
- Fixed: Drop grid not functioning properly in Mod Item Exchange Window
- Fixed: Preview pics subtitles did not work with non-latin text
- Fixed: Several localization issues