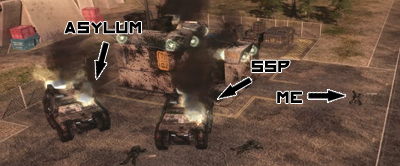 They say no news is good news, right?
I've been thinking about this post for while. Mainly, because I'm not sure how explain away three years of tinkering. So bear with me while I try to postulate why this mod is the way it is and what's going to happen. It's a shorthand account, I'll leave the full history to the books.
The Past
Asylum, and to a smaller extent Halogen, has always had a... sporadic development cycle. We have never been organized to any extent: there is no design document, there is no planning, major gameplay ideas are pretty much, "Hey, wouldn't it be cool if:" quickly followed by, "How the &%$# do I get this to work?". After the collapse of Halogen, we lost a major part of the dev team, mainly the guys who made the magic happen. We retained a couple guys who were instrumental, but development of ZH Asylum was a shadow of our previous project. Thus came the brilliant idea to port to C&C3 to drum up popularity and hopefully staff.
Didn't really work. Now we had the same amount of people, and the need to completely redo all code and re-work all of our art. At this point, there was four developers. We lost the main coder and I had to take up the reins, which is always a bad idea. We made plans to push out a demo in 2009, and while making major strides, fell short of our goal. Shortly after Slipstream Productions shut down and Asylum moved to Fallout Studios under the direction of a new member after I parted ways and the other man keeping the mod afloat fell victim to real life. As of that point, Asylum is and was a dead subforum on Fallout's index.
The Future
I take responsibility for Asylum stagnating totally. I have a terrible work ethic and it was my responsibility to keep things moving which I didn't do. I tried many times to revive the mod and simply didn't put the effort into it like I should have.
However, I simply can't let it go out with a wimper. Asylum is 7 years in development, spanning all the way back to the first ideas of "Halo Mod" in 2003. We have nothing to show for almost a decade of work except a bunch of staff alphas and wishful thinking. So, what is this wall of text leading up to?
We are alive again. As of right now, there are 10 days left for MOTY voting. That is my gauge: before those 10 days are up, we will be back in public development. This is the last news you'll see for Asylum, but keep an eye out for a new signal.