Before I start I want to credit and Moa_Dixon™, GOLDƎNMOBSTƎЯ72, JMartinez2098, MetalMan, ThrashFanBert1994, Warrior Bug, and Xenolix.

So far many significant changes have been made from version 0.7b to make the mod more enjoyable. These include:
--Removing the default ambush option that was applied to the enemy soldiers and imps.
--Adding warning signs for when the player is stepping on fire.
--Adding lower difficulties and making the monsters easier.
--Making weapon selections much faster
--added fire-modes to the rifle
and so many more!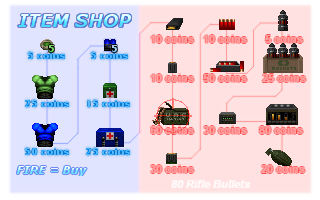 Item store has updated info (left). The fire warning should keep you from losing health (right).

The campaign maps aren't finished yet, I finished the 6th map of episode 2 and all of them still need to be optimized by play-testers to make them fun. Both episodes will need a lot of work so I will say that to anyone playing the mod itself, be sure to experiment with multiple map-packs since the mod will play differently with some choices.
Episode 1 of the Campaign Maps without MAP04:
The mod's music is also improving in quality:


Anyway, version 0.8 of this mod will be released on Jan 28th, just a week from now! 28ths of January and June are planned times for releases
Here are some play-tests by fans:

For the future plans, I haven't been thoroughly updating this mod, this is mainly due to the fact that it was always a secondary interest of mine. future updates won't be given as much work as they once were since I'm trying to focus on my primary goals in music. That said, the final version won't be released until this mod is given positive reviews.