Hello community, First off all, we'd like to apologize that the promised large update still hasn't been released. Unfortunately, we can't do anything about it, mainly because we were not given the task of publishing it. To bypass the waiting time, we have decided to publish a small update again.
Allow us to present the newest additions to our team:
Navitas and Justin3ds, our new Environment Artists
Doco, our new Lead Sound Designer
Orianbeter and Nostrum, our new Coders
They are currently all in the four-week probation time, but already doing some great work.
So much about the general information, now to some pictures! Let's start with some work from our new member, Navitas: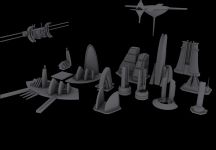 These buildings will probably be found on the Asgard maps, when finished. Next are two new drop ships, the already known one of the Goauld, this time finished, and the totally new Tauri drop ship:
And finally, thx to Duke, the finished Aschen fighter:
And last but not least, the best of today, an awesome new map from Klon! I think most of you will recognize it:
The buildings for this map were also designed and modeled by Navitas. And that's just about it for now...hope it helps you waiting for the big update, have fun!
The SGMG