Abysm 2: Infernal Contract update 03/05/2021 - Pharaoh's Judgement Expansion Pack and Ko-fi Announcement
We're Back!
Abysm 2: Infernal Contract has received very positive reviews and reception, going so far as to win Runner up for the 2020 Cacowards, an achievement I, personally, am most proud off.
With the positive reception and people wanting more of Abysm 2, It is now that I announce an Expansion Campaign, Pharaoh's Judgement.
The mod is expected to hit public beta sometime around the end of May but here's a sneak preview of the first dungeon.
The mod will require the base mod Abysm 2: Infernal Contract and the Latest Version of GZDoom to play.
What will this expansion contain?
A brand new campaign, this time set in the Desert Kingdom of Aten with:

A new overworld map
10 new Dungeons to explore
New NPCs and Storyline Quests
New Enemy Types that will fit the new Desert environment
A new Weapon: The Maggot's Tail, which serves as this campaign's Rocket Launcher.
New Spells and Rings.
New upgrades for returning Weapons
Completely Original Soundtrack composed by PRIMEVAL
2 of the new Enemies have been revealed on my Twitter page so far and there will be more to come.
The Anubis and the Cultist.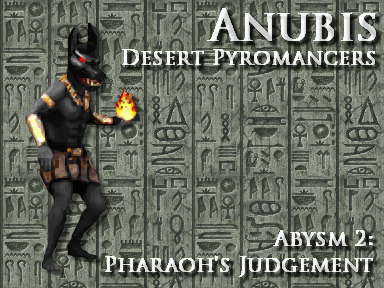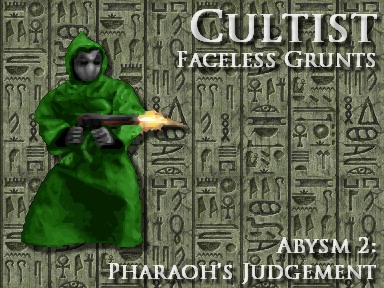 Screenshots
Ko-fi Announcement
I now also have a Ko-fi available. If you want to support, any amount Donation will be greatly Appreciated and will help development of future projects greatly.
Link to my Ko-fi is available Here!
The Ko-fi page will also contain more frequent updates about the development of Pharaoh's Judgement and future Doom mods.
Thank you so much for all the love and support for Abysm 2 and I hope to bring you guys more content in the near future.