Hi all, another week of Olvand playtesting fun. Besides the usual list of discovered bugs to fix, these are the main findings: fishing is buggy, in particular in multiplayer, and racing is confusing, but works and is fun. That last thing is a conclusion I drew from racing against several players, and writing down their responses. I got one person who didn't want to pass the finish line because he wanted the listen to the rest of the [racing background music], but I decided to take that as a good thing as well :P. This is a screenshot I took from me, Isioxd and Magiclinx, sorting out some things before a race (although Magiclinx had to leave).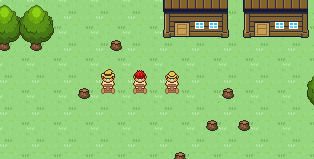 Besides playing, I've been hard at work for the new patch. It will mostly contain bug fixes, but also:
My girlfriend, who by the way really doesn't understand why the number of watchers, likes and followers keeps growing everyday, noted the game is really targeted at men at the moment, while the graphics wouldn't suggest that. One simple thing I can do to fix that a little bit is of course by adding women's cloths:

I finally added the possibility to remove tree stumps has been the most requested feature for months now. It was surprisingly easy to implement. So in the next update, if you have a shovel, you'll finally be able to clean up situations like this one: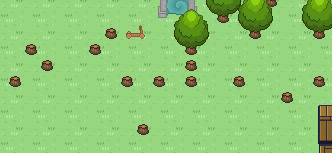 A lot of extra explanation messages for racing, so everybody can see and understand what's going on easily.
And before I forget, I got a message from Desura's game manager, who said several people asked for a download of the standalone version. Weird, nobody asked me directly, but I'm of course happy to help. If you're a playtester, it should now be downloadable from Desura, I think.
If you want more development, see [twitter] or [facebook].