Hello comrades!
It has been a while since the last announcement, and we are almost ready to release Ostheer. We are just finishing the translations of the locales needed for release, hunting for bugs and fine tuning stats. We expected to release Ostheer at June 22th, however, we concluded than releasing it in such date will compromise the result and we decided to release it a couple of weeks after, at July 6th. We are confident that the experience we offer is different enough to the one offered in Company of Heroes 2, and we hope you enjoy it.
Regarding Ostheer Beta, we thank the support of the players who joined us and gave us feedback in the internal section of the forums, we also thanks the players for not giving up waiting for us to release Ostheer and we hope those who faltered to give Eastern Front a second chance now that Ostheer is being released. Now the release date is at hand, we would like to announce we have tweaked a bit the Soviet faction(but I guess a lot of you already knew about it).
So, let's discuss about the changes that Soviets have been experimenting in the last months of development:
Propaganda War Strategy
We feel the changes done here centers it more around the concept of Soviet propaganda than before, among these changes we have tried to make Propaganda more appealing besides Navals and Katyushas. The changes we made aim at making the gameplay more variable in terms of starting and global gameplay strategies.
Among the changes the ones to 'Not a step back!' are likely the most significant changes. Now it affects units in a large circular area and provides significant defensive boni. On top of that, the unlock of this ability enables conscripts, Naval infantry and Strelky to construct defenses. Also, soviet players get access to a NKVD Commissar call in - the Commissar will improve Conscript's combat performance by his presence and enables players to upgrade their Conscripts into Shtrafnie troops, which are armed with defensive machine guns.
Also, Propaganda now houses several improved defensive emplacements to fortify soviet territory and a complete revamp of "Red Tide". While before it was just a generic call in it is now an extremely powerful ability. As long as it's active infantry units will take damage but will not die to anything but artillery, tanks and sniper fire.
Urban Combat War Strategy
Urban combat also received several changes to make it more appealing compared to Breakthrough.
As Partisans are very lacking units and in general were not worth to be used over Street Fighting we decided to change their role from sneaky commando-units to fast responding, well rounded but squishy support troops. They can move at normal speed while cloaked and received the ability to throw molotovs instead of grenades. This way they're more focused on denying cover and as anti-weapon teams out of stealth. Additionally, they're also equipped with VPGS Stun Grenades, which enable other soviet troops to finish off escaping vehicles. Of course they can still sneak around the map and lay down demo charges to confuse the enemies of the Soviet Union!
Also, the Flare was quite useless as a doctrinal ability, and now has been replaced by something completely different: A smoke barrage! As some of you might know, smoke makes units very resistant to suppression and normal weapons have very low accuracy while used in smoke. However, grenades, flamers and artillery are mostly unaffected by it. Since Urban focuses on close combat fights, artillery and fire weapons the smoke barrage adds a very powerful tool to protect your own infantry forces while still maintaining a high damage output in infantry fights!
Also, the KV 2 now really is even more of a beast than before as it now can provide artillery barrages from afar onto enemy fortifications! The Germans will tremble when they hear the 152mm shells heading into their direction.
Conscripts
They had always the feeling of being worthless and investing resources on them make the player bleed. We worked in a way to improve this situation and now they're strongly connected to the Propaganda doctrine and received some buffs in several areas. They now come in form of a call-in instead of being recruited through a building.
The most apparent changes are now the introduction of KRAK(RPG43) at-grenades as AT-ability and the earlier availability of full rifles, which now only require the armoury to be built. Also, as stated above, they now scale well when used with Propaganda doctrine and are a viable way to be used as a mainline infantry. However, Strelky are overall still superior since conscript veterancy mostly revolves around utility.
Strelky
This unit has been tweaked in a way to offer players better support for their strategies. Strelky are now available with both Soviet Support Barracks upgrades and with the Soviet Tank Hall, so they'll always be a valuable asset to every soviet army.
They now have access to PTRS 41 antitank rifles, which can be used to defend against vehicles like halftracks, Pumas, Armoured Cars and other vehicles which otherwise forced players to get AT guns. On the other hand the PPSh got some finetuning to make it more reliable and the VPGS Stun Grenades were moved to other units.
Command Squad
This unit has received several changes as well, first of all, they are now a 4 men squad; secondly their abilities have been tweaked and now they get Charge! in Propaganda War Strategy, the artillery strike is now available with Urban Combat Strategy and the Blackout ability (similar to the one used in CoH:O) is now assigned when selecting Breakthrough Assault. Also, Danko and other Commissars now will use the Nagant revolver instead of the Tokarev TT-33.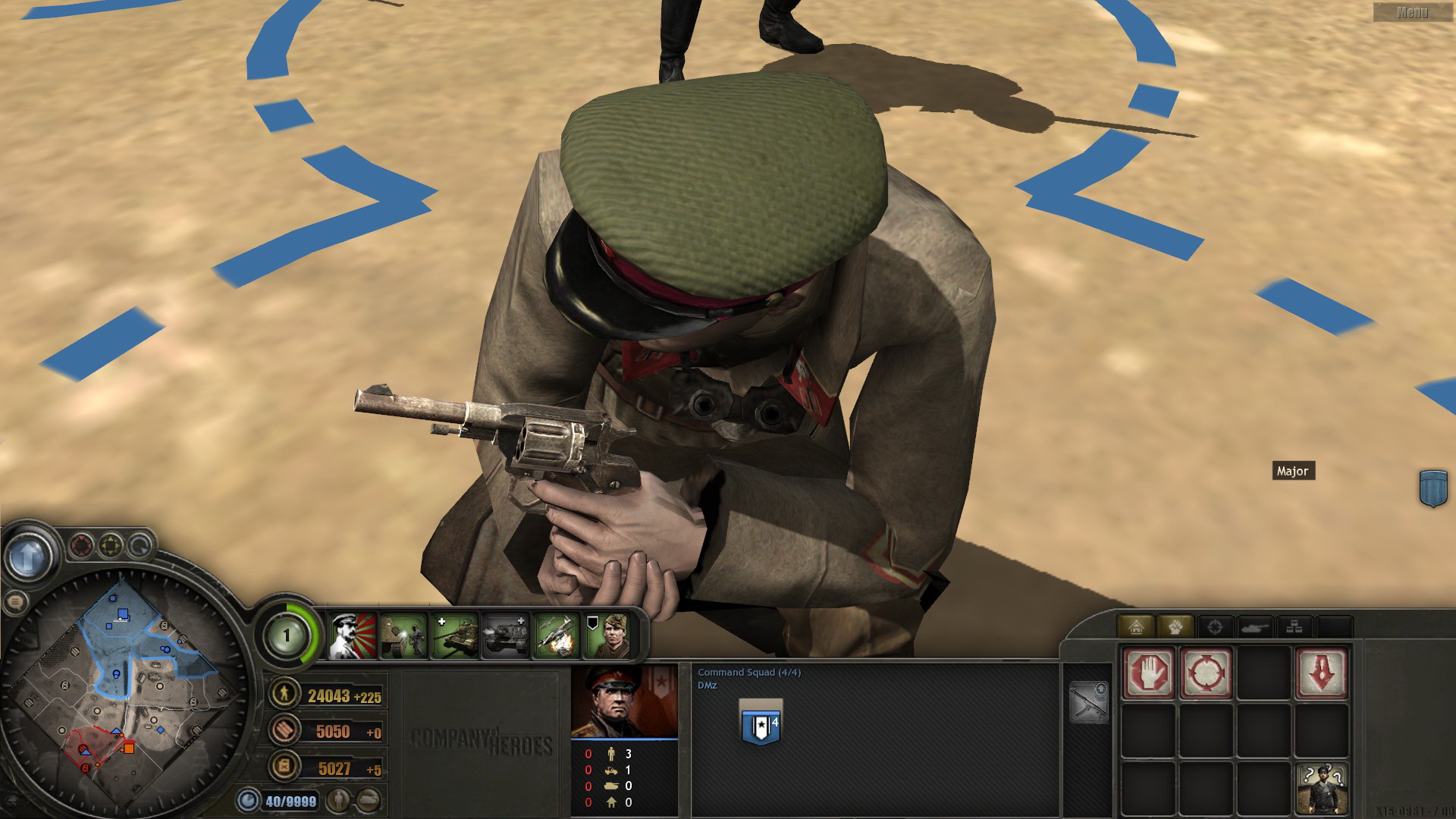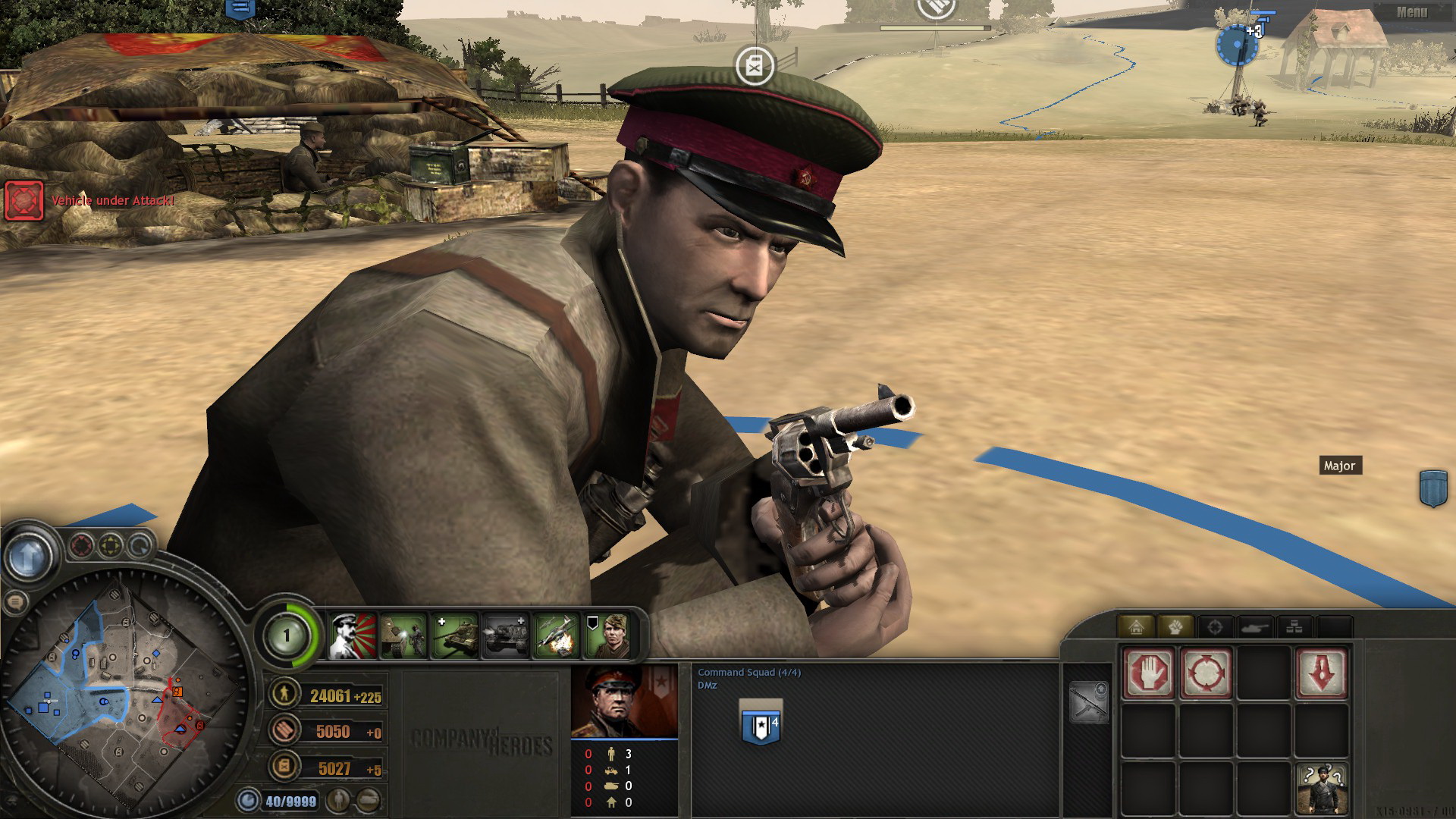 Gaz 43
We though Soviets needed a jeep-like vehicle to fight against snipers and that the Observer Team was good for the task, so we brought this unit to the Soviet roster, why not the BA64? Because that model is not ready yet so, this model would work for the role intended.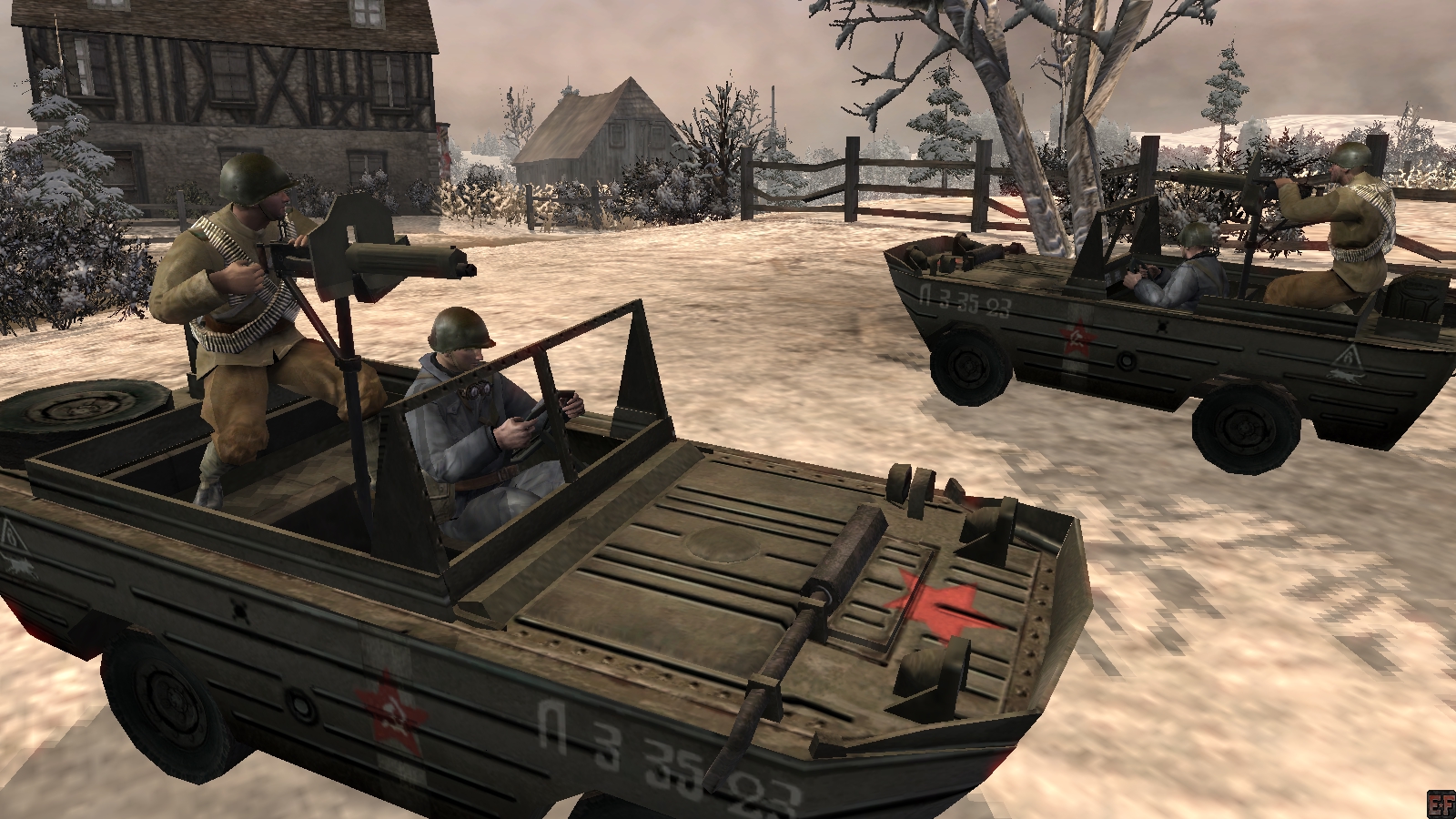 Observer Team
As we already disclosed, this unit was replaced by the Gaz 43, however, players who prefer to use the old spotters can still use them, it is only needed to switch it on the Reward Unit panel. They have been tweaked as well, they now have two active abilities, flare and artillery barrage and they no longer have the observe ability button; they have cover as passive ability and when they are cloaked, they automatically use observer bonuses(this means passive cover and observe were merged). We made this because the squad had issues retreating while in observe mode and the only way to fix this was changing how the ability was called.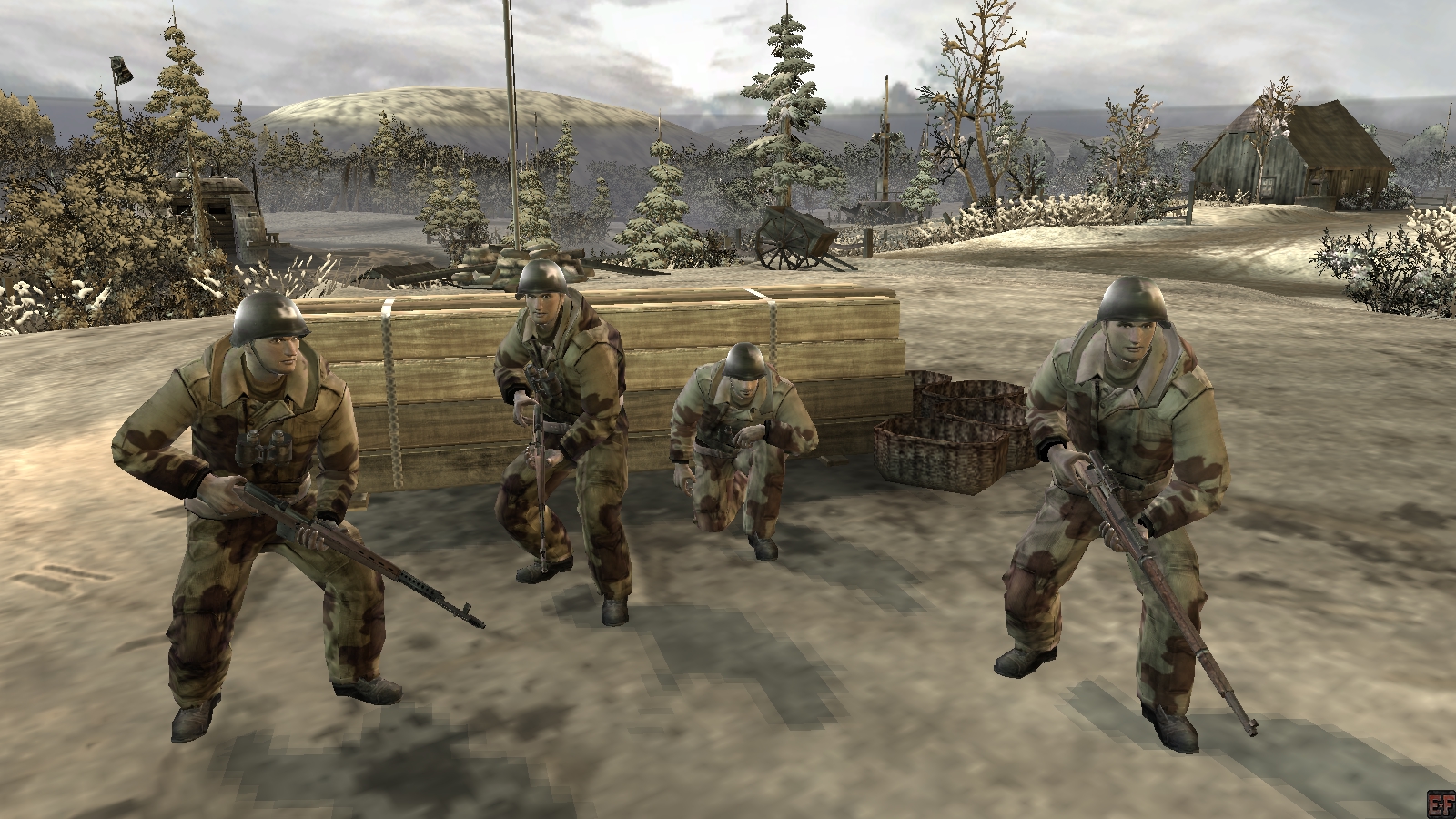 Sniper Team
The Sniper Team is back! However, many things were tweaked in order to make it balanced, so against enemy snipers they act as a single entity, which means one shot kill them both, nonetheless, when you fight against them with vehicles or infantry they behave as a two-men squad, being capable of reinforcing when one comrade falls... the reinforcement times and cost are lower than it used to be in the previous versions.
SU 76
SU 76 has received an additional role and it now offers indirect support for your tactics. We remember a lot of players asked for this feature in the SU 76 a while ago, but it was something we were keeping for 2.0. SU 76 can now fire barrages but it needs to be lock down first, and it won't be able to move any longer until you decide to stop the indirect fire mode.
T-34s
These units also had a couple of changes, first of all they can now always carry infantry, which means they no longer need Breakthrough Assault for this, and also the upgrade into T-34/85 from the armoury works different now: Instead of unlocking a new T-34/85 unit, it will no longer allow the Tank Hall to build T-34/76 and it will build only the new T-34/85. This doesn't means your old T-34/76 just become 85s, but they will be left as it until they die... however, each T-34/76 unit left will be equipped with an individual upgrade to make it a T-34/85, so it is up the player to continue using it as it or make it better for a nominal cost.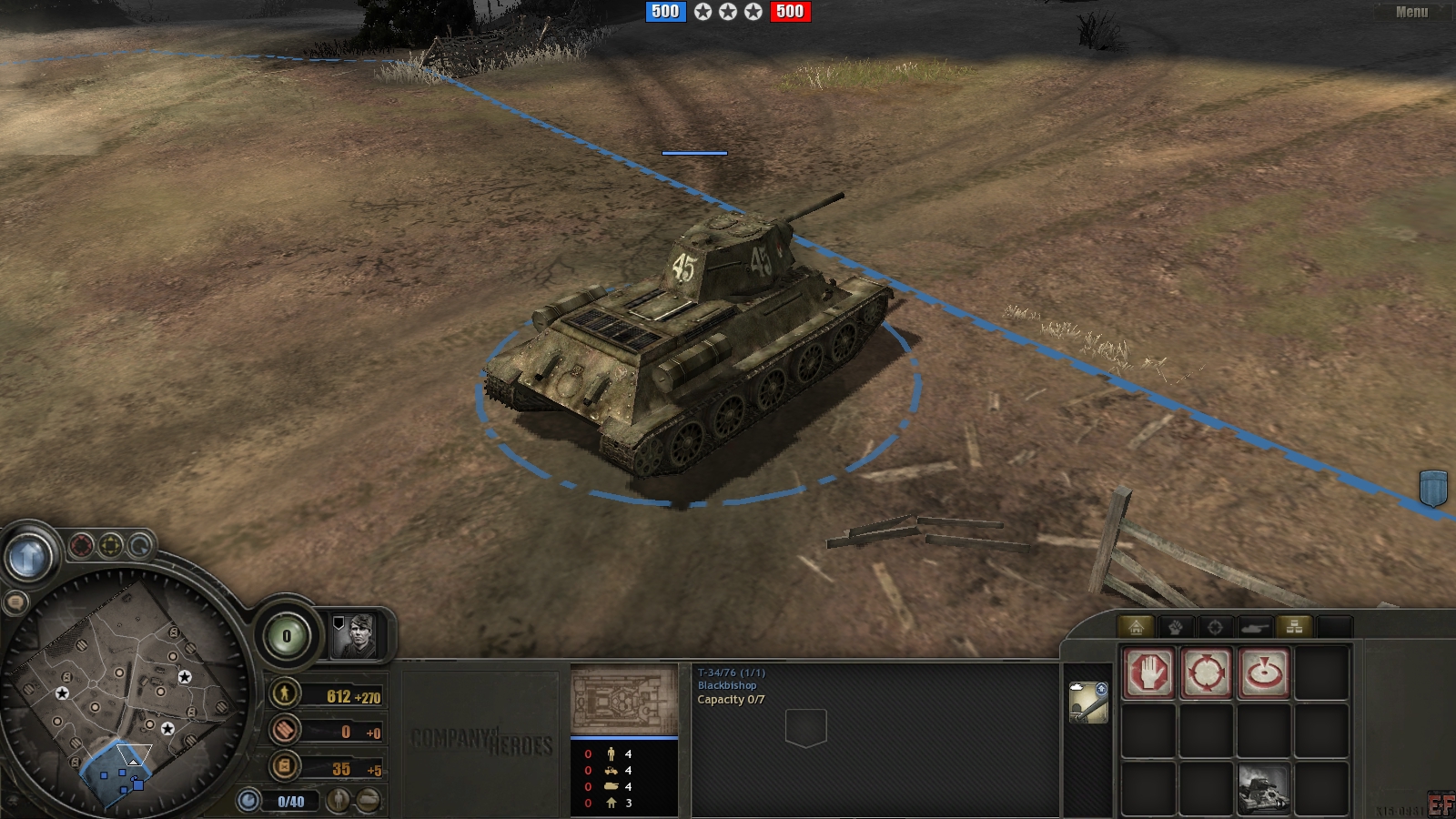 We are still working in the new Soviet models, so, you can expect a couple of new Soviet objects to replace old stuff in the next version! :). We have also some screenshots from the Ostheer in action, in our map Königsberg, courtesy of our Devs Ape and Max.