It was one year ago today when I first envisioned Office Management 101 and put some ideas on paper. I brainstormed, made a short design document and started programming and drawing artwork for it shortly after. I had just quit my job a month earlier with no real plans what do next, so it was the first time in a while my motivation had been so high and I was gladly putting my every waking hour into it. When I publicly announced the game a little more than a month later I had already enough of the game working to show some early screenshots and to describe the gameplay and the idea was received rather well, much more so than I had dream to hope at such early stage.
So today marks the one year anniversary of me picking up game development seriously and trying to make life of it. What could be a more joyous day is somewhat clouded by the fact that work on the game has not progressed nearly as fast as I had hoped. Back then I had planned I'd be releasing the full version by then end of the year if not earlier, but as it is now, I haven't even managed to put out an alpha release yet. Then again, I feel like I had so much more to learn before I could realistically think about crossing the finish line, so this additional time has not been wasted experience-wise.
* First .gif of the game, 2013-12-26
It's surely been a year of ups and downs for me. I'll first touch on some of the problems I had, but by no means do I mean to be overly negative or depressing, which is why you might as well skip the next few paragraphs and read how despite everything this has also been one of the best years of my life.
I had some money saved up, so that wasn't a concern for me at first, but I started struggling with health around the holidays last year. I don't know if it was some bottled up stress, long hours spent behind the computer or my eating habits, but that marked the end for rapid development advancements, putting me behind my schedule quite early on. Those health problems kept coming back over the year several times and since I didn't have an official job, I didn't have any health insurance to properly deal with it either.
The next big problem, that I had to tackle, was the unexpected loss of my rental apartment and finding a new one that I could actually afford proved to be quite hard, not to mention time-costly. This also immediately put a huge strain on my savings. Close to facing homelessness I luckily found a new home on the outskirts of the town at the last moment.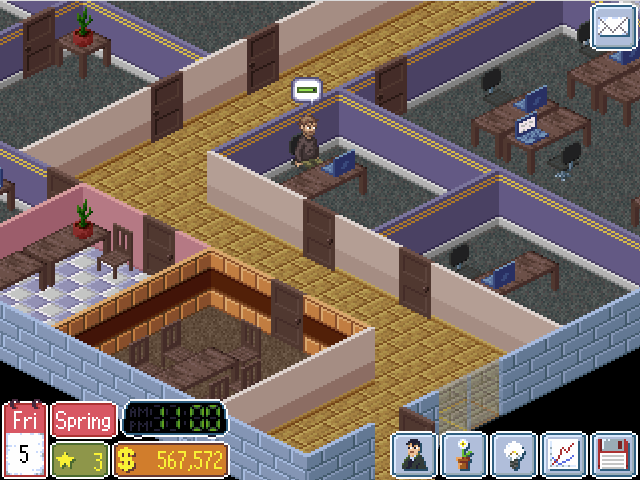 *
Redesigned UI and an employee at work, 2014-01-18
The last of my savings ran out in the beginning of the summer and I turned to a freelance web development to keep myself afloat. I wasn't making a huge amount of money, but at least I wasn't risking starving to death anymore either. I tried to work on the game as much as my time and motivation permitted, but switching between projects can be stressful. I figured it would be a temporary measure and being the naive beginner that I was, I was hoping to get some kind of investment going. Although I had some talks with publishers and angel investor style people, all those fell through quickly enough and for good reasons.
Realizing that I'd have to keep doing freelance work for a living put things into a new perspective for me. It made me doubt my ability to finish Office Management 101 at this rate and for a while I preferred working on smaller game projects as they seemed more realistically completable.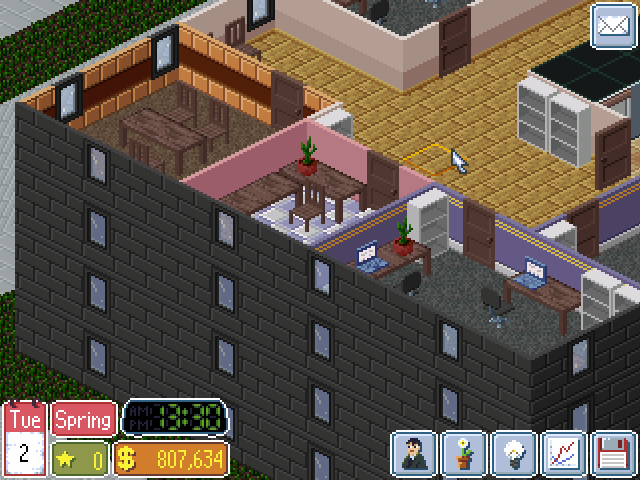 * Tiles added for the outside of the building, 2014-01-25
Now all this may sound worse than it actually was. The hardships that I describe didn't break me. All that time I knew I could easily get a new full time job in the software or web development industry and live better than ever before, but this was the choice I had made and I was going to stick to it. Nobody said game development has to be easy and to be honest I actually enjoyed overcoming the problems. It makes me feel emotionally strong and confident and I've learned so much during these times.
I've come to terms with the choices I've made. I want to finish Office Management 101. I really do. And I do feel like it's a game that I'd love to play myself. Maybe it means I'll have to endure more slumps. Maybe I'll have to cut down the original scope. Maybe it means it'll take a while longer to get there. Even if I have to do everything from programming to marketing myself. But I'll face whatever I'll have to and there will be a day when I release it to the world. I also dropped most other game projects I had going meanwhile, realizing being just one man there's only so many things I can do at the same time.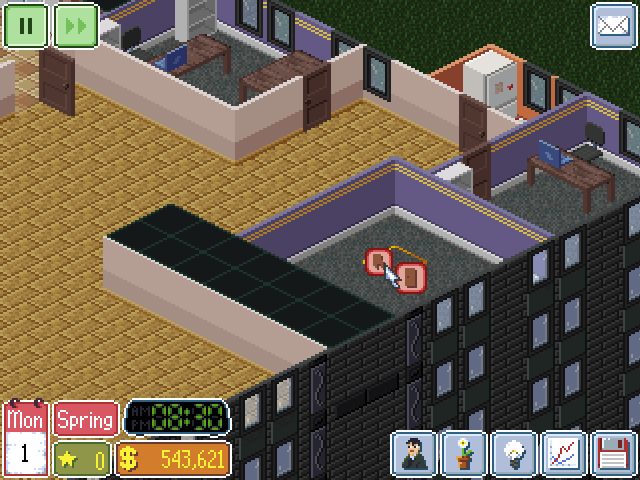 *
A new office building, 2014-03-17
The support I've had for Office Management 101 has been amazing. The encouraging comments and emails that I get lift my spirits all the time, even when I've felt undeserving sometimes. Even the games media has mostly been kind and supportive to me, for which I'm forever grateful. Also thanks to game development I've met some really awesome people both online and in real life and I have a feeling that's going to keep happening, so all the more reason to keep at it. Thanks to picking up game development I also created my first company this year by partnering up with my brother. It's been another great new experience to cherish, plus it makes me feel so much more credible at what I do. Easier to explain to other people as well - I'm not just a unemployed geek coding in his bedroom anymore, I'm a businessman :)
So for the past few weeks I've again spent most of the little free time I have on Office Management 101 again. Back in August I announced that I'd be taking on a small number of new closed pre-alpha testers based on applications. I haven't made significant enough bug fixing progress yet to justify the release of another pre-alpha version, but I'll get there eventually and I'll contact the people who applied then, hoping they'll still be interested. I also hired a talented young fellow to help me out a bit with making a teaser trailer for the game and he's helped inject some new energy into to the project. If all works out and I can afford to keep paying him, maybe he'll also help out with some of the artwork in the game.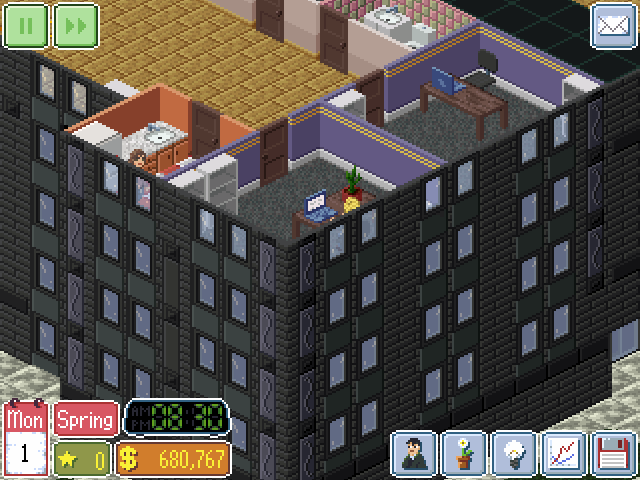 *
Female employees and their animations, 2014-06-16
Meanwhile I've managed to redesign the whole AI system to behaviour trees and that system now runs on Lua scripts, which would potentially make adding some mod support to the game much easier. I'm still not certain that making the game fully moddable would be the best use of my time considering everything, but I'd at least like to have that possibility should I decide to go down that road. I guess I'll eventually make that decision based on feedback.
Next up I'll add some additional AI behaviour tasks and work on some bits of polishing so the recorded gameplay would look juicier in the teaser, plus I should get rid of some of the more apparent bugs. I don't think I'll add much more features before the next closed pre-alpha release, but we'll see.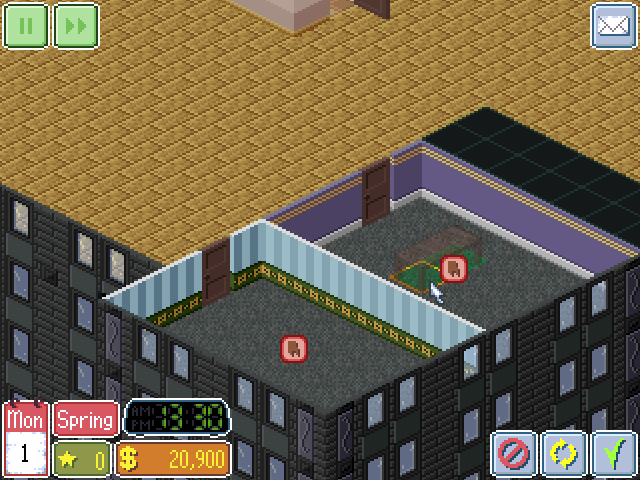 * Testing furniture placement effects, 2014-11-22
How long until alpha then? Truth is that I don't really know. It will depend on tester feedback, my willingness to adjust the scope and most of all my financial situation for the coming months. By looking at the tasklist in front of me, it doesn't seem that far out anymore, but I've learned that my estimates are pretty much worthless when it comes to game developments, so I'll just say 2015 for now.
Well that's my story so far. Setbacks are a part of any road to dreams, but you shouldn't ever let them stop you from doing what you really want to do. I do believe that good things eventually come to those who work hard and keep pushing forward, so that's what I'm going to keep doing and hopefully by the time another year passes, you can already play the game.
Thanks for reading,
Riho


Forum | @tulevik.EU | Facebook | officemanagement101.com | DevLog on TIGForums