After several attempts at recording a podcast and a video tutorial for the mod (and failing each time because video editing is not something I'm skilled at) I've decided to simply write up a news update with a tutorial. So first, I'll give a brief update on where I've been, and then I'll get to the teaching.
First off, the mod actually passed it's first year more than a week ago. I was going through old posts and found one relating to this mod back December 9th of last year! So the files that would eventually become this mod have already passed their one year anniversary. This mod page itself doesn't pass that until around the 20th of January. It's a little hard to believe that the mod would be seeing an alpha release this early. It has come a LONG way since it's inception, and has even attracted some very nice talent, as is clearly evident with the map that's being released with the mod and the fact that it's no longer my name on the site, it's now the "Zombie Colony Development Team".
As far as my almost pathological fear of being on time with my promised updates, I have good reasons. I work retail right now, and we just entered into the busiest time of the year: Black Friday and Christmas. As well, I just got promoted to full-time, so I've had zero time to work on public news updates and the like. I never stopped working on the mod for a moment though.
And with that, I now give you a tutorial on how to actually play Zombie Colony.
First of all, you'll want to set up the server. If you're just playing by yourself, just create your own server. Nothing to it. However, to set up a multiplayer game, you'll need to tweak some things. First, enable the developer console if you haven't already (options -> advanced, then tick "enable developer console" ). Bring it up with the "~" button, then enter the commands "sv_lan 0" and "changelevel zc_final_demo". That will restart the server and allow your internet friends to join your game.
Now, once you've started your game, you'll want to start getting your camp in order right away. You have a limited amount of time before the zombies become aware of your camp and begin to crave the warm flesh attached to your bones. The first order of business is telling your survivors where you want them and what you want them to do. Select the "Beacon" tool underneath the crowbar in your inventory.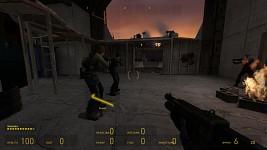 Select one of your rebels with the middle mouse button (secondary fire), and tell them to guard somewhere by looking at the patch of ground and pressing r (reload). They'll run to where you were looking and begin guarding. They will stand there, looking around for and shooting zombies they see, returning to the campfire to restock the ammo and medicine they carry with them if necessary. Do this same thing with all your rebels, except for one. I set my guards up like so: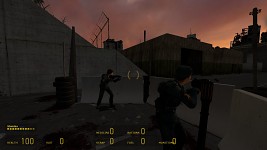 I also station one either behind them, or up on top of the scaffolding. Now with your survivors stationed where you want them, time to put that last rebel to work. He will collect rations for you so you don't have to worry about it while you're out searching for resources. The source of rations for your camp is a sink connected to a large tank of water. You can collect from it if you like, but it's much easier to set a survivor to collect from it.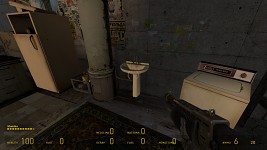 Simply use the beacon tool, select the survivor we didn't tell to guard, and tell him to collect resources from the source with "reload", the same button we tell them to guard with. He will run over, grab some rations, and run back to the campfire to drop it off. The campfire here represents the cache of resources everyone collects from and drops off at.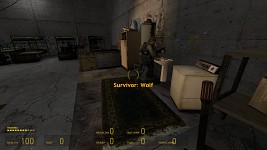 Alrighty. Now that your camp is guarded and you have a survivor collecting rations for you, it's time to stock ourselves up for the trip into the city. First, let's make sure to grab the starting scrap and medicine they managed to scrape together for us.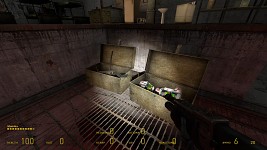 Now you should have 50 scrap and 50 medicine. That scrap will really help out after the zombies begin to attack your barricades. The medicine however isn't totally useful to us yet (it will become invaluable in later updates). For now, it's mainly used for survivors to heal themselves if they get attacked by zombies. So we'll transfer it over to the camp's cache so survivors can pick up some if they need it. To do this, open the inventory menu with "i", and select "transfer 5 medicine" until you've given them all you've got.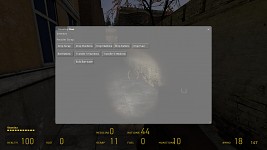 Good. So now your camp should be well guarded and well stocked. You've picked up the starting resources, and you should have one rebel keeping your rations full. If you need to eat some (and you probably do), simply open the inventory menu back up and click "Eat Rations". It will fill one bar of stamina per one unit of rations. Go grab one of the shotguns or smg's off a shelf and some ammo, because now is the time to venture out into the city. You might not have much time left, so if you hear a survivor cry "zombies!" drop whatever you're doing and make sure they're well defended. It doesn't take many of the armored zombies to overwhelm your barriers. Our goal right now is to get survivors stocked up on munitions so they can resupply if necessary. Make your way to the first large bunker on your right, for this is the abandoned armory.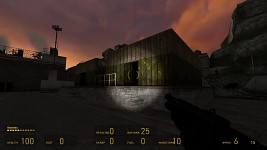 Inside should be littered with weapons and ammo, but what we want is the dump of munitions. Collect what you can from that, and transfer it to the camp the same way you did the medicine.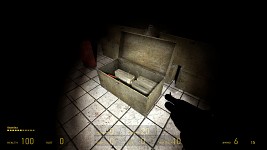 Munitions will later be used to create guns and ammo for you, your team, and your survivors, but for now it's only used to restock the ammo of your rebels, and trust me, they go through A LOT. Collect up a bunch (30-40 should be good, you could go all the way to 50 if you wanted to) and click "transfer 5 munitions" until you've given them a good stock.
If your camp hasn't already been attacked, it will be soon, so this next bit will be important. When zombies attack the barriers, they weaken them. You can see how close a barrier is to falling by what percentage it's at: zero percent, and it's totally destroyed. To repair a barrier, simply hit it with your crowbar. You'll use up some of your scrap, and hammer it in place to add strength back. To rebuild a totally destroyed barrier, you simply open your inventory menu and select "build barricade". This pulls up a "ghost" of where it will be placed. To place it, left-click. To rotate it, hold down the middle mouse button. And if you want to switch between the short barriers that act as gates and the large wooden ones with double the durability, press the right mouse button. If you require more scrap metal, you should easily find some lying around.. it's scrap metal after all. But if you need more, there should be a large pile just outside the walls of the military base.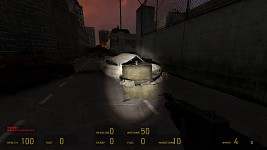 Right then. Your camp is well stocked, well defended, and actively collecting rations for you. Now is when you can start exploring the map some, looting rooms and killing zombies. Keep an eye out for the different resources, each one has a large and a small variant.
Don't forget to transfer any munitions and medicine you pick up to the camp to keep them well stocked as well, and every so often (after a couple of attacks) make a trip to the armory to give them a large amount of munitions.
Your goal through all of this should be to close the large bunker doors that will finally seal off this entrance. To accomplish this, you need to collect fuel to run the large generators long enough to seal the doors. Fuel can be found scattered around the map, but the largest amount is by far located at the gas station across the city. There are a few pumps there that you can drain for whatever fuel is left.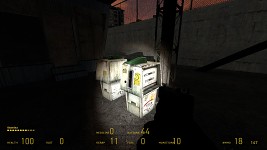 Once you're carrying as much fuel as you can, you can bring it back to the camp and climb the scaffolding. Up top, dump what fuel you have into the generator via the intake.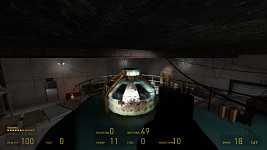 You'll know you have enough, as the survivors have cleverly rigged the existing small generator to a few lights that act as a meter of sorts for you.
Once the system is fully lit up, you can pull the switch in the control room that was previously deactivated. This will start the doors closing, and once they're closed, there's no opening them again, so make sure everyone is inside before pulling that lever.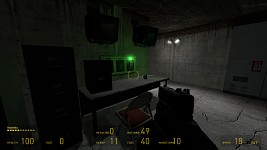 And that's how you play Zombie Colony.
I'm extremely excited to see where they project goes next. I've got a bug submission section of the forums on this page set up for everyone. If you notice any big problems or bugs/glitches/what-have-you, please don't' hesitate to submit them. I've even got a feedback section where you can leave your own review or suggestions for the mod as well.
I just want to finish up by thanking everyone who's tracked and supported this mod with an enthusiasm I never would have imagined when I started this.
Thank you ^_^