So, there is a little game programming contest going on in Italy right now, promoted by gameprog.it (italian only website, sorry!): one month, from december 3 to January 5, to make a full videogame, with credits and so on, on Unity 3D. The game must have some connection with one or more classic games from the '70s/'80s/'90s.
As a team (MixedBag), we are developing the action adventure game forma.8 for iOS right now, but we liked the contest theme so much, and we already had some ideas about a shoot'em up game in our heads, so we decided to enter the contest.
Here we are then: Futuridium.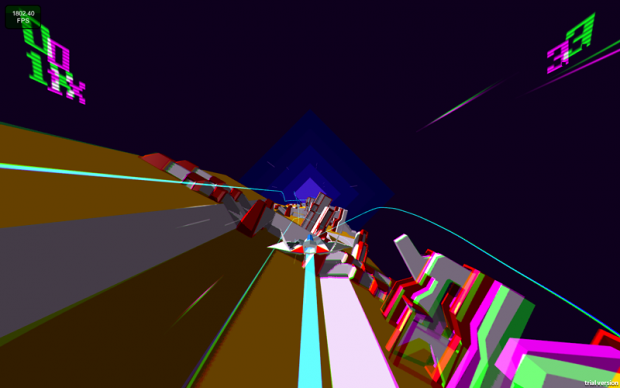 What's Futuridium?
Futuridium is a new take on the classic shoot'em up formula from the '80s/'90s, redone with modern graphics and with some new gameplay and visual tricks. The game is fast, relentless: you fly your ship in 3d with a third person view on gigantic enemy space vessels, trying to destroy all their energy sources and finally cause enough damage to destroy them. Controls are easy and super responsive: speed is automatic, you move very fast forward, move your ship (preferably with an analog stick or joypad: we tested the game with a 360 controller and a PlayStation Dual Shock 3 and they are awesome), shoot with your dual cannon and... there is a twist: you can turn 180 degrees at any time with the press of a button, going back to lay some more devastation on the surface of the enemy motherships.
Sounds familiar? Well, the game concept is a modern take on the classic 8bit and 16bit game Uridium, a game I spent hundreds of hours on back in the days on my C64.
The game will be also heavily score driven: you must pump up your multiplier and there is a chain system in place. Take risks to destroy power cubes and enemies in sequence and you'll be rewarded with tons of points. The game has an online leaderboard system to compete worldwide.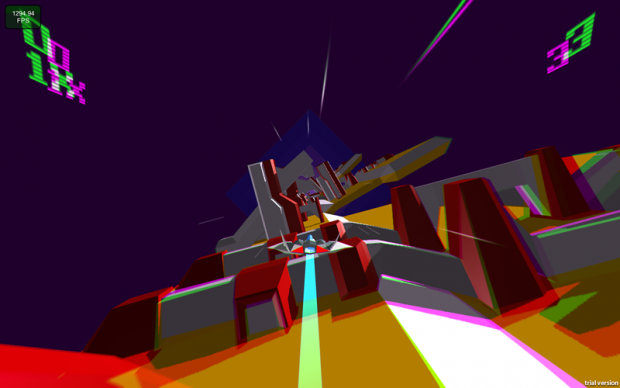 For the graphics, we had some clear goal from the beginning: a nostalgic look, flat shading (yeah, we loved Silpheed and Viewpoint!), great real time shadowing, with some modern special effects and superfast frameate also on the oldest computer.
Our target is 120fps with all the effects on (colour channel separation, motion blur, FSAA4X, some special shader and distortion effects for the explosions), with a ton of object flying around (expecially when you blow something up). And the game runs silky smooth, at 720p resolution, also on older graphics card like the GeForce 9600 and processors.
Want a first look? That's our current prototype in action!
Release date?
Really soon! Since the contest ends on the 5 of january 2013, we'll have the game out for that date. And there's more:
- We'll have a public beta out for Christmast!
- The game will be FREE!
We'll have some news soon, in the meantime:
- If you are italian you can follow our developer diary on the contest page on gameprog.it:
Gameprog.it
- Follow our official FaceBook Page: Facebook.com
- Follow our Twitter: Twitter.com