Another small update. I noticed that in some maps, such as smash - one team would win then it would be a 7 minute wait for the round to end. So I've added a timer that starts when one team has all the items on the map.
I've also added a couple of new maps sent in by Andy Green. Capture The F is a pretty good one!
I also thought it was pretty dull without firearms - so I've given back the ability to pick them up. Mappers should place them carefully!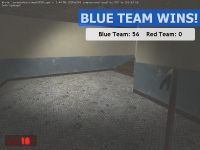 You can download version 1.2 at the Nine Tenths website.