So sorry this update is technically a day late, but I've been really busy today. This past week has definitely been a good one for Operation Remembrance. I got several more maps done, which brings the total number of completed maps to 11, plus 3 more that are close to being done, and 11 that need heavy reworking. The current list of completed maps is:
Welcome to the Jungle
Landing Zone Albany
Operation Hastings
A Walk In The Light Green
Nung River Mouth
Operation Cedar Falls
Fall of Lang Vei
Quang Tri-1968
Siege of Khe Sanh
Ho Chi Minh Trail
Cambodian Incursion
And Hue-1968, Ia Drang Valley, and Operation Game Warden are almost finished.
I've been doing a lot of thinking lately about the future of Operation Remembrance and my plans for after version 1.0 comes out. I always knew that I wasn't going to just drop the mod after I released it. There were always plans to continue, but I didn't have much planned in the way of new content for later patches beyond one or two new vehicles and a lot more maps. But now, thanks to you guys, I've gotten a few more ideas and I think I know what I'm going to do for subsquent versions.
At the moment, I have a poll up for whether or not I should add ironsights to as many weapons as possible, and although it's not over yet, the votes are swinging strongly towards the "Yes" side. I've also done some research into a few other mods that I could potentially take material from, and I came across the old Eve of Destruction mod for Vietnam. I took a look through the files and there are actually quite a few vehicles in there I would love to see in Operation Rembrance, especially the Mi-4 helicopter and F-105 Thunderchief. I'm going to try to contact the guy who made the mod, and if I can get his permission, those features will definitely be added. I have an email address that might work but seems to be several years old, so we'll see. If I can't get in contact with him at all, I'm going to do the same thing I've done with the other mod creators that don't have valid contact information or haven't responded to my messages: I'm going to go ahead and add the features anyway. The only way I won't add those things is if I get in contact with him and he asks me not to. If anyone here is in contact with him or knows how to get a message through, I'd be extremely grateful if you could either message me his info or send him to me.
So having said that, version 1.1 will definitely be adding the next twenty-five maps that are planned (I haven't decided which ones yet), and very likely both ironsights and new vehicles, both several that have been held back from version 1.0 because of major bugs that could eventually be solved, and some from Eve of Destruction.
Version 1.2 will be much larger and have a lot of features that some fans have asked for several times: specifically, the French and Viet Minh factions, and associated maps, weapons, and vehicles, as well as whatever maps are left for release and any new maps I come across during the development process. If anyone out there still has Battlecraft Vietnam and wants to make a map for Operation Remembrance, feel free to do so and send it my way. I WILL be packaging files with the mod so that maps can be made with Operation Remembrance features, or you can just make one in vanilla Battlecraft and I'll convert it. I would prefer if people would stick to recreating actual battles, since I would like to keep this mod as accurate as possible with only a few fictional battles, and I particularly need maps featuring the ANZAC faction, but I'm willing to take a look at anything someone comes up with. Don't worry about adding bot support. I'll do that myself.
After Version 1.2, I don't know. I know I'm going to be developing a version of the official WW2 mod that's compatible with Operation Remembrance, but that will be developed concurrently with OR's various patches and updates, and I don't know what else I'm going to do for the base mod. If I can get some people working with me, I would like to add the South Koreans as a faction, and one commenter suggested adding some of the really old stuff from Vietnam, like the occupation of Vietnam by Japan during WW2, and while I don't know if I'll ever go that far, I wouldn't mind it. This game has become a major part of my life over the last several years, and it really has been a work of love for me. I still believe that Operation Remembrance is the largest and most technically and historically accurate game/mod ever made about the Vietnam War, and even though Battlefield Vietnam is old, I think it still has a lot of life left in it for people who are willing to give it a chance and accept the imperfections. I want to see both the game and Operation Remembrance go as far as they can.
*************************************************Weekly feature highlight*****************************************************
I've got a few more screenshots, and also the video that I wanted to make last week showing some new game features! It is a bit long, but part of that is because I actually talk about the game features, show them off, and explain how to use them properly, since they aren't found in the base game.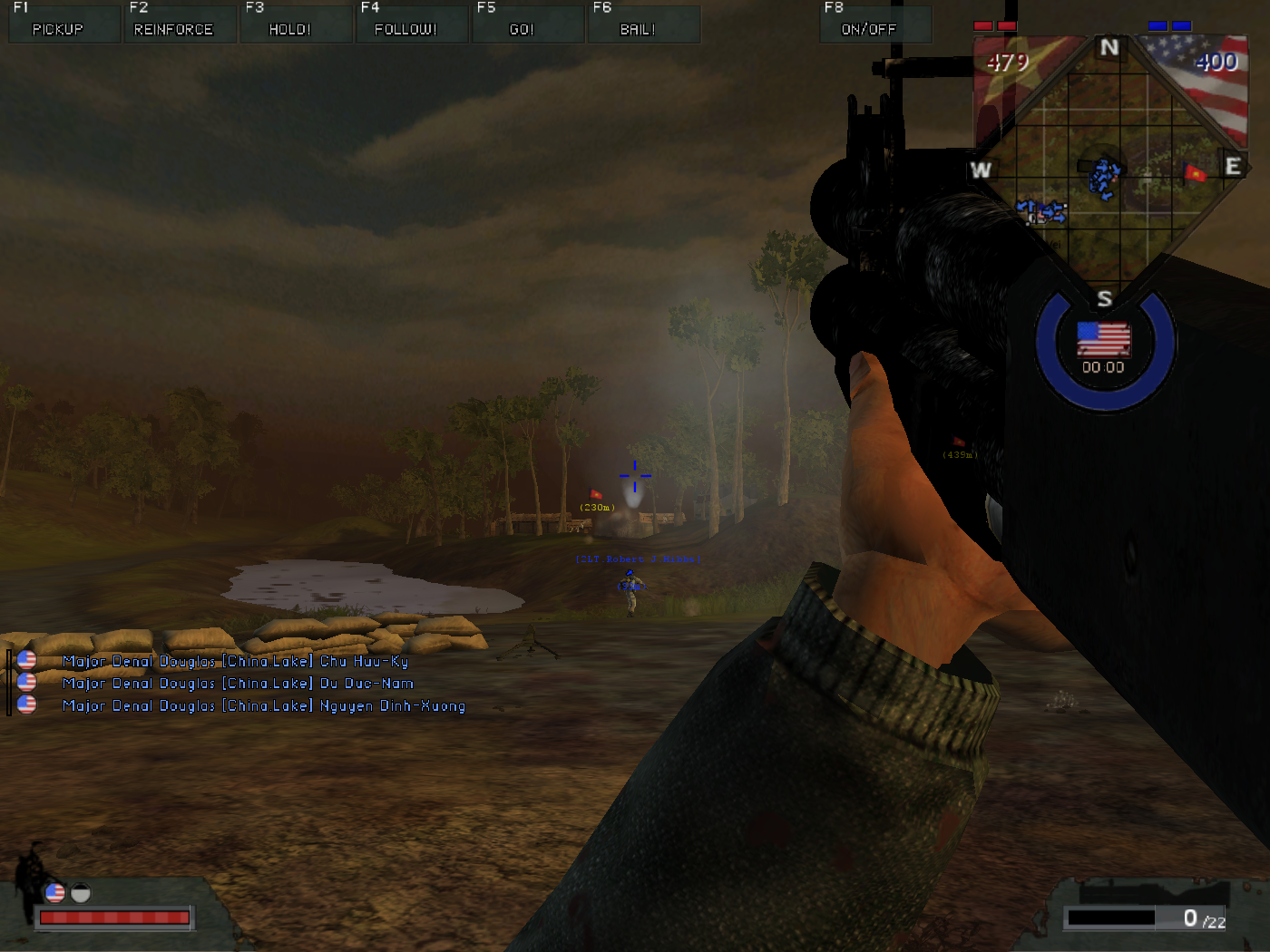 A member of the 5th Special Forces Group fires a pump-action China Lake grenade launcher at advancing NVA troops while defending a road block on Route 9 outside Lang Vei Special Forces Camp. One round is exploding among the NVA troops, while a second is already in the air.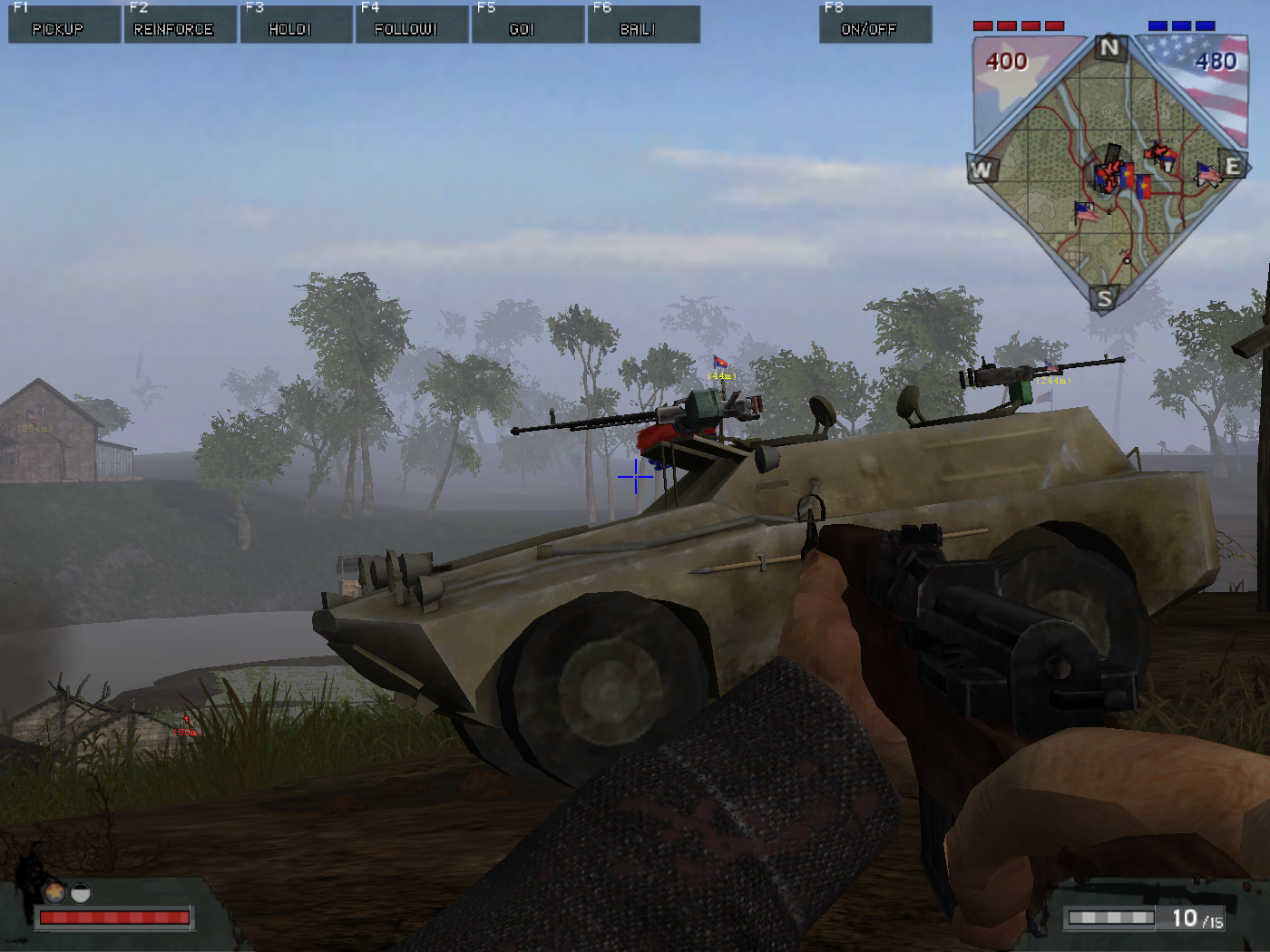 A Viet Cong soldier carrying a Gewehr 43 rifle approaches a BRDM-1 reconnaissance car equipped with a forward DShK .50 caliber machine gun and a rear SGM 7.62mm machine gun.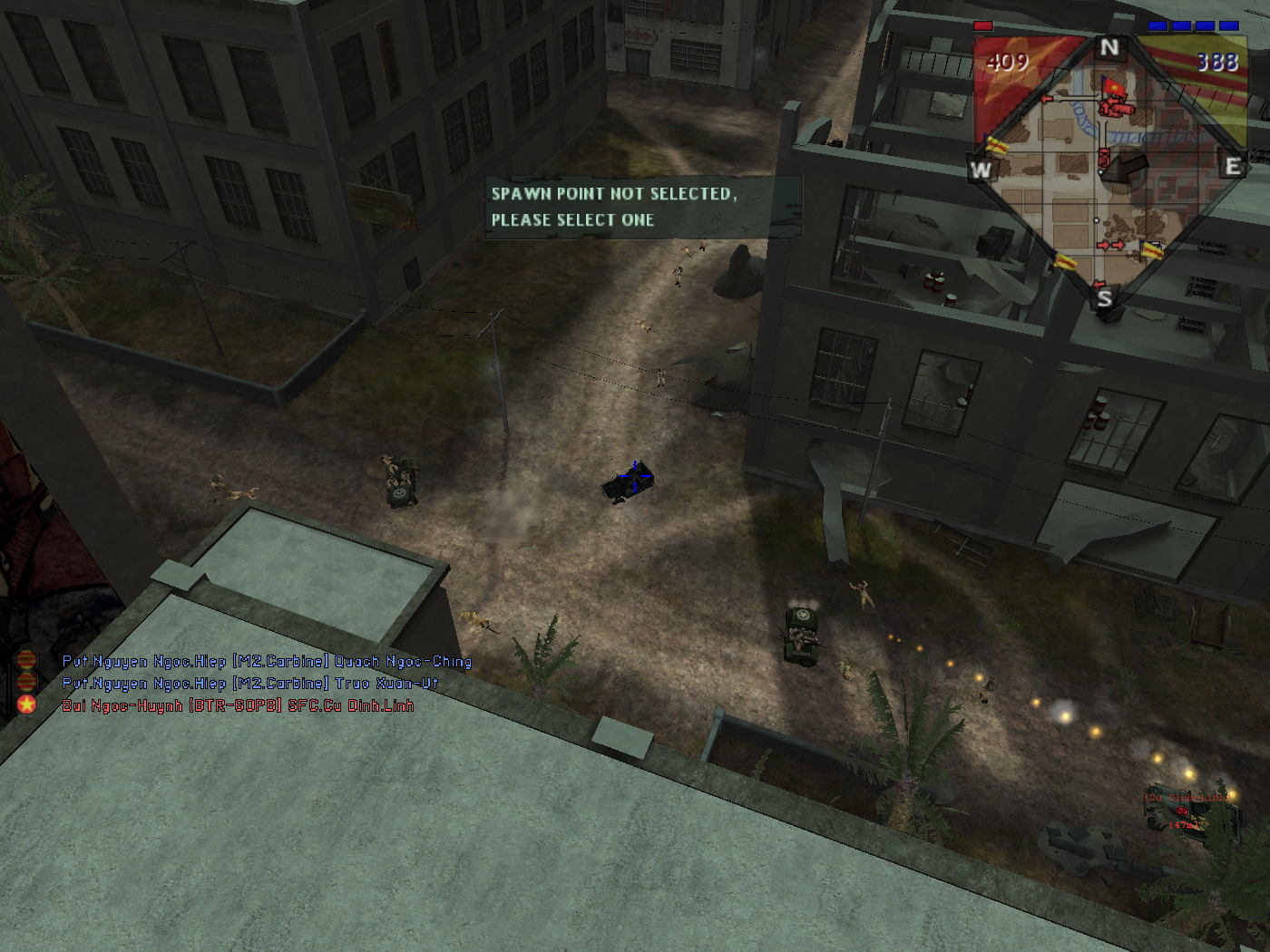 An overhead shot of fighting at Quang Tri between ARVN M38A1 Willys jeeps and an NVA GAZ-67 and infantry.
********************************************************The Video************************************************************