Gameplay Basics
The game is about fighting, morphing, and controlling the available beast characters in a fast-paced maze like environment. Our team has been fans of the classic FPS games like DOOM, Heretic, and Hexen. We certainly took inspiration from those games for our aesthetic choice. As for gameplay, we love the idea of bringing back the hectic days of fragging your friends. We try to capture the essence of the old such as Quake and Unreal Tournament, but at the same time introduce new mechanics to the genre.
In Wickland, every character has 2 abilities, each with its own strengths and weaknesses. Some are great for far range fights, and some are extremely effective at close range. Knowing how to combo these abilities is a good strategy to learn and master. On top of this, knowing how to take care of the beast characters in your possession is the key to winning the game. There are game guides posted on our Steam community hub, and we recommend players to check it out before diving into the game!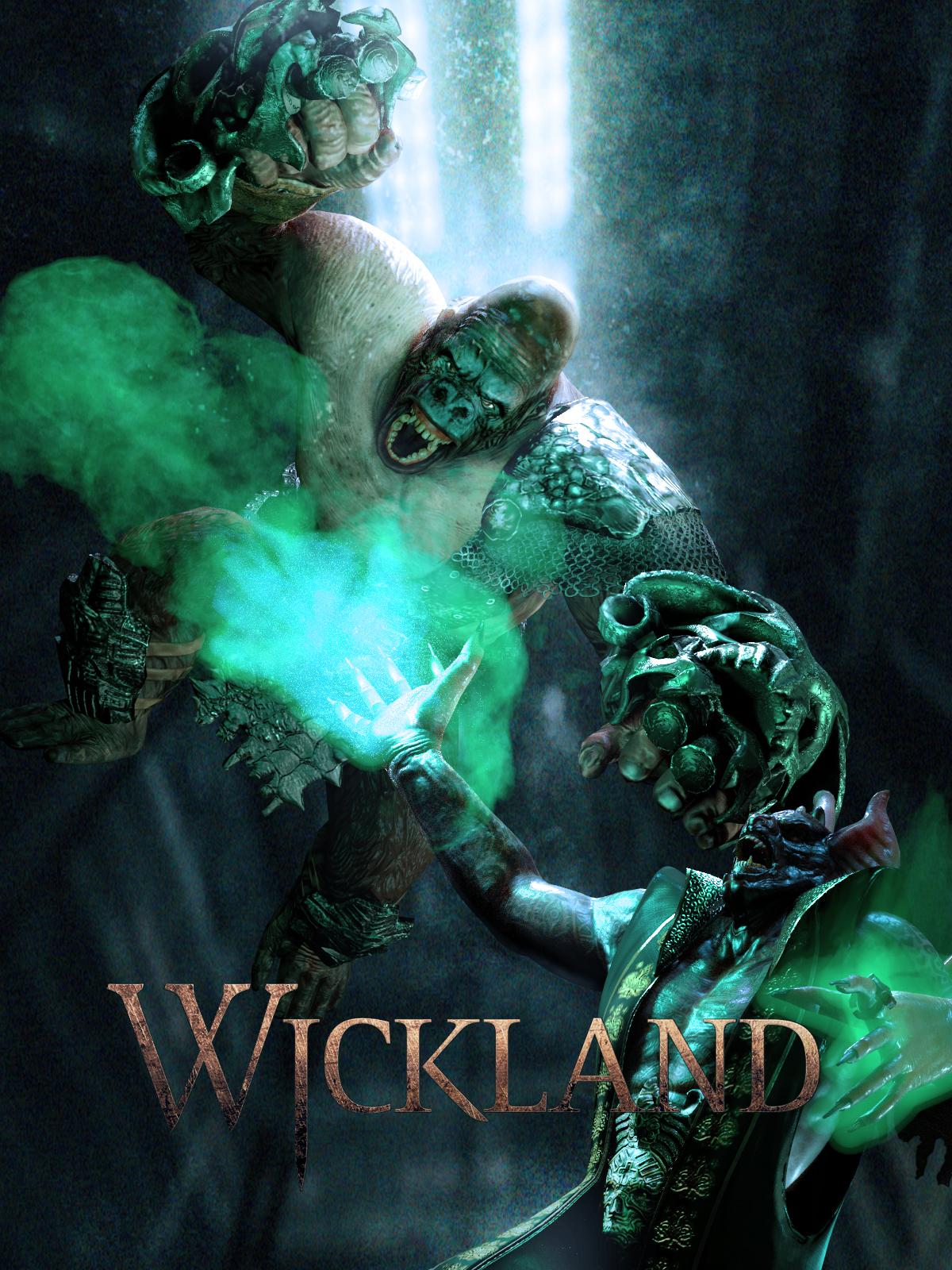 Beasts
At the beginning of each match, you start off as a human crusader. As you pick up and gain possession of the beasts that are placed strategically around the map, you acquire the ability to morph into those beasts. By doing so, not only do you gain more armor, you're also able to use their unique arsenals. The beast mechanic is what truly makes Wickland distinct and interesting to play. There are many strategic decisions to be made moment-to-moment throughout a fight which will greatly change the outcome of the match. This type of game dynamic was inspired by our love for fighting games, such as Killer Instinct, Mortal Kombat, and Street Fighter. By incorporating elements of fighting games, we believe we made Wickland a type of FPS experience that hasn't been done before.
Community Feedback
The game is still in development and we are offering it on Steam early access to get the community involved in the process. The game is only a few months away from the final build, and we estimate that we will be able to hit final release sometime in February or March. Our planned features for the final build are bot support, 5 more maps, improved spectator mode, and possibly some sort of clan ranking/leaderboards. More information can be found on our website wicklandgame.com
Before reaching early access, we actually had 3 months of open beta. The game was available publicly during summer and we had many players that contributed to the game. We had around 3000 registered players that tested our game and provided their thoughts. Throughout open beta, our focus was to refine and tweak gameplay balance. We are quite happy with the results thus far, and it is also the reason why we thought releasing the early access version on Steam during winter will help us push hard towards the final version.
Playable Maps
Currently there are 3 maps available. The maps were iterated many times to get the flow to feel just right. We estimated that each map took us about 2-3 months to complete since we took great efforts to make sure that the items are well balanced. We also spent a ton of time making sure the collisions are as smooth as silk, and that there aren't areas where players could possibly get stuck or be at a major disadvantage. The game is meant for competitive play so balance is extremely important.
Looking Forward
We're excited to be a part of Steam early access program to help us gather feedback and push for the final build. We have also been working with ESL eSports league to continuously run tournaments with cool prizes, and this has allowed us to leverage the competitiveness nature of the game even further. It's also very helpful in the sense that we can observe many pro-players, who are passionate about the game, trying their best to find tricks and strategies that we would not have thought about. This has certainly created new gameplay opportunities and "happy accidents" in our game design. Although the game is a very niche title, we are happy to see that the players who found out about the game are very supportive of our vision. Currently, we are working on implementing bots, as it is the most requested feature for new players who would like to get some practice before playing online. We are also working on 3 more maps and they are coming along great. Hopefully, if things go well we can release a big patch in 6-8 weeks.