Boss 101 - BIG FAT RELEASE UPDATE!

Good news everyone! We're going to talk about the upcoming Boss 101 release date, pricing and even the Boss 101 Soundtrack! YOU HEARD RIGHT!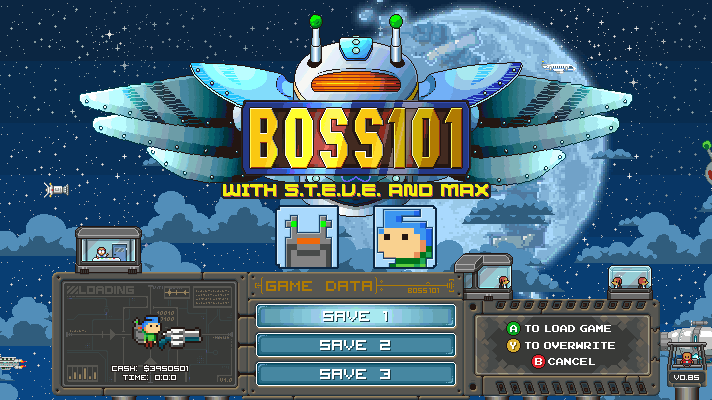 Release Date News – or "When can I buy the gol-darn game?!?"

Let's ease into this one first. As you know we are ENTIRELY self-funded. We didn't do a Kickstarter nor are we being subsidized by any publisher or third party. That's right folks – we're what you might call INDEPENDENT! HAAAAAAAAAAAAAAAAAAAAAAA

That said – we have only had one main commitment to Boss 101 and that is to make sure YOU get the most value for your money. That means putting our best into the game and making sure things are as amazing as we can make them. Many times this pushed the date out a little further but the end result is a MUCH better game. If we had stuck to the original release schedule we would have been in development for about six months and Boss 101 most likely would have been a glorified web game brought to Steam. Maybe that would have been enough for some developers but it was not enough for us.

We looked at Boss 101 as it was coming together and thought "We have something special happening here and with some more 'oomph' it could be VERY special." So we put in the time and polished features. We added gameplay we felt we needed. We added in the story elements that helped fill in the universe we envisioned. Then we spent (and still are) a lot of time polishing.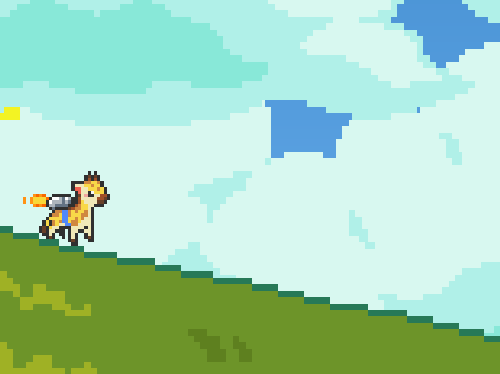 It was NOT enough to just 'make a game' and put it on Steam. We want to bring you a game with fun, entertainment and a high content value. To that end we have been working hard and waiting till we felt we were close to talk about a final release date. Well, that day is finally here.

The target right now is the beginning of 2017. This would be ideally end of January or beginning of February. Yes, it might be a little saddening to hear the game won't hit Christmas but check this out. We COULD have hit Christmas and probably given you a pretty decent Boss 101 game. After all – we are mostly polishing and tuning the game. The thing is we didn't want to rush into a late November or December ship date and get buried under a mountain of gaming press for every release around that time. So we looked at the game, the calendar and decided we might as well keep the focus on polish and cleanup over the next month and wait till 2017.

So yes, we are on track for a release. Yes, we are only on polish and sound (more on that below) and YES we feel you will be getting our best effort which is WHAT YOU DESERVE! As always – we reserve the simple right to hold things while we tighten the needed bolts and fix the needed bugs. It's important we bring you our top effort.

So, Boss 101 Release – Early 2017 with a rough target end of January or early February. We're getting there folks and we will keep you posted regularly. If you have any doubts about the game or are wondering where all our time and money are going then please take a look at any of our devblogs. We have well over two years of TWICE weekly updates and you can pretty much see we aren't sitting around.

YOU KNOW WE LOVE YOU!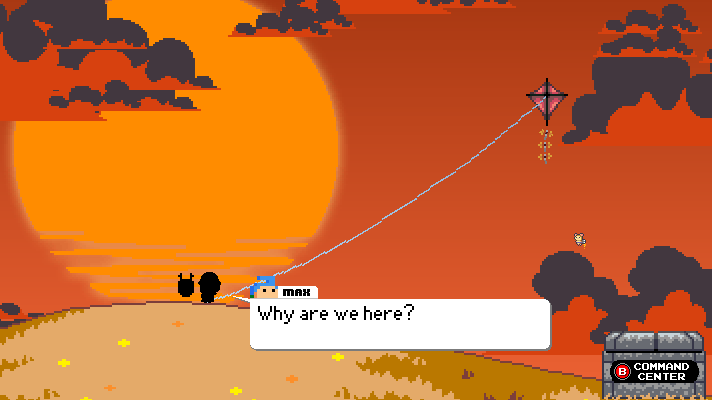 Boss 101 Price Target - $9.99

Yep, that is what we are planning on selling Boss 101 for on Steam. Less than 10 bucks! A BARGAIN AT TWICE THE PRICE I SAY!

There are nuances in the reasoning for our price but the overriding factor was to hit a sweet spot which put Boss 101 in as many hands as possible AND give us financial breathing room to continue working on the Boss 101 franchise (i.e. Boss 102, 103, etc).

We thought long and hard about a higher price point and though we love to image a glorious deluge of purchases at ANY price we felt $9.99 was just the right amount of "wow" and value YOU NEEDED to want to buy Boss 101. You are getting a ton of our blood sweat and tears for that price but more than that – you are getting a ton of game entertainment! Check them dev blogs for evidence!

We have put everything in Boss 101 we felt was needed. The main storyline, equipment, stores, WIKI, mini-games, PET FRIENDS, collection, arcade action, gopher buddies, and THE JOKES!!! It's all there and you get it for what we think is a great value. Ideally this price will bring you a lot of fun and ZERO regrets. Also – wouldn't it be nice if you recommended Boss 101 after you played it too?!?! THANK YOU!!!! HAAAAAAAAAAAAAAAAAAAA!!!!

Soundtrack for Boss 101 and Album info!

We have been quiet about the music for Boss 101 but that doesn't mean we aren't ACTIVE. We have been speaking with a CLASS A fellow named Martin Millar for over a year now. He has been in touch regularly, is supportive of Boss 101 AND a top notch composer.

Martin will be providing Boss 101 with a musical foundation. That will mean themes, background music and various tunes you will hear throughout the game. He's a longtime composer with a ton of talent. Check out his work here:

Martin Millar on BandCamp

We'll be posting samples of his work but in the meantime visit his site – really great work. Additionally we are working with Martin to create a Boss 101 album that you can purchase separately (if you so desire).

Store Update, NEW VIDEOS, SCREENSHOTS AND MORE!

Of course - expect some new videos about gameplay in the coming time leading to release. We are aiming for a new one before the end of the year and think you will enjoy it A LOT! After that we are planning more 'snapshot' videos which highlight various parts of the game - EXCITING!!!

Check out the ongoing update at our Steam Store!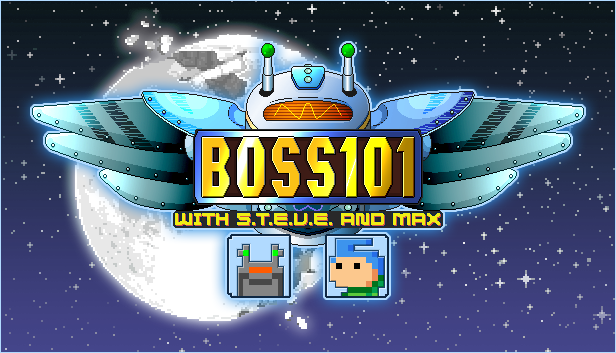 Ok – onto the update!

VFX and More!

We are hammering away at VFX touchup and came across a great little utility called Geon FX for GameMaker. In short it is a standalone particle editor for GameMaker and it is VERY nice. For where we are in polish it really nice to be able to load and edit VFX tweaks. Let's look at something we just fixed shall we.

Damage States for the Bosses

As you damage the bosses they show the damage externally. What this means for you is a set of sparks, smoke and flying debris. What we did was setup all the bosses with bones that would be used as 'damage bones'. When the player does enough damage the boss has a small chance to have a bone smoke, spark or something exciting.

Here's a sample of the early setup. You can see the bones are all lit up here. Mostly this was done as a sample so we could tell things are work..

Here's a setup in Geon FX - this is where the smoke and VFX magic gets made!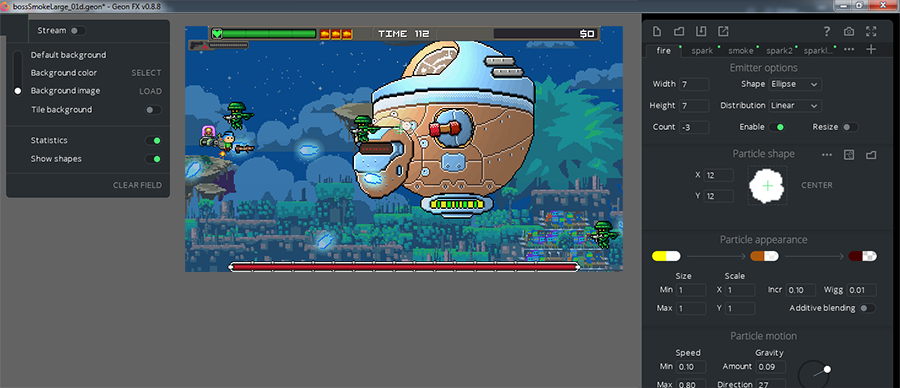 Let's look at some samples of Smoke and Fire VFX for the bosses. ALL GOOD!!
Fire example 1 - sample from editor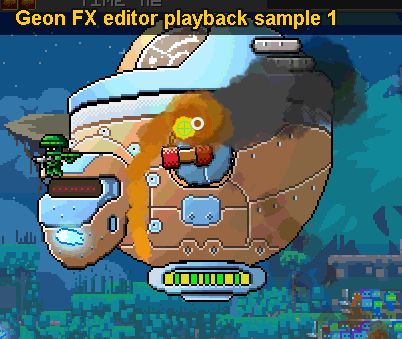 Fire example 2 - sample from editor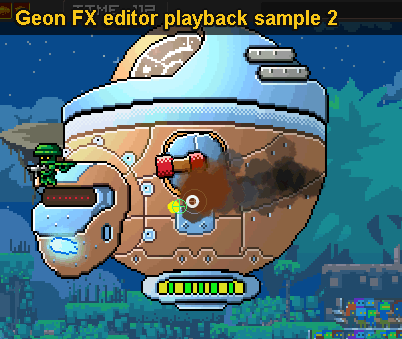 Sample Explosion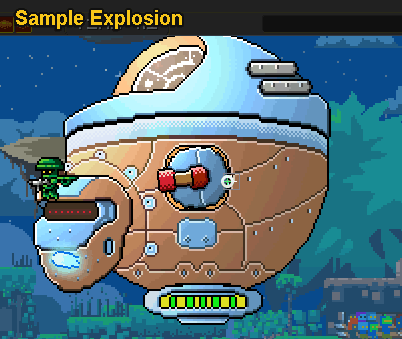 Boss 101 Tuning - Random Combo Boss

Fire and poison gas breath! Watch out! Bring the right protection and stay frosty.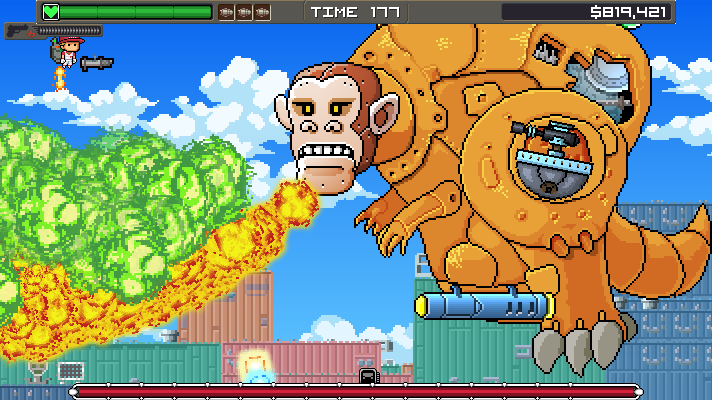 Wrapping up for today

OK - HUGE update - hope you enjoyed it and if you have any questions, drop us a line.

As always, we appreciate your support and look forward to bring you Boss 101. We hope you are looking forward to the release. It's happening folks!

Talk with you soon and remember to LIVE YOUR DREAMS!!!

-Tim

Please put Boss 101 on your Steam Wishlist us if you would be so kind

Store.steampowered.com

Thank you!