Welcome back for Week 2 of our 2012 Winter Update!
This week, we'll be going into a little detail about something important to many RPGers; Companions.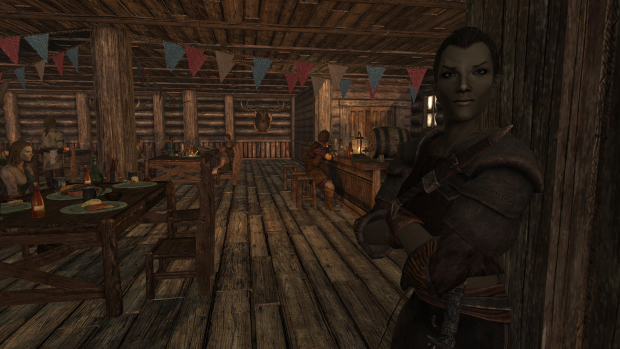 As mentioned in the podcast from the 2012 Summer Update, Ethas: Embrace of Destiny will have companions. They will, however, not be done in the same manner as Skyrim. Skyrim's "companions", if you can call them that, we're mostly all just pretty basic followers, and there were quite a lot of them. Any one of them that had any type of backstory really only had 1 quest to each of them. With Ethas, we're taking a different approach to companions. This approach is similar to the one Bioware is known for with their companions in games such as Mass Effect and Dragon Age. Our companions will have a fleshed out backstory, unique tales, personalities, and traits. Ethas will feature a total of 6 companions;
- Halmont Dreudacan:
This is your pure tank companion. Halmont prefers to use two handed weapons, such as hammers. He'll charge into battle head on.
- Jaric:
Jaric is a mage focused on using destruction magic. He will use any spell at his disposal to quickly dispatch enemies.
- Rys'Taelyrn:
Rys is an expert marksman, relying heavily on his bow and arrow. He takes out his enemies from a distance.
- Elana Skirelark:
Elana is a defensive warrior. She relies on her sword and shield, fighting cautiously and protectively.
- Maeriil'Lyaen:
Maeriil knows some destruction spells, but will mostly use conjuration magic in battle. She will also provide healing to the player.
- Sahna:
Sahna is a rouge character, using stealth and two daggers to fight against the enemy. She's a perfect compliment to those who like to sneak around.
The companion in the picture above is Sahna, a dark elf from the country of Aeurdur.
The choices that you make within Ethas: Embrace of Destiny will affect how companions feel about you. Join an evil cult to learn dark magic? One will approve, commending you for your quest in power. Some of the others, however, may question your moral judgement. With each decision you make, your companions opinion about you will change. Some even carry loyalties to specific countries, and your which side you take within the main quest, should you choose to embark on it, can effect whether a companion will choose to stay with you or not. Companions may even voice their opinion on a decision you make if they are currently accompanying you.
With each companion, the more they begin to like you, the more they will tell you about themselves. This can even eventually lead to personal quests for each companion. You will even have the option to romance some of them.
All in all, we aim to bring you companions that you will grow to love, as part of our approach in creating memorable characters. This is something we want do to within our story telling to establish a world that you as the player will want to come back to. Plus, the occasional side banter from companions is always interesting.
On a side note, congrats to all the mods that made the top 100 in the MOTY contest for 2012. Unfortunately, we didn't make it, but appreciate and thank everyone who voted for us. Phase 2 has begun, and we've all personally put our chip in towards MERP. We think you should too, they deserve recognition for all their hard work, even if they can't continue it.
Also, for our big update on January 3rd, we will be including another podcast, and if you have any questions you'd like answer, feel free to ask, and we might include them. This concludes Week 2 of our 2012 Winter Update, look back next week for some more stuff!