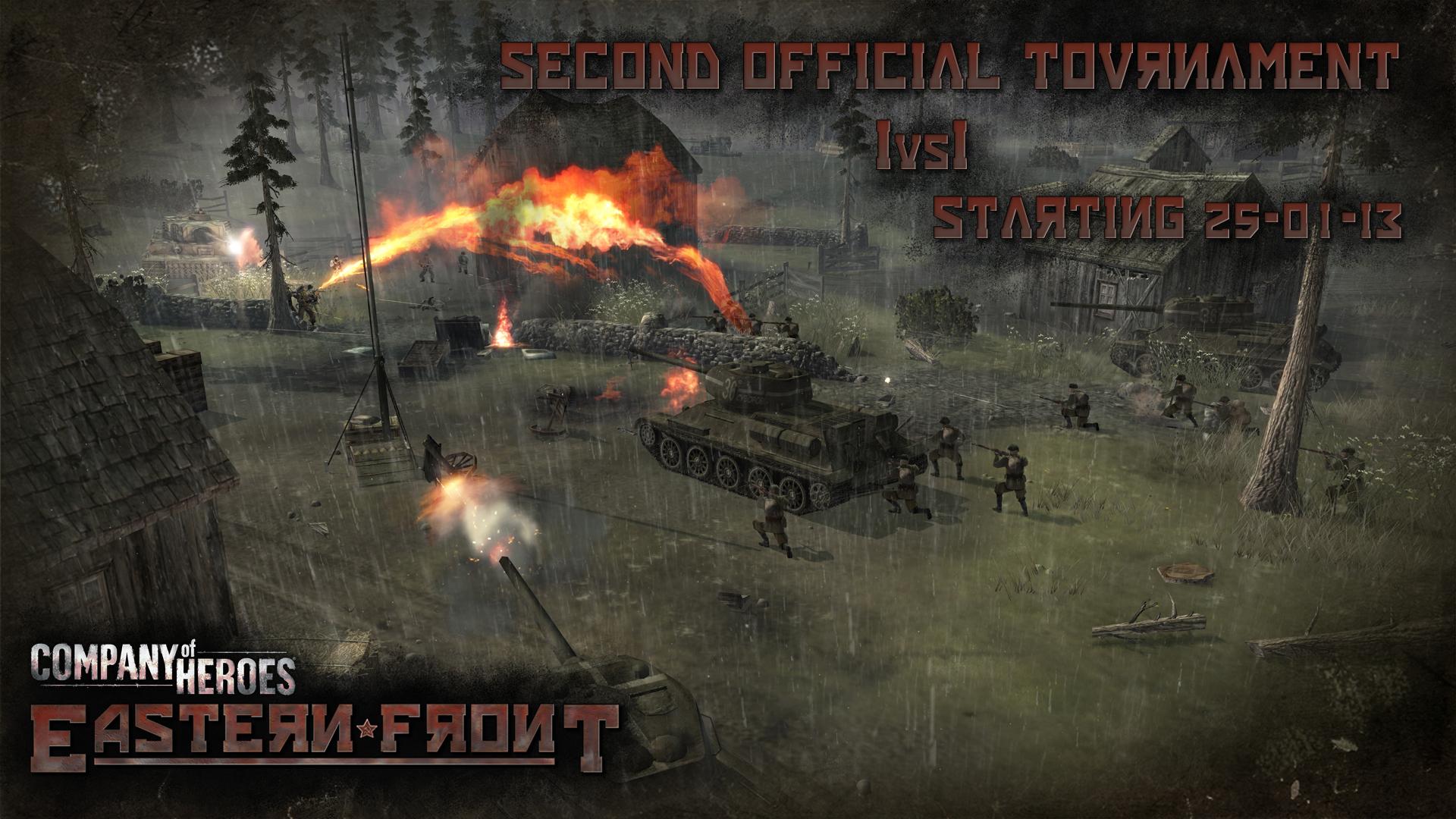 Dear Eastern Front fans,
today we want to announce a very special event for all of you; the second official Eastern Front tournament, brought to you by ApeMen!
Signups are open from this very moment on; just sign up via BinaryBeast Link: Binarybeast.com
Important Links
Prizes
$50 cash prize (PayPal account required!)
CoH2 Beta Key
Ostheer Beta access
Schedule (all times GMT)

Friday, 25th January
Start of the Tournament. Every round before quarter finals need to be played before the 1st of February
Saturday, 1st-2nd February
Quarter finals - 5:00pm : [EF] Karachev (2)
Semi finals - 6:00pm : [EF] Mstow (2)
Sunday, 3rd February
3rd place game - 5:00pm : [EF] Elbing (2)
Final - 06:00pm : [EF] Demyansk (2)
Maps
As this is an Eastern Front tourney, games will be played on Eastern Front maps. Except for the games from quarter finals on, players are able to decide for a map by mutual agreement, choosing from the list below:
[EF] Demyansk (2)
[EF] Elbing (2)
[EF] Karachev (2)
[EF] Kotelnikovo (2)
[EF] Mstow (2)
[EF] Vienna (2)
Arrival, Tournament Start, and No-Shows
Please arrive in the chat lobby 10 minutes before game time. Matches on Saturday and Sunday begin on 5pm GMT. If you don't show up by 5:10 pm GMT, a post will be made on the forum thread by your opponent and you will be disqualified.
If your opponent doesn't show up they will forfeit and you will go through to the next round. Please make a post in your thread on the forum 10 minutes after kick-off to keep the Referees informed.
Important: In case your opponent doesn't show up at kick-off time, be sure to thoroughly check the forums so he cannot simply make a thread, claim you're not there and go through to the next round without you noticing (it can be hard for the Refs to track this).
If your games went extra long, you are allowed a 10 minute break before you must start your next Round.
Game Settings
Name convention: Players ingame names should match the name shown in the signup thread. No smurfing.
Server setup: 1v1, 500VP, Fixed Starting Positions (leave "Reversed Positions" unticked), Standard Resources.
Faction choice: Wehrmacht and Soviets only.
Anti-Cheating Requirements: You must use Screenshotter_V3 (see above) during all your games. Please be sure it works on your computer before the tournament!
Replays: Every player must save replays from EVERY game played, even when losing. Only one player has to post the replay on the replay section, but Tournament Staff can request

any other player

to post his replay too, for any reason.
Brackets
Round format: Brackets are best-out-of-3 Games on the same Map. For the first two games you play one as Soviets, one as Wehrmacht.
Starting Army: The player on top plays Soviet first and switches to Wehrmacht for the 2nd game.
1-1 tie: In the bracket games, if there is a tie after 2 games are played, the VP leaders get to chose their faction for the 3rd (and last) game. Remember to write down the VP standing after each game!
The losing player will have 0 VPs left. If a player is annihilated, their VPs are considered "drained to 0".
The VP leader can be found by comparing who had more VPs left in the game that he won.
It is up to you to write down & remember the VP standing after each game. If it comes down to the third game, it is up to each individual player to calculate who is ahead on VP and therefore gets to choose their faction.
If you agree to go ahead with the third game, you cannot change your mind after the game has been played, claiming that you didn't know.
Qualification: The winning player, scoring 2-0 or 2-1, advances to the next round.
Result Submission
One of the competitors, either you or your opponent, should start a thread in the Eastern Front Replays forum, titled like this example: "Quarter finals: Greshnack vs Baumbart".
Use these threads for arranging to meet in Relic Online, announcing the results, posting replays (use attachment function while posting a reply in the respective thread), uploading screenshotter packs, & reporting no-show opponents.
Failure to upload all of the replays and all screenshotter packs WILL result in you not being able to advance to the next round. Replays must be uploaded to the replay section accordingly before being put through!
As soon as the player is put through their individual topic may be locked until the end of that tourney day.
Judgement
Rules: If any problem occurs that isn't covered in the rules, you fully agree that EasternFront.org staff's decision on the matter will be FINAL.
Exploits and bug abuse are not allowed. If you suspect your opponent used an exploit or abused a bug, please contact a referee before you start your next game.
Wrong Settings or Server Crash: In the event that matches aren't played by the map rules (fixed positions etc), the server goes down or a game drops for both players, the game will have to be replayed.
Kicking: Kicking anyone from a game is not allowed.
Hamachi: You can use Hamachi if you want to, just remember to save and post the replays & screenshots.
Connection issue: In the event that you absolutely cannot connect to your opponent due to NAT failures or other problems, the Referees may decide to shuffle you around in the groups or brackets to try to find someone you can connect to. In the worst case scenario, if you cannot connect to any opponent after many tries, you could, and most probably will be kicked from the tournament.
Missing Screenshot pack: If one player cannot provide a complete screenshot pack from Screenshotter_V3 for one of the games, the other team can claim a win for that game. However, the other team can also decide to leave you the win if they believe you are clean.
Cheating: We take intentional dropping/cheating very seriously. There will be none of it! You are instantly out of the tournament and barred from all future tournaments if you intentionally drop or cheat and that is final. You could also face a 3 month suspension of your EasternFront.org account up to a permanent ban.
Unplanned events: In the event of a drop, or any other problem, all the players from both teams should take manual screenshots and save the replay every single time! The more items we have, the better will be our decision. It is your job to provide us all the necessary information, and if you can't provide any, we will not be able to help you.
30 second allowance: If a player drops from the game before 30 seconds for any reason, the game has to be restarted. There is a 30 second allowance to make sure you all don't have a really bad connection to each other. In the event of this, restart your game and try again.
Late disconnection: If the game crashes after the one minute allowance, we are asking both teams to be as fair as possible regarding the situation and try to discuss and agree on the best solution for all.
If the game was balanced, we would highly appreciate to see you restarting that game, and your sportsmanship will be remembered.
If you can't find an agreement but one player can clearly be identified as the cause of the problem by our Staff, even unintentionally, he will be considered responsible of his bad hardware/software maintenance.
If you can't find an agreement and the cause isn't identifiable, EF Staff's decision on the matter will be final.
Banned players: Players that have been banned from EasternFront.org cannot take part in any tournaments hosted by us.
Communication
Players in the upper brackets will meet in the PLAYING COH MODS chat channel 10 minutes before Tourney kick-off time.
Players in the lower brackets will meet in the PLAYING COH CUSTOM MAPS chat channel 10 minutes before Tourney kick-off time.
If your opponents do not show for the game by 10 minutes after kick-off time, make a post in your tournament forum topic saying this and also tell one of the Tournament Moderators (i.e. a Referee) to check and put you through.
Attempt to communicate with each other and get your game started, /addfriend "opponent's Relic Online name", ask in chat if your opponent is around, ask in the topic etc.
Harassment of any of the Moderators may result in that player being banned for the next tournament.
Disputes, questions, and rule issues can be addressed to ApeMen (Relic Online name: Greshnack) in the PLAYING COH MODS chat channel.
If you have any questions regarding the rules, post in this very thread.
Your Referees for the Tournament are:
ApeMen
dArCReAvEr
MaxiKing6
The rest of the CoH: Eastern Front developers will support them.
Thanks to Gamereplays.org and especially to Budwise for the permission to adapt their tournament rules.
Hoping for large attendance,
Eastern Front Mod Team