Welcome to another update of 1964. I know it has been quite some time since the last media update, but much of the team has been busy with work, school, and real life.
---
The mod has been progressing through the Alpha stage quite well. The only major bug so far is a crash that occurs on the Provincial Structure construction tab. I am currently look at at reasons behind this crash, but have had no luck so far.
On the flip side, a lot of features have been implemented and are working very well. With AoD, we have been allowed to create 'country ideas', a policy the user can set to give each nation an unique bonus based on their policy slider settings. As a democracy, one of the polices you will be able to choose from is 'Defender of Democracy', which will grant military bonuses to your country. Or you may wish to focus in on your economy through a different idea. We hope these will not only add flavor, but create some variation in the way players go through the campaign.
We have also begun working on pairing nations with minister and minister pictures. A recent completion was Canada, whose cabinet is comprised of mostly right-leaning politicians, forming a social conservative government.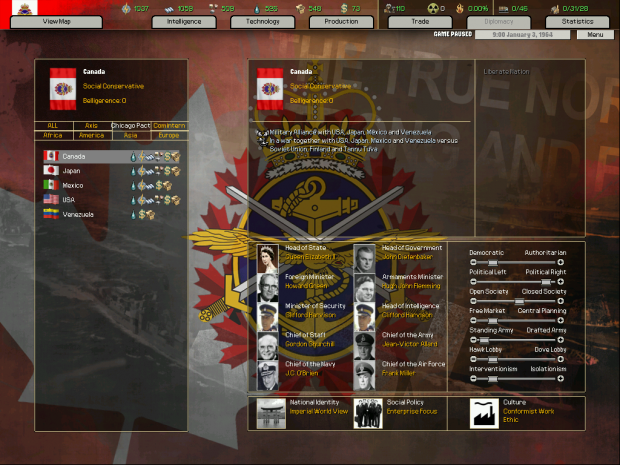 Also on the topic of coding, the introduction of events has also begun. Flavor events, which will have no impact or minor impact, will be numerous. An example is the Berlin-Paris-Autobahn event set, which will allow the German player the option to create a high-infrastructure pathway through much of the low-infrastructure western Europe. This will allow for a quick transfer of units across Europe, and will increase relations between the various nations.
Another example of flavor events are natural disasters. While currently not coded, it is our intent to have both random and real-life natural disasters affect countries around the globe. As an example: Lets say we used the recent Earthquake in Chile as an event. The event would either damage some of the country's IC, or place a industrial penalty that lasts for two months.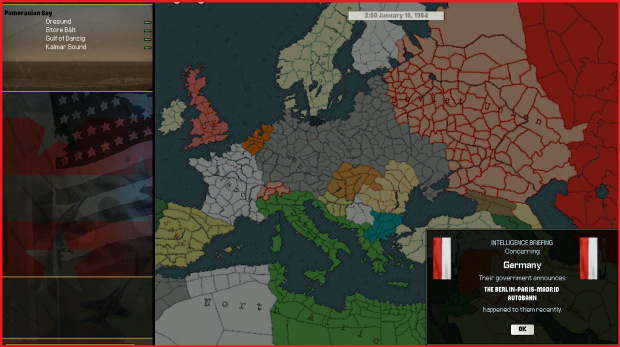 I hope you enjoyed this quick little update on our progress. Stay tuned until next time!
Feuersturm,
Team '64