Progress on Operation Remembrance is continuing at a fairly steady pace, and as long as nothing unexpected comes up either with the mod or my life, it looks like I'm definitely on track for a January release date. As of today, I have ten maps to finish overhauling and a decent amount of final debugging and fine-tuning to do, but everything is going really well.
I have two special announcements for this article. The first is a revised list of maps that will be released with the first version of the game, along with summaries.
*******************************************************************************************
Welcome to the Jungle: This map pits the US Marines against the Viet Cong in a close-quarters jungle fight that will require precise use of infantry tactics, USMC armored personnel carriers, and VC artillery.
Operation Whispered Breath: Previously "Operation Flaming Dart", this map depicts a fictional ARVN Special Forces attack on North Vietnamese territory to destroy several Vietnamese People's Air Force airbases and SAM sites, supported by a US aircraft carrier.
Ia Drang Valley: US Cavalry forces deploy into the Ia Drang Valley and find themselves under attack by NVA forces. The outcome of this map will be decided by the use of infantry, aircraft, and anti-aircraft weapons.
Landing Zone Albany: After the indecisive outcome of the battle at Ia Drang, Cavalry forces move northeast to secure Landing Zone Albany only to encounter NVA troops waiting in ambush. The Cavalry forces will have to push through the NVA lines and capture Landing Zones Columbus and Albany before they are able to turn their attention to overrunning the NVA positions.
Operation Game Warden: US riverine forces make their way through the Mekong Delta, attacking and destroying or capturing Viet Cong positions as they go.
Operation Hastings: After learning of the presence of NVA troops in the northern part of South Vietnam who threaten the security of Quang Tri province, the US Marines launch an assault to clear out the NVA and secure the region.
Battle of Long Tan: After searching for Viet Cong mortar positions that attacked the base at Nui Dat, the 6th Battalion of the Royal Australian Regiment finds itself engaged in a fight against a regiment-sized VC force and must hold out until helicopters and a relief column of M113 APCs can arrive.
Operation Cedar Falls: US Army units sweep through the Iron Triangle, a region of South Vietnam riddled with Viet Cong tunnels, and Tunnel Rats, specially-equipped troops, must infiltrate the tunnels to clear out the Viet Cong.
A Walk in the Light Green: After a CH-47 is shot down while carrying supplies to an ANZAC base, Australian troops are dispatched to secure the crash site before Viet Cong soldiers get there.
Defense of Con Thien: NVA troops illegally infiltrating in through the Demilitarized Zone between North and South Vietnam attack the US Marine base at Con Thien.
Across the DMZ: In retaliation for the attack on Con Thien, US Marines launch a covert counterattack into North Vietnam to eliminate NVA positions.
Operation Bribie: In retaliation for a Viet Cong attack on an ARVN base, ANZAC forces attack the hamlet of Ap My An and soon find themselves in a battle that will bring them to the brink of annihilation.
Nung River Mouth: Previously "Operation Irving". US Cavalry forces attack a Viet Cong stronghold at the mouth of the Nung River.
Fall of Lang Vei: In their first use of tanks in the war, NVA forces attack the US Special Forces camp at Lang Vei, south-west of Khe Sanh Combat Base.
Hue-1968: North Vietnam launches the Tet Offensive, quickly capturing the city of Hue. US Marines fight their way across the Perfume River to sweep through the streets and buildings of the Hue citadel in a brutal house-to-house battle.
Quang Tri-1968: ARVN forces defending the city of Quang Tri come under heavy attack from NVA forces. Only lightly armed, the ARVN forces must take advantage of their defensive positions and the high mobility of their light vehicles to counter the NVA advance.
Saigon-1968: The South Vietnamese capital city Saigon comes under attack during the Tet Offensive, and ARVN troops must rush to defend it against the invading Communist forces.
Reclaiming Hue: The exhausted US Marines fighting in Hue have been reinforced by ARVN units who take over the bulk of the fighting to clear out the rest of the citadel and force the NVA out of the city.
Siege of Khe Sanh: North Vietnamese troops lay siege to the Khe Sanh Combat Base and attempt to breach the perimeter. The defending US Marines must protect the barracks, helipads, and command center.
Operation Pegasus: A Marine relief force is dispatched from the east to break through the NVA forces besieging Khe Sanh.
Ho Chi Minh Trail: In 1970, elite US troops infiltrate into Cambodia to secure a sector of the Ho Chi Minh Trail, a vital supply route used by North Vietnam to ferry supplies to their troops in South Vietnam.
Cambodian Incursion: Following the successful attack on the Ho Chi Minh Trail by MACVSOG, NVA forces return through the jungle to retake the lost section of the trail.
Quang Tri-1972: In the middle of the massive Easter Offensive, the city of Quang Tri again comes under attack by the NVA forces, and after they have captured most of it, ARVN units prepare a counterattack to reclaim the city.
Outskirts of Saigon: Previously "Fall of Saigon". The end of the war draws near as NVA armor approaches Saigon, and ARVN troops put up a last desperate defense against the inevitable.
Fall of Saigon: A remake of Saigon-1968 with a heavier focus on vehicular combat, this map features the ARVN's last stand against the NVA's assault on the capital city.
*******************************************************************************************
And now for the second announcement, a very special one. Hopefully most readers have seen my article "8/9 Update: Major Changes Coming" where I mentioned that I was renaming the US Army and US Marine bots to give them the names of soldiers and Marines who won the Medal of Honor in the Vietnam War. I wanted to do the same for the ANZAC bots, but the ANZAC equivalent to the Medal of Honor, the Victoria Cross, seems to have only been awarded four times in Vietnam. So instead, I decided to do something more special and personal for Operation Remembrance, particularly as I know I've got some Australians and New Zealanders following my work. If you're from Australia or New Zealand and had a relative or friend who fought in Vietnam, send me their full name, the highest rank they served at in the war, and if they were KIA or made it home, and I'll put it into the game. I can take up to sixty names, and anyone is free to submit as many names as they want. If there's someone you're not related to but have read about and would like a tribute to, you can also submit that as well. I'll be giving priority to the names of relatives and friends, though, and special priority to those who died in service, which is why I need to know if the person in question was KIA or made it home.
I really hope that this doesn't come across as cheap or disrespectful to the ANZAC forces in any way. ANZAC involvement in Vietnam seems to get so underplayed in history outside of Australia and New Zealand, so I wanted to do something special for the players who knew someone that served in Vietnam to try to make up for that a little bit. And for anyone who comes here and isn't familiar with ModDB, yes, you can leave a comment with name submission as a guest without making an account.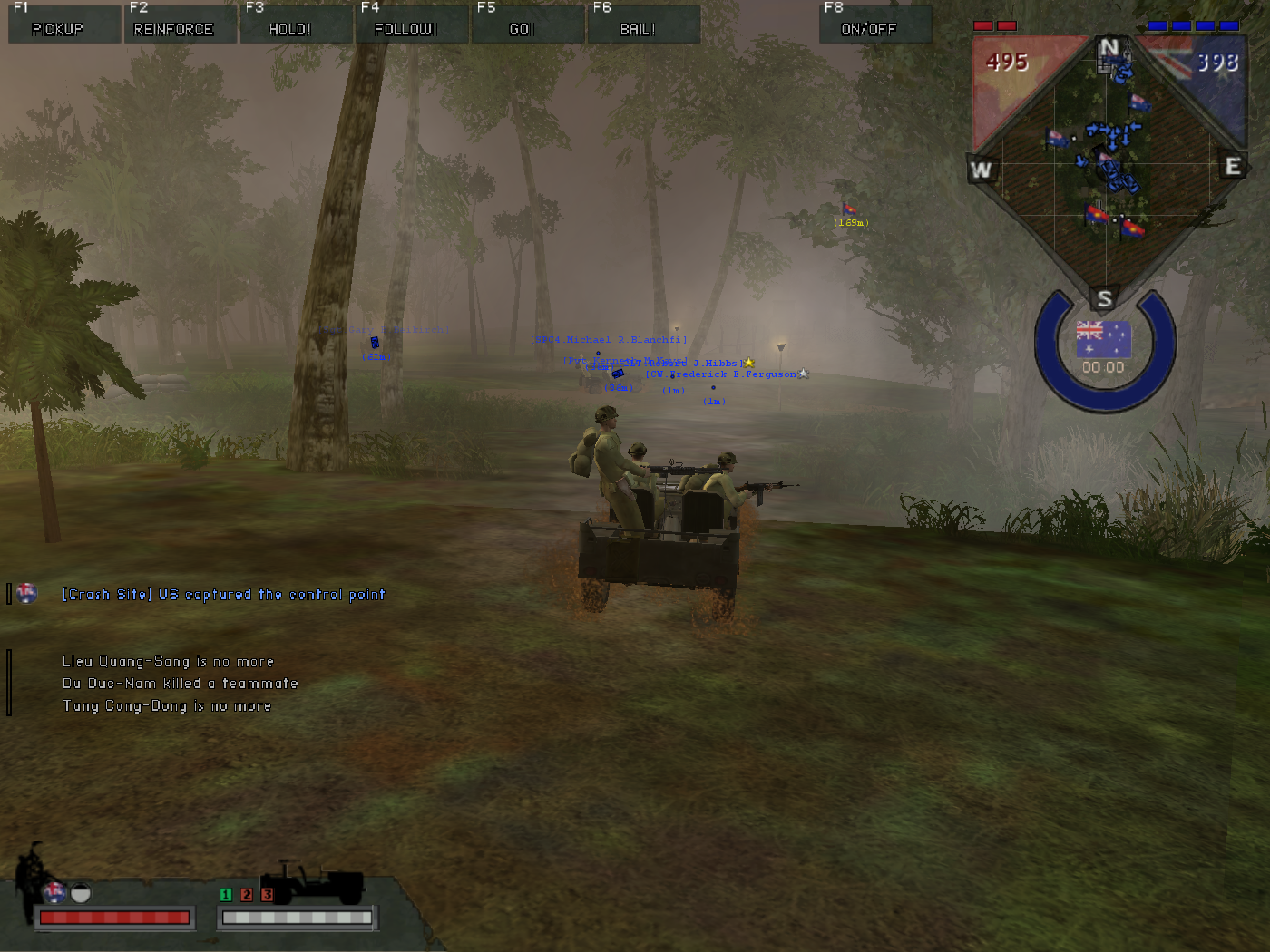 Three ANZAC jeeps secure the area beyond the CH-47 crash site in "A Walk in the Light Green".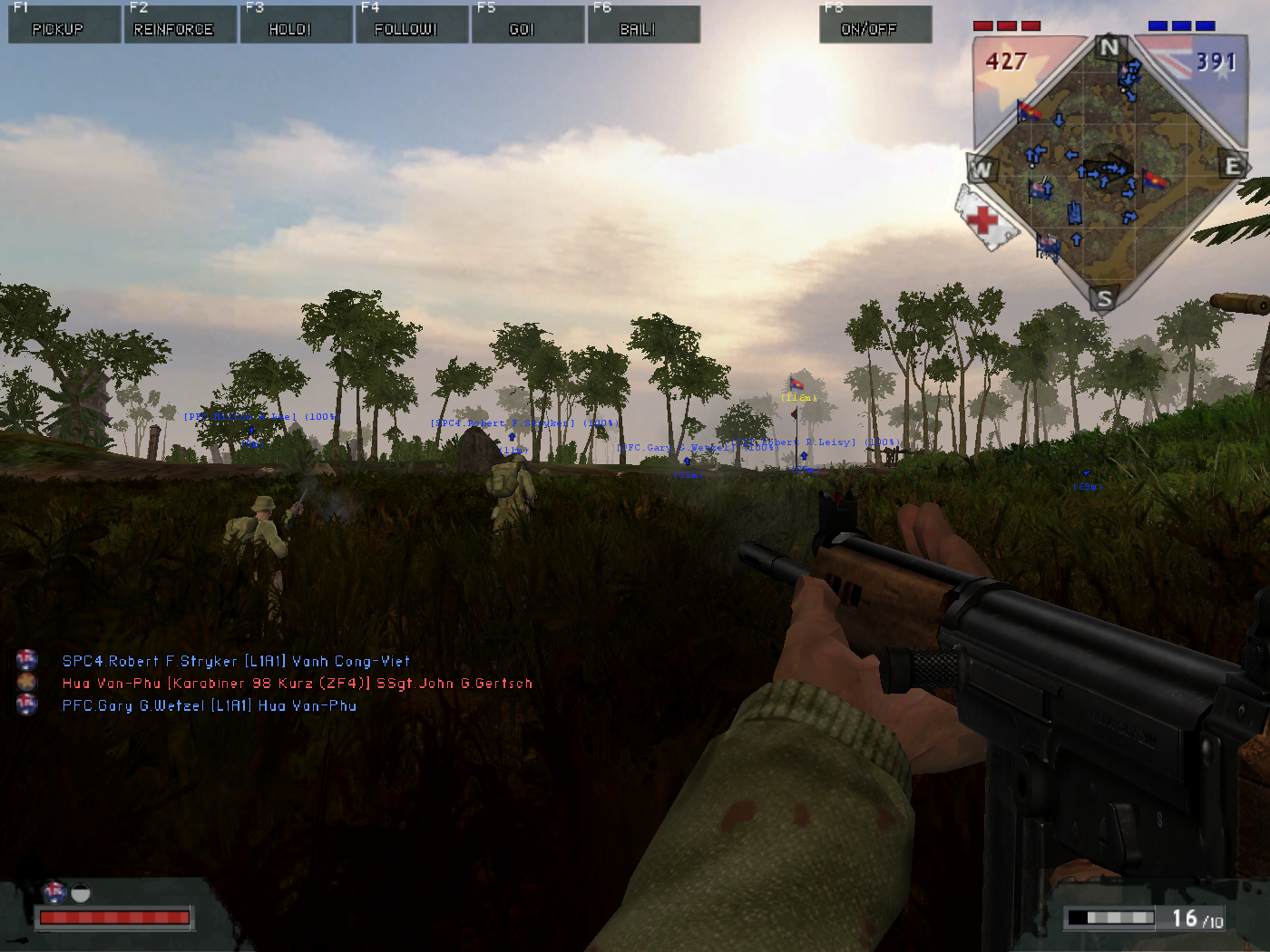 ANZAC soldiers push forward to capture the Viet Cong's east flank control center during "Operation Bribie".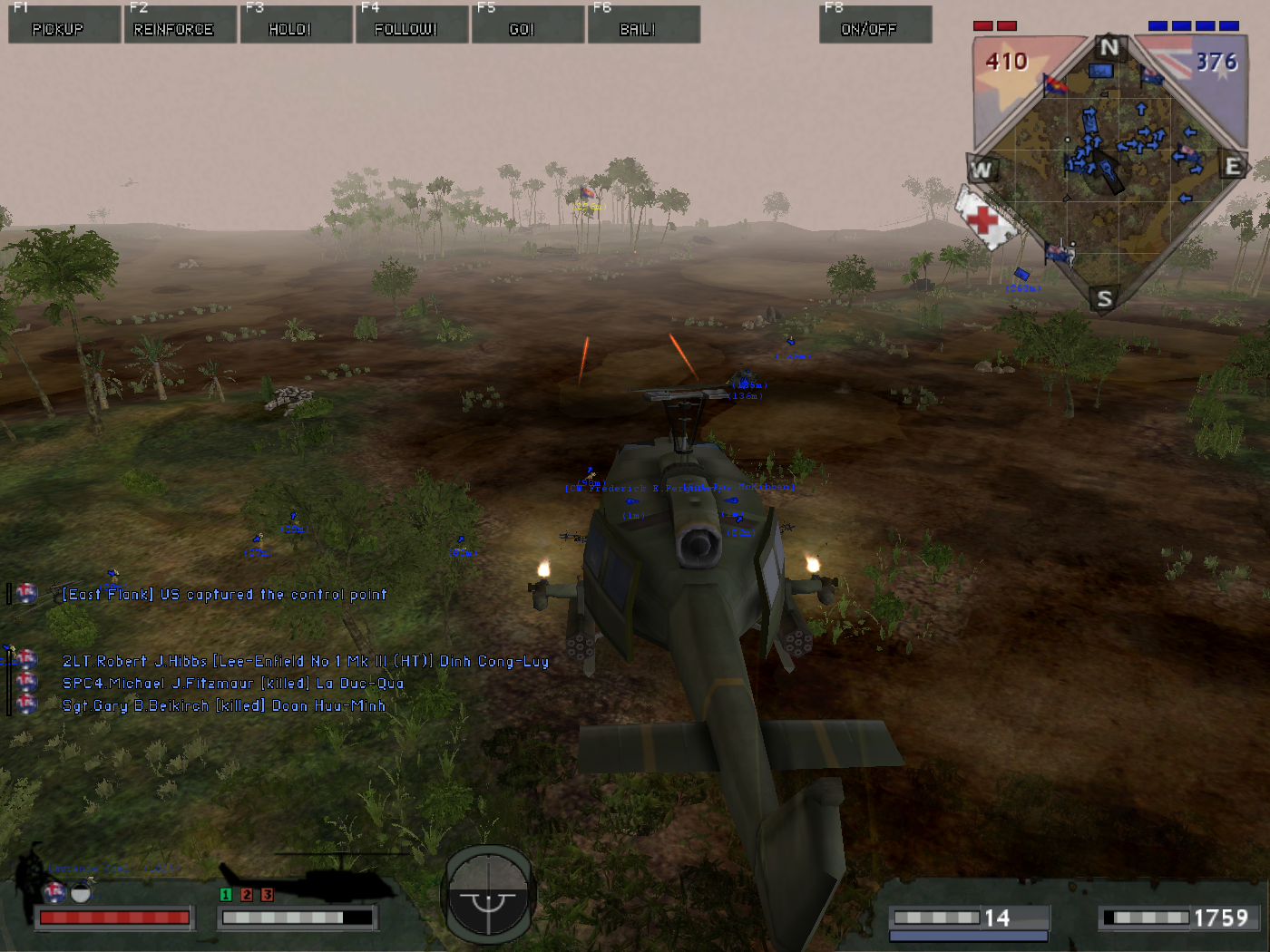 An ANZAC UH-1D "Bushranger" gunship opens fire on Viet Cong positions in support of advancing ANZAC troops during "Operation Bribie".