Hello everyone!
Today we have a small vissual update on some new graphics and designs for existing units aswell as a few (partialy) new ones: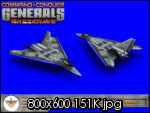 First of is the F/B-22 with a shiney new model.
In our previous update we explained that the Drone bombers will be replacing the Generals power airstrike but the F/B-22 will remain ingame as a buildable bomber.
This new F/B-22 will be replacing the aurora bomber for General Townes and drops a laser guided bomb that can be upgraded to become a bunker buster.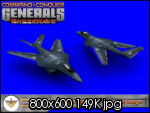 Next is our Tornado Bomber which will be replacing the B-1 Lancer and otherwise function entirely the same.
The wings on this plane will fold out when taking off in the same manner as the B-1 Lancer in 1.0 allready does.
And last but not least is our newly designed Laser Stealth Fighter.
Unlike what the name suggested the stealth fighter does not use laser weapons but is instead armed with 2 fully rotatable autocannons that deploy from the sides when it is ordered to attack.
That's it for today stay tuned for more updates coming very soon!