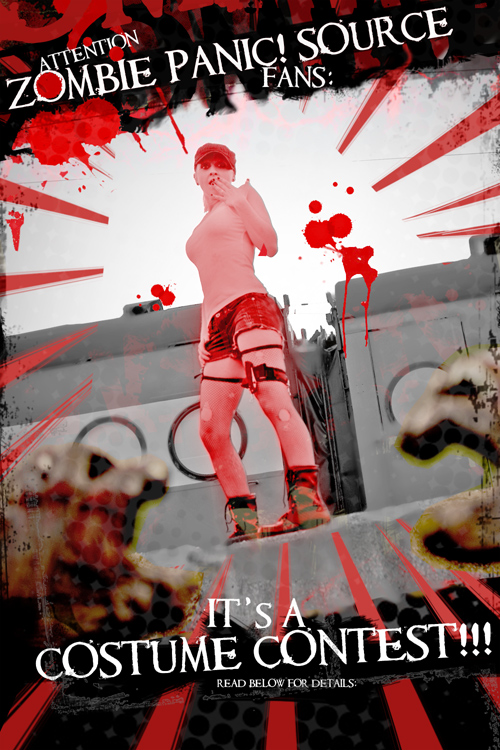 Want a little cash? How about a little in-game recognition that separates you from the rest, a true Zombie Panic! fan?
Well here is your chance! To help celebrate Halloween, we are holding a small costume contest!
The rules are easy. Simply dress up for Halloween, and take at least two pictures of the costume. Some minor photoshopping is allowed, but only for one out of the two images you submit. Submit your entries -HERE-, and do so before November 7th. Posted images should be 1024px × 768px or a link/thumbnail to a larger version. No nudity please :) Winners will be announced Nov 10th!
The prizes are:
1st: $50 + Contributor status
2nd: $25 + Contributor status
3rd: Contributor status
Those with the newly founded contributor status will be given a unique border around their In-game avatar like so-


Why should you care about Contributor status you ask? Well, here's why: starting with our next release, around November 10th-11th, contributors will not only get contributor status on the forums and invitation to a special Steam group, but will ALSO get a fancy green border around their Steam avatars, in any game of ZP. This singles you out as a Zombie Panic supporter/contributor!
What if you don't win the contest though? For those of you that miss out on this opportunity, we are working on a system to allow generous members to contribute to Zombie Panic's development. Those who do will also have the green border around their avatar while in game. All contributions go to server upkeep and future competitions. More information coming soon!
We look forward to seeing your entries! The more creative or detailed they are, the better!
-Zombie Panic Development Team
(Special thanks to Dutch, Dutchess, and Leri Greer for Artwork)