We've received a number of requests for Official ZP Merchandise over the last 5 years from our fans and we're finally going forward with some Limited Edition Official Zombie Panic T-Shirts. But to get us started, we want the same community who's been asking to participate in the creation. Over the next month we will be running a contest for best Tshirt art and want you to create concepts for our shirts. The winner will receive a free Official Limited Edition Zombie Panic T-Shirt.
Below I've provided a very simple example of what we're looking for-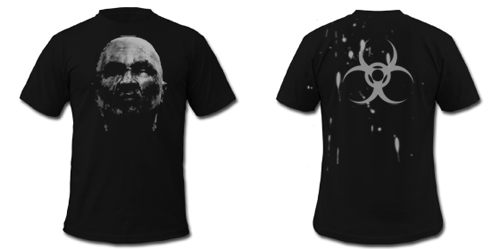 For all submissions we will need a quality image like the one provided here that can easily be applied to the shirts. You can also view the blank T-Shirt front and back template here for your own mock-ups. Please post your submissions -here- and good luck to all. Contest ends March 1st, 2009.
Rules-
Do not use any images or likenesses of images with restricted rights. Use only material belonging to you, the Zombie Panic team, or public domain. (i.e. No company logos)
All images must be a solid color, so no rainbows please.
No profane, X-rated, religious, or political material.
Multiple entries are allowed.
All submissions must be turned in by March 1st, 2009.
Also don't forget we're still running the "Mappers Remix" competition so if you're interested or just hearing about it read more here for contest details and rules.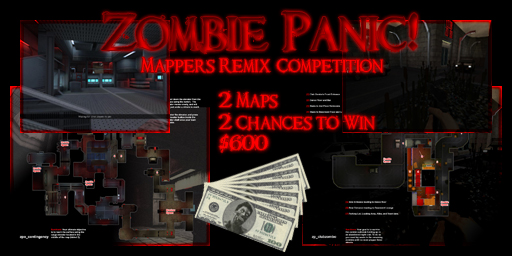 For those of you that have missed it we're on the last 24 hours of this years ModDB MOTY awards. Support the ZP team and vote for us as this years "Best Released Mod of the Year" just click the image below to vote!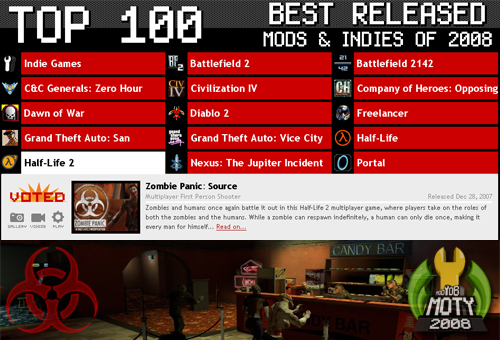 -ZP Development Team