Hi everyone!
We are quite happy with the first round of testing. The game was stable enough for the set of missions the test focused on (Y-wing Historical) and we didn't register or were reported crashes, freezes or burning computers. So that is positive. :D
The latest update to the preAlpha Test build solves mostly input, visual and gameplay problems.
The preliminary tests with the new input system (ReWired) are very promising and we are very happy with their help and understanding.
Support for ultra wide resolutions or multimonitor is still in development. This release, though, quick-fixes problems with resolution setting reverting all the time, or the starfield looking terribly zoomed in when FOV or screen width was bigger than usual.
Even bigger than any of that, the combat AI has seen a drastic revamp thanks to the great testing and observations of J. King and others. The AI should now fight much closer to how it did in the original. This has the effect of making it much easier or previsible. But replicating that behavior is a key goal of XWVM if we want the classic missions to remain balanced and faithful to how they played.
Full changelog:
Fixes:
Mouse cursor disappearing when X-wing mouse mode was selected while at the Mission Selection screen.
Frigate had a laser firehose in YWHM1! The fun is over, though.
Target closest enemy no longer clear target if there is no enemy close by.
Targeting computer no longer shows the remainders of other previously targeted exploding ships.
Turret weapons use the correct ship's faction laser colors (Rebel and Neutral: Red, Empire: Green)
AI no longer lose their target locks while they reevaluate if they should be targeting someone else instead.
Resolution no longer resets to a really low one whenever some control in the Visual Settings panel is interacted with.
Missions with randomized starting position (like Escape from Myrtus VII) will now choose random positions as a group, so that all ships in the same faction choose the same group of random positions.
X-wing dual fire mode should now properly cycle all four laser cannons instead of always the same two.
Disabled ships should no longer vanish.
The player ship should no longer hyper in our hyper out thru planets. Sometimes it might fly very close to planets, though. But if they could jump into hyperspace from the planet surface in Rogue One, I don't see why we couldn't. :D
The sun will no longer be totally behind a planet, to avoid having too dark missions.
Selecting missile or torpedo launchers or changing their fire mode while a target is selected should now correctly have a beep sound played.
AI ships should no longer bounce around like if they were attached to a rubberband when they come out of hyperspace. That was hilarious, but we cannot keep it, guys.
Changes:
Input system replaced with ReWired.
(Please note that your current control mapping will need to be redone, since the input system is totally different. Also, there are several game actions that can be mapped but have not yet been implemented)

More than one hundred control devices supported. Unnsupported devices should still be configurable as standard DirectInput or XInput devices.
You can now map many kinds of control elements (axes, digital buttons, analog buttons, hats) to game actions.
Game actions organized in categories.
All axes allow now for mapping a physical axis to them, or to map different elements to their positive and negative directions if so desired.
You can now calibrate your device if it doesn't perform self calibration.
Mouse and axis sensitivity are now global settings affecting all mouse and joystick axes.
You can now have more than one joystick assigned at a time.
The old Control Settings panel has been replaced with a button on the Flight Settings panel.
Transfering laser energy to shields and back should now transfer amounts closer to the original.
Laser fly by sounds are now using audioclips from the Star Wars sound bank. They are faded renditions of the firing sounds.
Lower ranked AI is more impatient with target locks and will fire their missiles before a full red lock.

Rookies: 1 second lock
Officers: 2 seconds lock
Veterans: 4 seconds lock
Aces and Top Aces: Full red lock.

Bombers will increase their laser power regen to max while they attack targets.
Extensive changes to AI combat behavior:

AI will use dual or linked fire at particular distances depending on rank.
AI will approach and fire their laser weapons at particular angles of their target's vector, depending on rank. Higher ranks tend to approach and fire at any angle, but lower ranks prioritize full frontal attacks, or totally from the back, to compensate for their poorer aiming and target leading.
AI will no longer fly like drunk when you are chasing them. They can change direction (more the higher rank they are) but will remain more stable.
Rookies and Officers have a worse power management than higher ranks, leading them to fire undercharged lasers more often.
AI will fire their laser weapons at particular distances to compensate for the poorer target leading. Rookies wait until they are about 400 meters away, while Top Aces fire up to 1000 meters away.
Rookies have higher chance to collide with jousting ships, since they react more slowly.

Astromech reacts to mission event emitting sounds matching more the ones in the original.
Hardpoint ready "dots" (both under the crosshair and at the cannon charge bars) now glow yellow while they are reloading, green when they are ready to fire.
Crosshair is now dark blue while a laser weapon is selected (and no target lead is being aimed at).
Added:
Implemented AI orders "Starship: Await all boarding craft to finish" and "Starship: Await all carried craft to launch from hangar".
The login screen shows a list of announcements and whether your version is outdated and you should update it.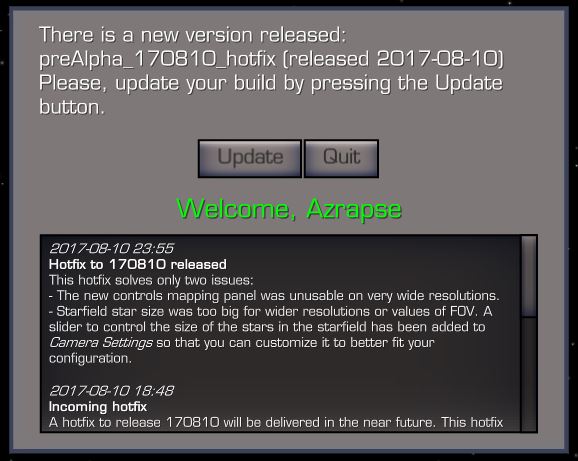 You can now alter the size of the stars in the starfield if your FOV setting or resolution is making them look to big or too small. This setting is in the Camera Settings panel.