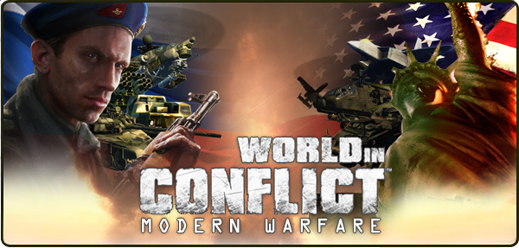 MW Mod 2.0 is now released!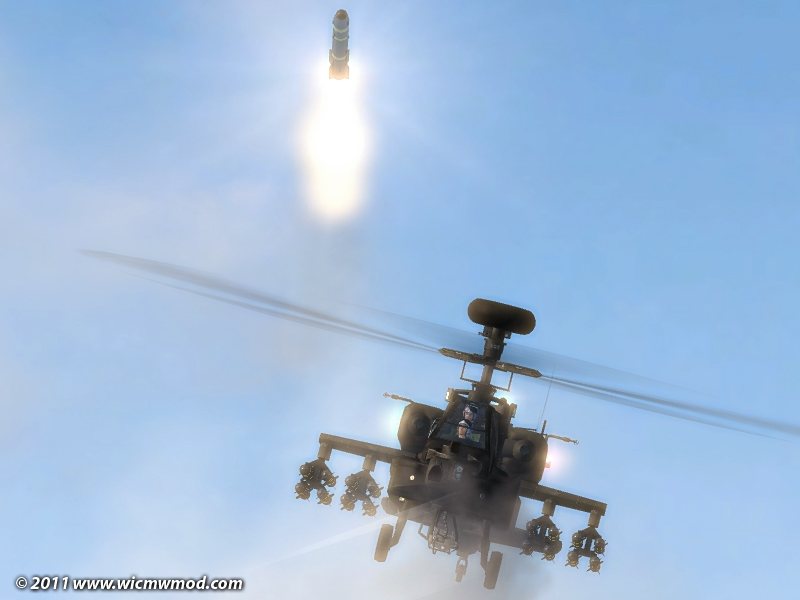 With over 2 years of spare time development, we are pleased to announce the completion and release of MW Mod 2.0 for World in Conflict.
MW Mod 2.0 brings World in Conflict to "Battlefield-style" modern combat, unleashing the maximum potential of this real-time tactics game.
Also new to the 2.0 release is our new Flexible Interceptor (FLINT) Missile Simulator system, where various homing missiles have been reconstructed to behave authentically to real life behavior.

NOTE: This mod requires your World in Conflict to be patched to version 1.0.1.1. or it will not work.
To patch your game, simply start the game, sign into multiplayer, and it will detect that your game needs patched and update your game.
Use these links to download the mod. Regardless of what version of the mod you have you will need to download both the mod and the map pack.
Just click on your Operating System and it will take you to the download.
Mod
If you want to manually install the mod, you can downloads these files. This will also allow the mod to work with Windows XP, although this is not officially supported by us.
Map Pack
NOTE: If you downloaded Map Pack from Release Candidate (RC) 1, you don't need to download it again!
To get the map pack just click whichever version of World in Conflict you use. If you are unsure, check the shortcut that you use to start world in conflict (right click it and go to properties) or browse to program files and check where World in Conflict is installed.
A Word About System Requirements
WiC MW Mod requires higher-end system than which is specified on World in Conflict system requirements.
At minimum, your system (including video card) must maintain 35 frames per second or higher. Below 35 fps, numerous homing projectiles may miss their targets or fail to perform altogether. Try lowering your graphics settings if you cannot achieve enough frame rate.
World in Conflict and MW Mod both support multi-threading. It's recommended for your system to have quad-core or better CPU, at minimum of a dual-core processor.
If you have not read our tutorials yet, we highly recommend that you do. The gameplay is significantly different from un-modded World in Conflict in many aspects and there may be a steep learning curve if you do not read these tutorials.
Here are the tutorials:

Firstly, here are some lists that may be useful:
Balancing and Unit Changes
Snipers now have their vision range extended by 12%.
Fire Team renamed to Infantry Assault Squad; and now includes extra Machine Gunner.
Infantry Sprint duration extended by 40%.
New unit added to US faction infantry role: Joint Terminal Attack Controller (JTAC). JTAC can illuminate and provide guidance for air player's semi-active laser homing munitions, such as Hellfire and future Laser Guided Bombs.
US M1A2 Abrams now uses thermal imaging system for offensive ability.
US Attack Helicopter for Beginners is now equipped with four AIM-92 Air-to-Air Stinger.
Air-to-Air 9M39 Igla for RU Attack Helicopter for Beginners.
RU Mi-24V Hind now has four 9M114 Shturm anti-tank missiles.
Reduced reinforcement cost of FARP units.
Increased TA cost of US Tomahawk cruise missile launcher.
RU Yakhont cruise missile launcher now fires two missiles in series.
US Tomahawk cruise missile launcher now fires four missiles in series.
Reduced price of Tactical Ballistic Missile (TBM) launchers.
US Predator UAV can now be purchased in bulk from TA menu.
Increased recharge time of US Predator UAV.
Removed Active Protection System (APS) from AI player operated Strykers. Does not affect human-owned Strykers.
9M120 Ataka-V Beam-riding SACLOS missile for RU Mi-28N attack helicopters.
9M114 Shturm Beam-riding SACLOS missile for RU Mi-24V attack helicopter.
9M119M Refleks laser beam-riding missile for RU Medium Tank (T-80U).
Increased speed of RU T-90A Main Battle Tank's auto-loader.
Rebalanced armor and penetration values across MBTs.
Reduced movement speed of all vehicle units by 10%.
AIM-9X Block II and AGM-114K Semi-Active Laser Homing missiles for US AH-1Z Cobra attack helicopter.
AGM-114L Active Radar Seeker missile for US AH-64D Attack Helicopter for Experts.
AGM-114K Semi-Active Laser Homing missile for US AH-64D Attack Helicopter for Beginners and MQ-1 Predator UAV.
FIM-92F or AIM-92 Stinger for US Avenger SAM, SAM Team infantry and AH-64D Attack Helicopter for Beginners.
9M333 Strela for RU SA-13 SAM.
9M39 Igla for RU SAM Team infantry and Mi-28N Attack Helicopter for Beginners.
R-73M missile for RU Air Defense/Medium Attack Helicopter.
RU BM-21 Grad is no longer a squad and can now be purchased individually at a much cheaper cost.
RU T-64B Light Tank now fires 125mm HEAT and can be massed in numbers. Extremely effective against heavy armor.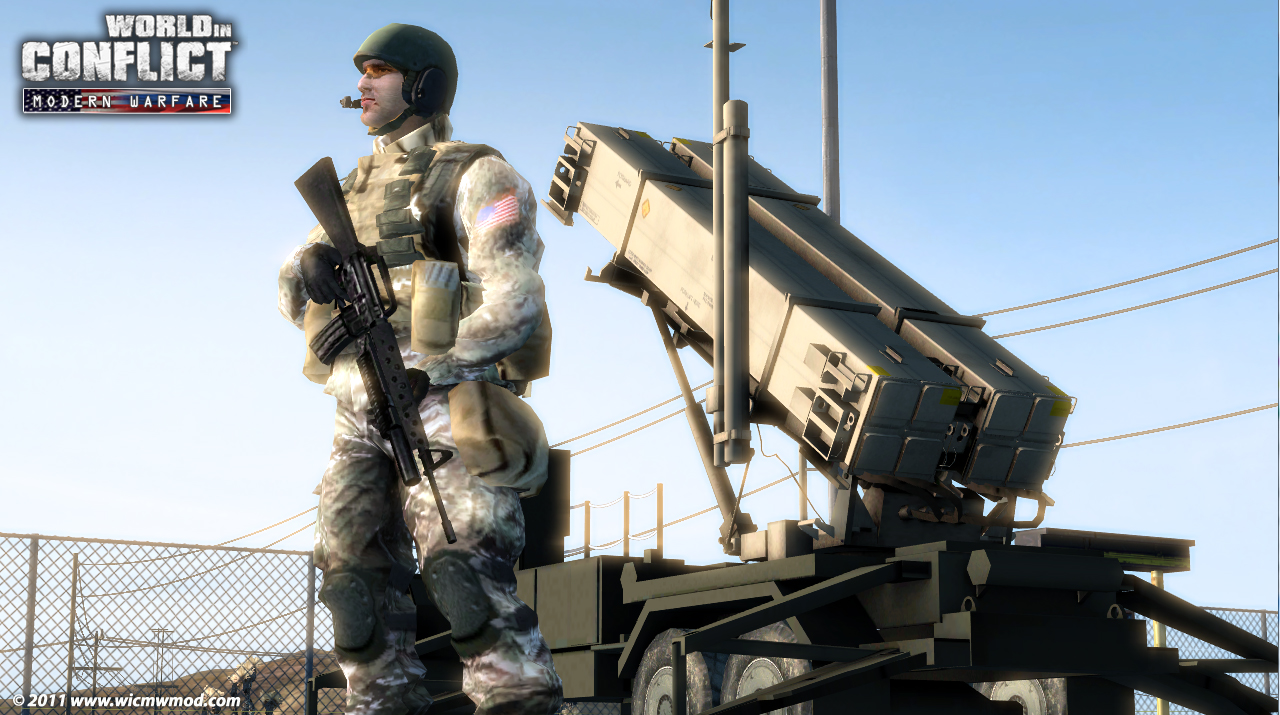 New Features and Improvements
Dropped installer support for Windows XP.
Improved low altitude handling of attack helicopters. Units do not crash as often.
Optimized and reprogrammed various bot AI scripts.
AI air players now share targeting data and coordinate attacks between each other.
Improved scripting of AI air players.
Fixed a bug where AI armor players constantly targeted friendly occupied buildings with APFSDS rounds.
Fixed a bug where AI air players attacked friendly infantry players with rockets.
Optimized Graphics and EX3D Assets for better performance
Patriot Weapons Control Computer (WCC) 3.1 update (from 3.0 in RC1) for US MIM-104 Patriot IADS. Bug fixes and optimization during saturation air & missile attacks.
S-300 SAM Software update. Fixed a bug where 64N6 radar script "locked up" during TBM attack and would no longer authorize any further missile launches.
AN/APG-78 Longbow Weapon System 2.0 update (from 1.5 in RC1) for US AH-64D Attack Helicopter for Experts. Program has been upgraded to support FLINT missile system.
Joint Targeting & Designation System (JTDS) 1.0. The first implementation toward "network centric warfare." Units using FLINT munitions share target engagement and status data between each other to increase battlefield awareness and firepower. JTDS also allows other units, such as infantry to "lase" targets for air players and air-launched munitions. Certain AI bot players now use JTDS to improve their skills.
Re-programmed Active Protection System (APS). APS now runs through 3 phases when faced with advanced ATGMs. Initial phase is detection & alerting only and system will begin tracking the missile. As missile closes in, system will move to 2nd phase and auto-release smoke screen in an attempt to jam the missile. If the missile is still incoming, during last moment, APS will move to third phase and intercept the missile with a hard-kill countermeasure.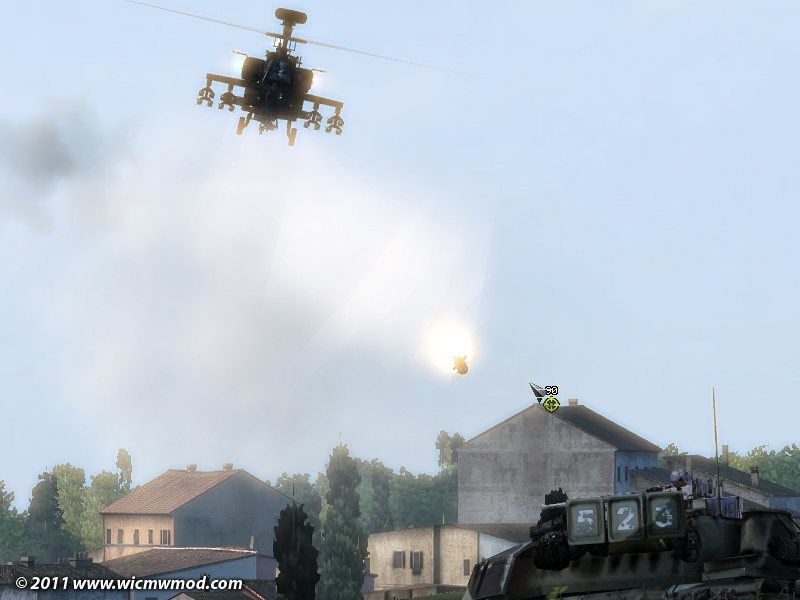 Flexible Interceptor (FLINT) Missile Simulation Software 1.0. FLINT provides high-fidelity simulation of numerous guided missiles and munitions for Real Time Strategy (RTS) games.
(FLINT) Proportional Navigation guidance for homing missiles. Certain missiles now lead their targets rather than chasing after them (lead-pursuit guidance).
(FLINT) Inertial Navigation System (INS) Module for homing missiles. Certain missiles can now provide auto-pilot guidance (i.e. Hellfire, AIM-9X) to extend their engagement range. Course corrections can be received from launch platform over data-link to "correct" inertial drift.
(FLINT) Passive & Active Terminal Guidance Module for FLINT Missile Simulator. Used by heat seeking and "fire and forget" missiles employing active radar seekers.
(FLINT) Semi-Active Terminal Guidance Module for FLINT Missile Simulator. Used by semi-active laser and radar homing missiles. When fired, the illuminator (i.e. helicopter, X-band radar, or an infantry with laser designator) must have a valid line of fire to the target while guiding the missile.
(FLINT) Beam-riding Guidance Module for FLINT Missile Simulator. When fired, your helicopter calculates the constant-bearing/lead-collision path and projects an invisible beam to desired intercept direction.
The missile flies inside this beam, thereby "riding the beam." Air player *MUST MAINTAIN THE BEAM* until target impact. If your missile flies out of the beam, guidance will be lost.
Note: Beam-riding missiles cannot be fooled by smoke screen, as missile does not lock onto anything (it simply rides inside the projected beam). However, smoking up the tank and moving inside the smoke, will fool the fire control computer of launch platform, as it cannot track you anymore. Staying in the smoke and not moving will lead to successful missile hit however.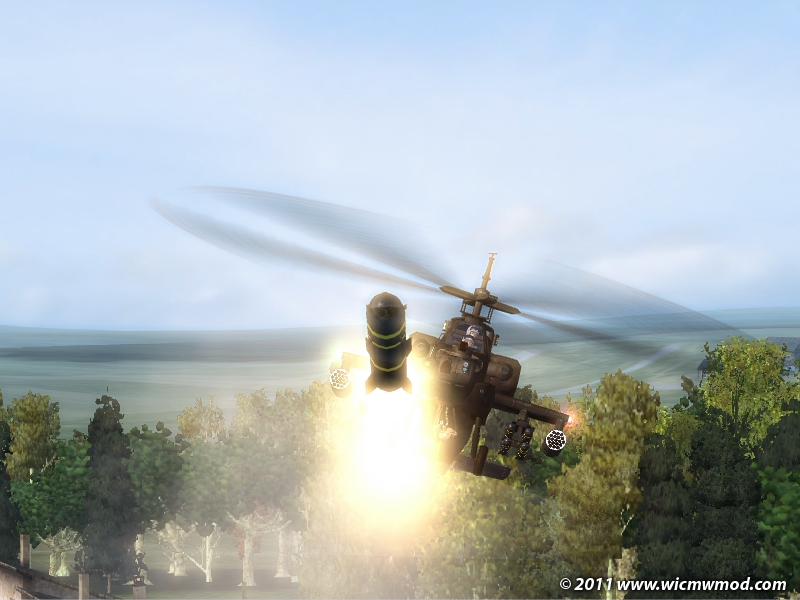 At this time we really MUST stress the need for donations.
WiC MW Mod Team is not employed by any gaming studios or companies to create this mod for you. We make non-commercial, for-entertainment/educational military-themed game content.We sustain ourselves through community donations by those who are gracious enough to help us, even if it is only few dollars.If you liked our mod, please consider helping us by donating a few dollars.
This will help us to get into positive balance and therefore be able to buy new models, which means new in game units.
All donations are appreciated highly, and you will be featured in the mod credits as a donor.