Warhammer 40,000: Enter Phoenix now released! 09/04/18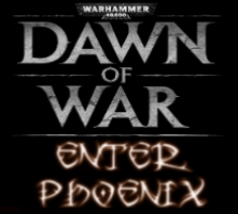 Firstly let me take this time to thank you for those who have taken an interest in this campaign mod. As this is essentially a one-man-job, fitting in the hours to successfully create something like this does take some time but the progress on it is now at an increased rate. The story has always been the main focus but now that the entire script has been written in full, I can now concentrate on the other elements that comprise the make-up of the game. The first two episodes are now released and are available to play within the campaign on the downloads page.
As this is an episodic campaign the episodes will be released periodically throughout the year and reveal more of the plot, including larger maps and the ability to build up your army. New units and characters will also be included as you progress
Also Eldar voicelines are still to be completed and thats why you will hear no voices on some of the cutscenes
To download the first two episodes and the campaign mod please CLICK HERE.
I hope you enjoy the world of Enter Phoenix and enjoy playing the campaign. . If you have any comments or queries for the game or even troubleshooting requests, please don't hesitate to leave a comment on the main page.