Progress on this mod is a bit slow, but I am still working on it. At this point it is playable from start to finish, and I am now doing more detail passes, lighting and optimisation. I will be looking for voice actors and beta testers at some point soon.
All things considered I will not be posting a release date as the time it's going to take will depend on how much work I can put in over the next few months. At this point I want to get the whole mod finished as soon as possible, and there is one large section of gameplay that I am considering scrapping, since it will take a lot of work to get it to a releasable state.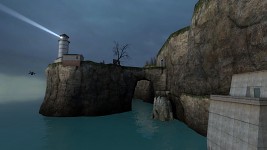 I realise this isn't a particularly interesting update but I would rather focus on finishing the mod than making fancy trailers and screenshots. Thanks for your patience!